I'll be honest. I didn't even know where Whitefish was when I considered going there. Somewhere on the Montana side of the border for this geographically inept traveler. I live on a scale of forestry maps, apparently. But on a Friday night, with my Outback loaded full of ski gear, almonds, and a weekend staple of coconut cream, I was headed up Highway 2 with the stereo cranked and my spirits high.
Rumor had it, Whitefish had better snow than…well, pretty much everywhere else this season. And legend had it that Whitefish was chock full of good restaurants, neat shops, and downright world-class skiing. Just a few hours away from home, it was a perfect weekend trip.
Whitefish is historically a railroad town, but when some local skiers partnered with some businessmen to create the Whitefish Mountain Resort (aka Big Mountain) in 1947 with a rope tow, they laid the foundation for a thriving economy and a great ski mountain.
When I pull into Whitefish, I can tell it is not your typical tourist town. There's something authentic about the place. History, soul, the smell of fresh powder, and a palpable feeling that everyone is welcome.
I rolled into the Hibernation House – what one might call Whitefish Mountain Resort's budget lodging solution. To me, it felt like a home away from home, and not just because I could knit in front of the fireplace while sipping wine and planning my slaughter of the slopes. By that I mean tumbling down them mostly, of course.
Families came in from dinners, young skiers walked by steaming from the hot tub soak they'd just had, and everyone smiled or stopped to offer beta on the routes. There were retired couples, teenagers, little kids, all living in this sort of community of skiing brethren. If they'd had an espresso machine, I would have called it utopia.
On Saturday I met with Whitefish Mountain Encyclopedia, Riley Polumbus. I think she was born with telemark skis on her legs instead of feet. She's skied everywhere, but this is the place she calls home, and it's pretty clear why. With over 3,000 acres of snow, 14 lifts including 3 high-speed quads, and an 8 minute ride from base to summit, not to mention the view from the top, it doesn't really get any better than this. Except for maybe in the summer if you're a mountain biker.
I skied until they kicked me off the mountain. Both days. I heard mention of crowds, but I never waited more than about three minutes for a lift. And when I went to the back side, the skiers were few and far between. What I loved most about this mountain was the spread in difficulty of runs. A skier of any ability (and trust me, I mean ANY ability – I probably should still be wearing a leash connected to an instructor) can take just about any lift and know they'll have a selection of easy to expert runs to choose from. This alone dissipates the weekend crowds and makes for an amazing ski experience.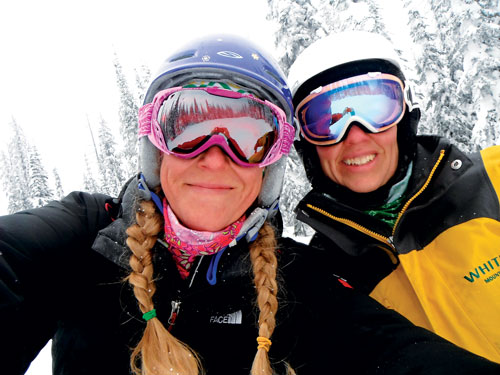 While I've heard Whitefish has fog, it cleared both days and left us with sunshine and blue skies until the lifts stood still. After that last ride on Sunday afternoon, I took one last look past the snow ghosts, over the great valley and toward the towering mountains of Glacier National Park. Then with the same smile I'd been wearing all weekend, I skied all the way to my car. And thanks to that hour time difference,  I was home by dinner.
Getting there: Amtrak from Portland, Seattle, Spokane, and Sandpoint. The train arrives just in time for the morning bell and leaves just after the evening bell. Take the Snow Bus to and from town. All day. For free. For real. Oh yeah, and if you're hitting the bar scene after the bus driver's gone to sleep, call The Ride Guy – Whitefish's free don't-drink-and-drive taxi service: 406-250-7573. He'll take you all the way back to the base, so you can ski off your hangover in the morning.//
OTM Picks: Whitefish Weekender
Good Eats: Latitude 48. Holy butter-soaked filet with gorgonzola, because the combination of awesomeness creates universal synergy. Their wine list makes you wish you'd read it before you tried to sample the entire martini menu. Alternatively, try Pescado Blanco, quaintly labelled as "Mountain Mexican." Their chef is a foodie at heart, combining the most basic and complex flavors to deliver a meal that will dazzle your eyes and provide good karma: Almost all goods are sourced local, organic, and possibly sung to by a whispering Mariachi band when harvested.
Happy Hour: Crush Lounge. There's a nameless bartender there who is some sort of whiskey chemist. I believe the concoction I consumed was called Beets 'n Ass. I saw him pour the beet juice in, but the latter part escaped my watchful eye. The drink was worth the mystery. 
Where to Sleep: If you're there to ski, sleep on the hill. If you're on a budget, the Hibernation House has great packages, and it's a walk out/ski in location. The fireplace is great for late night cribbage. The resort literally has a plethora of ski packages and bargain deals for all sorts that make a weekend getaway possible for family, friends, or single ski junkies on any budget.
Recommended Runs:  Every damn inch of that blessed mountain. Their classic summit-down run, Inspiration, was just rated 20th in the CNN feature, "World's Best 100 Ski Runs."  Known for their incredible tree skiing, you can skip the groomers and make your way down a wonderland of snow ghosts, or pick any sweet spot and do laps. My favorites: Goat Haunt on the North Side, and Toni Matt on the front. Then try Glory Hole, because it looks like radness if rad was white.