The Spokane and Coeur d'Alene areas have some pretty sweet outdoor patios and trailside establishments where you can grab a post-outdoor adventure beverage and bite to eat, but there are a few things to look for that make some of the places highlighted in this guide a little sweeter. First, after a sweaty ride, run, hike, stroll, paddle or crag session, your trailside pit-stop of choice needs to be comfortable enough that you can kick back and relax in a casual atmosphere where you're unlikely to get stink eye from other patrons or staff for showing up in mud-splattered biking shorts toting a hydration pack and a helmet. Second, a quality food and beverage menu that covers the bases with local craft brews, wine and fresh, affordable and appetite-satisfying eats is essential. And third, outdoor and/or comfortable indoor seating with beautiful and/or interesting views and an atmosphere that jibes with your outdoor lifestyle will keep you coming back over and over again. These are a few of our favorite trails, trailside eateries and watering holes. (DK)
Downtown Spokane/Centennial Trail
The name "Centennial" refers to the Centennial Trail's initial construction period, which started in 1989, soon after the Washington State Centennial. From east to west, the trail starts at Higgins Point on Lake Coeur d'Alene and travels through Coeur d'Alene, Post Falls, Liberty Lake, Spokane Valley, Spokane and finishes at Nine Mile Falls. Believe it or not, the Bloomsday Roadrunners Club hosts a 37-mile run from Nine Mile to the State Line every year. Year round, the trail hosts marathons, fun runs, the Flying Irish Running Club and multiple charity walks, along with a steady flow of everyday cyclists, walkers, runners and stroller pushers. Definitely a Northwest treasure. (JJ)
Boots Bakery: Housed in the historic Longbotham building in the east end of downtown Spokane a few blocks south of the Spokane River, Boots has exposed brick walls and ridiculously high ceilings, and its decoration was a collaborative effort by some of Spokane's best local artists. Boots is completely vegan and mostly gluten-free. Better still, it serves a mean cocktail. The menu is constantly changing and the service is always great. And the outdoor patio on Main Street offers excellent people watching. (JJ)
Ripples: Ripple's outside patio is one of the best in Spokane. It's a short walk from the Gonzaga campus, and its beautiful boardwalk connects to the Centennial Trail and the north side of Riverfront Park. Ripples has hosted the Flying Irish Running Club for many years, and the service is wonderful. Sit outside or inside with a beer and a burger, and enjoy the scenic river walk. (JJ)
No-Li Brewhouse: A Spokane craft-beer institution, No-Li serves up its own celebrated suds along with a full menu of pub fare, wine and spirits. A stone's throw away from the Centennial Trail east of the Gonzaga campus near the corner of Trent and Hamilton, the riverside patio is a one-of-a-kind Spokane outdoors experience in its own right. Watch paddle boarders plying the placid waters of the Spokane River, listen to the sound of the breeze blowing through the cottonwood tree leaves, and relax with a pint of one of the Inland Northwest's finest brews.
Stella's Café: Find this gem of a café tucked into a cool location at 917 West Broadway at the north edge of Riverfront Park. The food, ranging from deli favorites to a range of finely crafted international cuisines and vegetarian and vegan options, has earned Stella's a loyal following. They also serve beer, wine and spirits. There is only one popular front-of-café sidewalk table, but the inside seating offers a welcome respite from the blazing summer sun. (DK)
Main Market Co-op: Spokane's only natural market co-op – meaning it operates as a non-profit, membership-driven market – is a purveyor of quality local, organic and natural produce, grocery, meat and dairy items as well as other popular products, including beer and wine. A few blocks north of the Centennial Trail on Browne and Main, the market also has a full deli, an amazing salad bar, and both indoor and outdoor patio seating and plentiful bike parking. Purchase a bottle of beer or kombucha from the cooler and enjoy a delicious, healthy snack or full meal from the deli. You don't need to be a co-op member to shop or eat there, but you do get discounts and good karma points for signing up.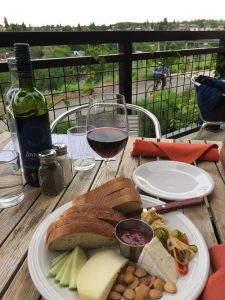 Central Food: Open daily for breakfast, lunch and dinner, the food is always a delightful experience, with a focus on local, seasonal ingredients from farmers who use sustainable agricultural practices. Perched just a few feet above the Centennial Trail, Central Food has one of the best views of the river and city around, one that's worth celebrating with a happy hour beer, glass of wine or cocktail. "Being on the Centennial Trail has a major impact on our business, not just bringing in people but also in defining what kind of place we are. We have tried to be a place people can feel comfortable getting off their bikes and enjoying a meal even in bike clothes," reports David Blaine, owner and chef at Central Food in Kendall Yards. "The Trail was so important to me. It is why I wanted the specific spot we have because it would not just be on the trail but it would be next to the major access point for the trail along that section. I think of it as the crossroads of West Central." Blaine also says nearly half of his staff have used the Centennial Trail to bike to work and several others use it to walk to work. "Some days it gets pretty crowded at the bike racks." (JJ/DK)
The BlackBird: Created by the same folks who birthed the well-loved Manito Tap House, The Blackbird Tavern and Kitchen offers locally-minded, eclectic, Southern-inspired cooking (they have a smoker and wood-fired grill and they make their own charcuteries, churn their own butter and bake breads and pastries on site). You will find adventurous, delicious-sounding things on the menu you've never seen in Spokane before, but also more familiar and seriously devourable items like a gourmet burger and fries, as well as a comprehensive spread of beers (34 on tap) plus wine and spirits. Just north of Riverfront Park in the historic Broadview Dairy building, choose from the patio, bar or comfortable indoor booth seating. The Blackbird takes their interest in sustainability seriously and is in the process of becoming the second 4-Star Certified Green Restaurant in the Pacific Northwest (Manito Tap House was the first). (DK)
North Spokane/Riverside State Park
At over 14,000 acres, Riverside is far and away the largest state park in Washington. Notable sections include Bowl and Pitcher, Little Spokane River Natural Area, Fort Wright Military Cemetery, and Deep Creek. Thanks to various land donations back in 1933 and 1934, the Civilian Conservation Corp initially developed the Park, including the Swinging Bridge. Soon after, Aubrey White, the "father of Spokane Parks," worked hard to make Riverside one of the greatest parks in the Northwest. From mountain bike singletrack to trail running to river rafting, the park supports a wide variety of recreation. Over 50 miles of biking, hiking and running trails snake their way through the pine-studded park. (JJ)
Flying Goat: The Flying Goat is a staple rest stop for mountain bikers and trail runners visiting Riverside State Park. Located at the epicenter of the Audubon Neighborhood, its craft pizzas are delicious and the signature Horned Aviator beer is outstanding. All of the sauces, dressings, and marinades are made fresh daily, and the beer menu rivals any other pub. Make sure you take a moment to admire the one-of-a-kind bike rack. (JJ)
Fieldhouse Pizza & Pub: With 25 toppings and six sauces to choose from, there are countless create-your-own pizza combinations at the Fieldhouse. Just a few blocks from Joe Albi stadium and the Dwight Merkel Sports Complex on the rim above Riverside State Park, it's a spacious restaurant with one side dedicated to family dining and the other to a full bar. Bountiful parking accommodates large outdoor groups or vehicles with trailers. (JJ)
South Hill/Bluff Trails
The 200-acre outdoors paradise that local riders, runners and hikers call the "Bluff" or "High Drive" is a pine-packed hillside above Latah Creek that's crisscrossed with over 20 miles of hiking, biking and running trails. With a connector trail that leads all the way down to the valley near Browne's Addition, the trails attract riders and runners from all over the city looking to make a day of it, as well as more casual users looking for a mellow, scenic out-and-back off of High Drive Parkway. Spring wildflowers can be epic and a surprising number of wildlife call the Bluff home, including deer, bull snakes, coyotes, many species of birds and the occasional moose. (DK)
Luna: After your last climb up out of the south end of the High Drive trails at Hatch Road and 57th, you are only yards away from the beautiful, well-shaded patio at Luna. A fine dining establishment committed to locally-sourced, seasonal ingredients whenever possible, Luna is a great choice for a post-hike dinner date but also a great spot for you and your fat tire-pedaling crew to escape the summer heat in the cool and comfortable confines of the Luna lounge with a cocktail. (DK)
Rocket Market: After a ride or hike on the Bluff, the Rocket Market grocery and deli at 726 East 43rd, just a few blocks from the nearest trailhead, covers the bases for trail-tired, hungry and thirsty nature revelers. Enjoy hearty, handmade bistro bites and well-priced beverages selected from a huge assortment of Northwest craft beers and wines, or build your own snack or meal from the packed grocery shelves. Outdoor and indoor seating options, plenty of places to lock up your wheels, and the owners' long-time support of Evergreen East Mountain Bike Alliance make the Rocket Market the mountain bikers' post-Bluff choice. (DK)
Manito Tap House: If there is a craft beer or cider worth your trail-parched thirst, Manito Tap House will likely have it. An easy pedal east from the Bluff, park your ride at the burly bike rack out front (which has basic bike tools attached just in case) and pick a table inside or out on the shaded patio. The menu features craft pub food with attention to detail and local and seasonal ingredients that is as much of a draw as the beer selection (many items are gluten free and vegetarian friendly too). A lively atmosphere, great music and friendly staff and patrons make Manito Tap House our favorite go-to pub stop and dinner spot on the South Hill. (DK)
Perry Neighborhood/Ben Burr Trail
Initially, the Ben Burr Trail was the undeveloped Spokane and Inland Empire Interurban railroad line. In recent decades, the Ben Burr morphed into an incomplete community path, but thanks to forward-thinking city planners and much-needed federal dollars for pedestrian improvements, it will soon connect the South Hill with the Centennial Trail. (JJ)
The Lantern Taphouse: On the corner of Perry and Tenth, the Lantern is a delightful, family-friendly pub. The Lantern capitalizes on the ever-growing running community with a weekly running club that meets every Tuesday, and it hosts a wide range of events including live music. (JJ)
Perry Street Brewing: A lively neighborhood taproom and craft brewery with soon-to-be better trail/bike route connections between the Perry neighborhood and downtown that will make a pedal up to PSB from those lower down the hill much more safe, easy and enjoyable. The owners and many patrons are fellow outdoors lovers and make great company after any adventure. Bring the kids; PSB is a family-friendly establishment. (DK)
Coeur d'Alene/North Idaho Centennial Trail
The North Idaho Centennial Trail includes 23 miles of paved walking, running and biking trail from Higgins Point six miles east of Coeur d'Alene to the Spokane River Centennial Trailhead at the Idaho/Washington state line. 16 parking/access areas make exploring sections of the trail easy. On busy summer beach days, try parking further out from downtown and riding or walking the trail to your favorite stretch of Coeur d'Alene city beach sand. (SMB)
The Bluebird: The Bluebird delivers fresh "Northwest bistro fare" and a vibrant atmosphere along the Midtown corridor. Owners Viljo and Autumn Basso offer simple, yet exquisite lunch and dinner menus featuring uniquely delicious salads, entrées, desserts and drinks that highlight their passion for quality ingredients, regionally sourced foods and housemade everything. Their covered outdoor seating area is perfect for sipping an Idaho beer on a sunny day. (SMB)
Moon Time: Celebrating 20 years, Moon Time is undoubtedly one of the most popular local eateries in Coeur d'Alene. Their menu features the usual pub items, except with their own delectable variations. Located two blocks north of the Centennial Trail, they provide a small bike rack for cyclists and offer choice wines, regional brews, nitro taps, and $1 beers with live music every Thursday night. (SMB)
Taphouse Unchained: Located a block from the Centennial Trail and in the heart of downtown Coeur d'Alene, this CDA Resort-managed, cycling themed bar is open to "all cyclists, hikers, beachgoers and outdoor enthusiasts," and boasts 24 taps, a full service bar and a basic, "bike-friendly" menu. They also have designated bicycle parking out front and a Margarita Bike, where you can blend your own drinks. Even the bar stools have pedals! (SMB)
Slate Creek Brewing Co.: Slate Creek, the first go-to taproom in Midtown CDA, is a happening spot for all microbrew enthusiasts. They serve up tasty beers, locally-brewed cider and a couple of wines, and you can bring your own food to munch on. They heartily support all outdoor pursuits with their décor and events. Ride your bike over on Wednesday evening and get $1 off your first pint, as well as a burger grilled by Coeur d'Alene Bike Co. by the "deck." (SMB) // (Derrick Knowles, Jon Jonckers and S. Michal Bennett)