I fell hard when I met Kalispell and the Flathead Valley for the first time, as the theme here is "astounding mountain views in everything you do." The greater Flathead Valley region is Northwest Montana's shining star with world-class mountain bike trails, multi-use trails with growth plans, Glacier National Park, historic downtowns, and historic paved bike paths laced with cultural festivities. Unique rides in the Flathead region are abundant, and if you are planning a visit bring both your roadie and mountain bike gear. Falling in love with Northwest Montana is easy to do. Make a cycling date with her and you will be seduced by more than gear miles.
Rail Trails
From the heart of Kalispell, get off the auto road for an easy bike cruise-with-views on the Great Northern Historic Trail. This pedal path was founded by the Rails to Trails of Northwest Montana and includes more than 20 miles of paved multi-use and non-motorized trail with incredible mountain views. The Great Northern cruise can take you from Smith Lake to Flathead Lake. Its mellow ride is good for all levels of riders, including beginners. Stay tuned for Kalispell's future Glacier Rail Park, with plans to convert unused rail to in-town walking and cycling paths.
Going to the Sun Road Riding
Shoulder seasons are for biking in Northwest Montana; see Glacier National Park's spring road ride before the Going to the Sun Road opens to auto traffic. Many cyclists feel this is the best way to see the park; no car exhaust is a huge bonus. Expect dramatic views as you cruise past waterfalls, bighorn sheep, and a few other smiley people on two wheels. Park at Avalanche Creek, or take advantage of a new National Park Service shuttle for cyclists accessed from the Lake McDonald Lodge.
Flathead Road Rides
Take your roadie to the lake for a water-meets-mountain views ride, starting in Big Fork on Route 35 along Flathead Lake. This out-and-back trip is best on a mid-week shoulder season during lighter auto traffic, or when the orchards are blooming. A local bike-to-beer opportunity awaits you at the Flathead Brewing Company with back-deck views. If you like water views and lighter road traffic, check out the Whitefish Lake out-and-back road ride. With easy access from the town of Whitefish, this super-fun 21-mile ride to the north end of Whitefish Lake will get your gears turning for more valley time in the saddle.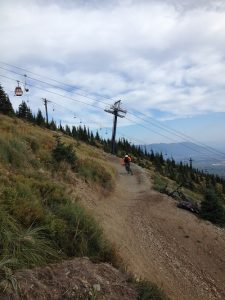 Mountain Biking
If you didn't bring your mountain bike to Flathead, repack. Then start with Herron Park and The Whitefish Trail. The multi-use trails of Herron Park in Kalispell exhibit winding switchback turns that climb to the most dramatic views of the valley. You will be sharing the trail with horseback riders and hikers but can easily get away by riding farther out. The park has growth plans that will extend the trails to Black Tail Mountain, and the ride variety is already a class-act. You will laugh out loud while riding The Whitefish Trail. More than 30 miles of mountain bike-specific trails make up The Whitefish Trail network, including singletrack loops. If you're still in Whitefish and craving a downhill ride, push that bike to the next level of thrill at the Whitefish Mountain Resorts' 22 downhill trails, including its famous flow trail.
New Hostel Serves Cyclists
Their love for bikes and the growing cycling culture in the Flathead Valley inspired Jeni and Hans Axelsen to open a hostel in historic downtown Kalispell. Kalispell Hostel resides on the second floor of Wheaton's Cycle, Flathead Valley's oldest bike shop since 1918. The relationship between the hostel and the bike shop makes getting around the valley easy for bike travelers.
There is a demand for bike-friendly accommodations in Kalispell. "Cycle tourists would come to Wheaton's for bike repair and ask us where they could camp or for a bicycle-friendly place to stay," Jeni says. "They would have to go pretty far out of town to camp." Offering affordable lodging fills the growing demand for accommodations for destination cyclists, and Kalispell Hostel's five-star reviews demonstrate its popularity. Expect superior customer service at Wheaton's Cycle, where you can get local ride info as well as bike repairs and gear. Take a short walk downtown to visit the Kalispell Brewery.
Kalispell Hostel's proximity to Lone Pine State Park, Herron Park, and The Great Northern Historic Trail make a two-wheeled visit worthwhile. Call 406-270-1653 or visit www.kalispellhostel.com for reservations. // (Katie LeBlanc)