Here are the latest updates and news for Ski the NW Rockies Association resorts for January-February 2022.
Club Shred for Kids at Mt. Spokane = Date Night for Parents
Starting in January, every Friday night Mt. Spokane Ski & Snowboard Park will host Club Shred for skiers ages 4-10 (level I & II ability). From 5-8 p.m., there will be a kid-only dinner, ski lessons, and fun activities such as snow fort building, games, crafts, and more. $49/per child.
Free Your Heel, Free Your Mind at 49 Degrees North
When done well, telemark skiing is a beautiful thing to watch. Making knee-dropping turns gracefully down the mountain is a ton of fun and a great workout too. Regardless of ability or time spent on telemark gear, ages 12+ can register for a three-clinic series to learn how to tele ski from certified instructors: Jan. 23, Feb. 13, and March 20 (Sundays) at 49 Degrees North Mountain Resort.
If you want to get some practice in first, 49 Degrees North also has tele gear in the rental shop.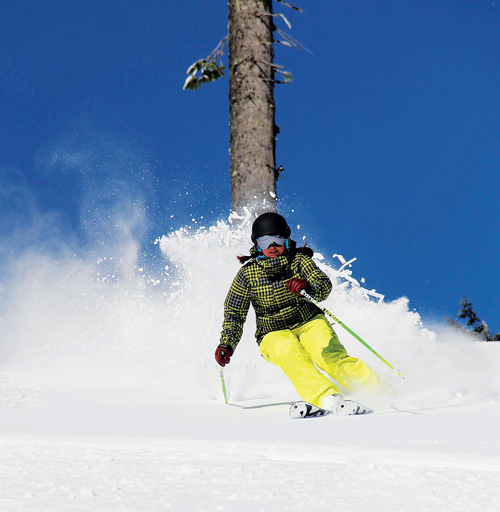 Women-Only Lessons
49 Degrees North has a Women's Clinic Series for intermediate and advanced skiers and snowboarders to develop new skills. Clinic dates are Jan. 10, Jan. 24, Feb. 14, and Feb. 28 (Mondays). Each clinic's focus will take into consideration the daily conditions and participants' goals.
Mt. Spokane is hosting only one Ladies' Day event this year, on Friday, February 11. Led by the ski school's best instructors, the event package ($129/person) includes morning coffee, four hours of instruction and skiing (for all skill levels), an après party, and great door prizes.
Cat Skiing at Lookout Pass Ski
Lookout Pass Cat Skiing Adventures will operate this winter, transporting 12 guests in a SnowCat to the summit of Eagle Peak (Lookout's new expansion area that is still waiting the new lift completion).
Gear Demo Days
Mt. Spokane will host two Demo Days—Feb. 4 for backcountry gear and March 12 for alpine skis and snowboards. Demo skis are also available at Lookout Pass' Rental Department. Test out carving, all mountain, and powder skis.
Multiweek Youth Lesson Programs
49 Degrees North Mountain Resort's Discovery Club is a 4-week lesson program for children ages 6-13. There are groups for skiers or snowboarders, beginners through advanced level. The February session begins the weekend of February 5-6. Choose between four consecutive Saturday or Sunday lessons.
At Mt. Spokane Ski & Snowboard Park, advanced-level youth skiers can sign up for Adventure Club to advance their skills for tree skiing, technical terrain, and backcountry safety. For snowboarders, there's a new Terrain Park multiweek program that focuses on teaching terrain park skills.
Lookout Pass Ski & Recreation Area has a Learn to Ski or Snowboard First Timers three-day package available for $169—which provides 3 days of lessons, lift tickets, and rental equipment.
Silver Mountain's EZ 1-2-3 Ski/Ride packages include three lessons, three lift tickets, and three rentals for $149/person. This is a great opportunity for anyone who has never skied or boarded to learn the basics and feel comfortable on the slopes. (Not valid weekends or holidays.)
Night Skiing at Mt. Spokane
Through mid-March, every Wednesday through Saturday night, 3-9 p.m., select runs on the frontside will be open for night skiing at Mt. Spokane. Tickets are only $32 for 6 hours of skiing/riding. Anyone with a day ticket can stay for night skiing.
Fun Events Every Weekend
More events are back this season, with local resorts hosting events through March.
At Silver Mountain, don't miss Jackass Day (January 13), 10 Barrel Beercat (mobile snow pub, Feb. 25-27), and Après Ski Weekends during MLK and Presidents' Day weekends. For special events, an outdoor bar will serve drink specials from Dry Fly, Damn Good, Schilling Cider, 2 Towns Cider, Fremont Brewing, Western Sons Vodka, and J Seeds Whiskey. More details at Silvermt.com.
At Lookout Pass Ski & Recreation Area, popular events return, including Kids' Snow Bowling and Mountain Brewfest (Jan. 30), PNW Wife Carrying Competition (Feb. 26), Sorta-Natural Banked Slalom (March 5), and Hot Dogs in the Park (March 27). Find event details at SkiLookout.com/Events.
Lookout Pass Expansion & Improvements Update
The Timberwolf Chair, located on the Montana side, has been upgraded to a triple chair, increasing uphill capacity by 50 percent. All 14 trails that comprise the Eagle Peak Expansion have been cut and are ready to become lift-served trails for next winter.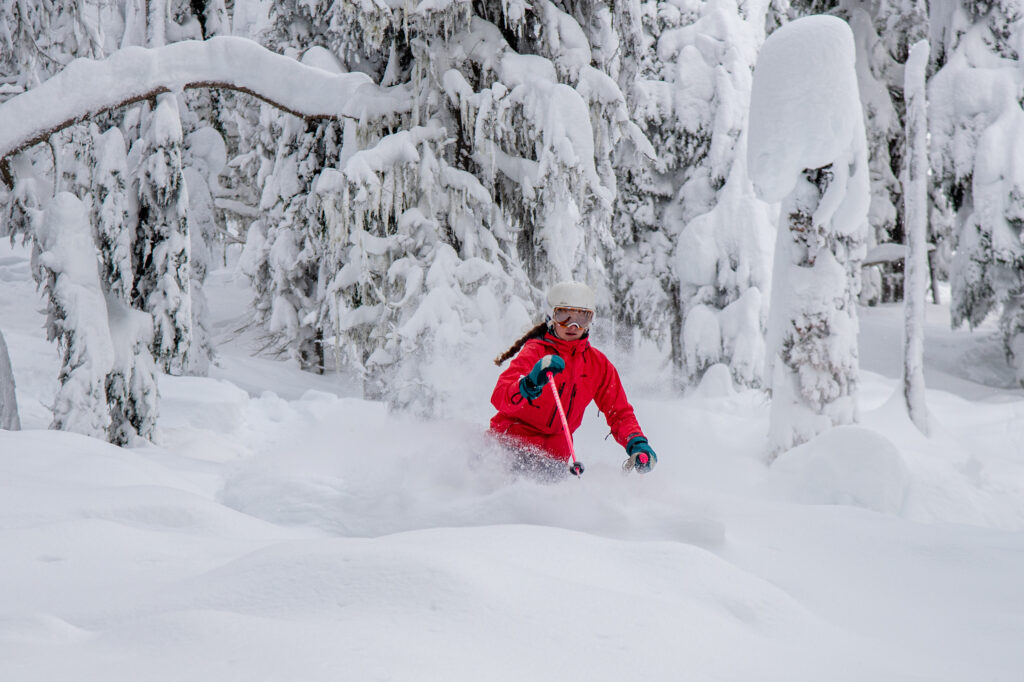 New Snack Shack at Silver
Silver Mountain will open a completely revamped Jackass Snack Shack, located at Midway Chair 4, in mid-January. Serving canned beverages, snacks, and even some hot food, this is the place to be if you want to spend the whole day lapping Chair 4. (Restroom also added.)
Silver Mountain's New Trail Map Sign
If you haven't spent much time at Silver and need some help getting oriented, a new map located right outside the Mountain House will be a welcome addition. With LED lights indicating which runs are open and which are groomed, it's also a valuable tool for Silver Mountain regulars to plan the day.
Expanded Alpine Shop at 49 Degrees North
The retail and gift shop at 49 Degrees North Mountain Resort has added mountain swag including hats, shirts, hoodies, stickers, and other logo gear. Stop by and show your love for your local mountain.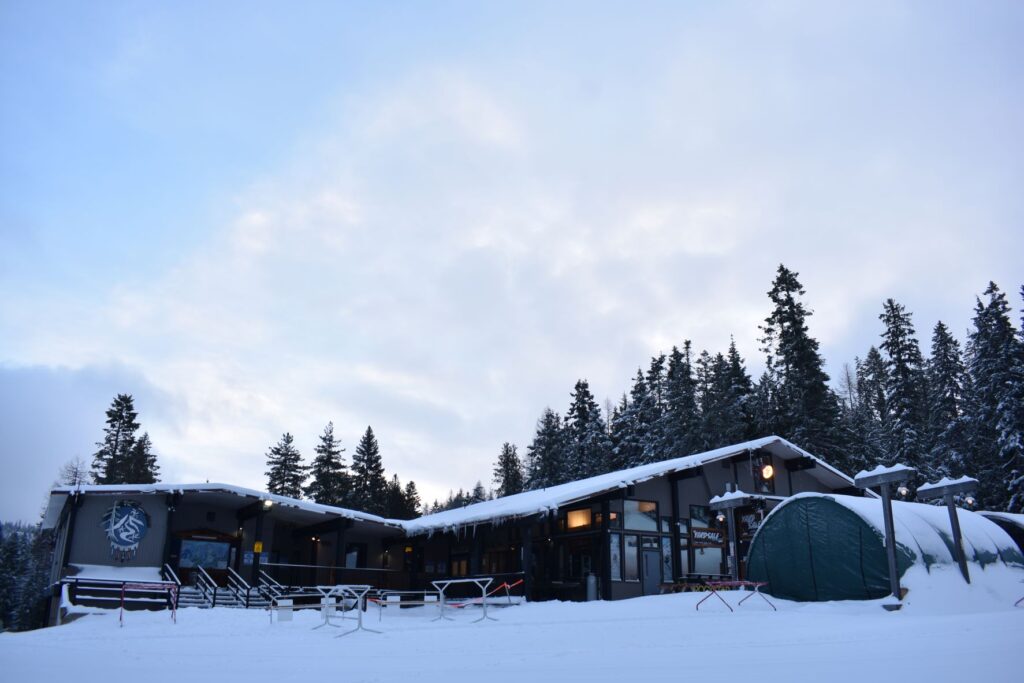 Banked Slalom Competition
Mt. Spokane is hosting their ever-popular Banked Slalom Competition on February 19, as well as terrain park competitions, ski races, demo days, clinics, live music, and more during January and February. Event details at Mtspokane.com; pre-registration is required.
New Groomers at Lookout Pass
Mountain ops added two more grooming Snowcats to their fleet, with one that's designed specifically to carve out terrain park features.
Snowboard Race for a Good Cause at Silver (March 5)
This snowboard-only race against the clock is on a banked slalom course in the terrain park. The "jam-format" event gives contestants two timed runs each, with the fastest time counted. Individual races will have category awards going three deep, with awards for fastest man and woman of the day regardless of category. The beer garden at the bottom of the course is once again sponsored by Grand Teton Brewing.
This 6th annual fundraiser for the Doug Johnson Memorial Fund on March 5 delivers all proceeds to the Doug E. Fresh Foundation. Doug Johnson was a loving father of four children, a fixture of the Inland Northwest ski and bike community, and all-around great dude. His early passing has left a void in the local mountain culture, so this event is to remember and celebrate Doug's way of life.
New Beacon Testing Park at Lookout
Lookout Pass Ski Patrol has installed an avalanche beacon testing park for guests to practice using their beacons before venturing into the backcountry. With the explosion of skiers and splitboarders in the backcountry in recent years, combined with Lookout's close proximity to out-of-bounds, avalanche-prone backcountry, this beacon testing park is a welcome addition.
Benefits for Buying Lift Tickets Online in Advance
If you want to make sure to secure a lift ticket for an upcoming ski day, Mt. Spokane provides advance ticket sales online for reserved dates. Lift tickets may sell out on peak days (which happened in December), so plan ahead.
Reserve Lookout Pass lift tickets online and save $3 to $4 per ticket. To qualify for a discount, reservations must be at least 24 hours in advance, and prior to 8 a.m. the day before you plan to visit.
Lessons Are for Everyone
Many skiers and snowboarders assume that lessons are for beginners, but the truth is there are always things to improve on that will make your time on the snow more fun no matter how many years you have under your belt. Even if one knows the basics, says Silver Mountain Resort's marketing director Gus Colburn, a lesson can teach additional skills and techniques so skiing or riding new or more challenging terrain is less work and less intimidating, allowing you to stay on the slopes longer.
And the benefits of lessons for beginners are huge. "Our professional coaches can get new participants off to the right start, make learning easier, progression faster, and the whole experience more fun," adds Colburn.
Published in the January-February 2022 print issue's Out There Snow special section.
Sponsored by Ski the NW Rockies Association Resorts
Find more stories about skiing & snowboarding in the OTO archives.
[Feature photo by Lacey Johnson, courtesy of Lookout Pass Ski & Recreation Area.]