5 Local Skiers & Snowboarders Share What It Means to Shred
From the point of view of this very out-of-practice skier, shredding is a term that applies to a certain niche of slope-destroying, fear-defying rebels ready to tackle any mountain with a casual smirk and a toss of their wind-strewn hair. I posed the question to seasoned snowboarders and skiers, excited to come up with a better answer.
Josh Wing is a seasoned snowboarder who considers Mt. Spokane his home base and also has season passes to Silver and 49. He started skiing at age 7 and switched to snowboarding in high school, becoming a regular on competitive circuits and in touring competitions. He now gets to the mountain as often as he can, in addition to judging snowboarding competitions. To him, shredding is about "getting together with your best friends and going to get lost in the woods," he says. "You get instant gratification of dropping off cliffs together, or landing a certain trick you've been trying for two months." Wing says community is key. "It's something that I enjoy on my own, by myself, but at the same time it's not the same without friends."
"It's a communion. It's a community, just like church is, just like everything. The snowboard community means everything to me. It's like a family," he says.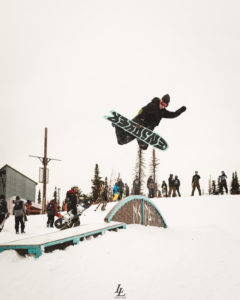 Debbie Pierce and her husband, Bill, are retired, with season passes to Lookout and 49; they also love to cross-country ski. When I posed the question to Debbie, who started skiing as a college student in 1971, she found it funny. "I laugh because we never called it shredding in our day," she said. "We might have said 'ripping' or 'slicing.' And we used a term called 'farming it,'" in backcountry skiing, which was a way of carefully carving turns through powder. When it comes down to it, the term is less important that what it means. "It's just enjoying sliding down through snow, especially powder," Debbie says.
Riley Potter, a senior at Cheney High School who frequents Lookout, started skiing as a very small kid; her parents met as ski instructors in Colorado. To her, shredding is "getting out in nature and having the opportunity to be out in the snow and go super fast down the mountain." It's about connecting with whoever she's with and letting everything else fade away. "It makes you be outside all day long, disconnected from your phone because you have no service on the mountain. You're out there with whoever you're skiing with, and you're forced to talk with whoever you're with on the lift. You're out in God's creation," says Potter.
Chic Burge lives 212 paces from Silver Mountain and is in his 61st year of skiing. He describes a memorable moment from last year. "Last season a buddy I met while skiing had borrowed his daughter's GoPro and shot pictures of me coming down—it's a place I call Secret Trees." Burge says. Fresh powder dominated the footage. "I have a video of me coming down through that and you can't see my face."
What Burge described is what Josh Wing, catching me up to speed on the vernacular, calls "living in the white room." Any time you can throw snow out in front of you, it's thrilling. "It's that moment of adrenaline," says Wing.
When Sarah Crecelius thinks of shredding, the vernacular is a big part of it. A longtime skier, she's got a season pass to 49 for the first time in several years and is excited to carve out more time for herself on the slopes this year. With kids ages 6, almost 4, and 13 months, she and her husband, Landon, are also purposefully instilling the sport into family life. "We are trying not only to raise them to be skiers but to raise them in ski culture," she says. The two boys will "talk about 'shredding the gnar.' They'll say things like, 'That's sick!'" she says. Skiing is an adventure, and perspective and terminology play into that. "They like to 'hit the jumps'—which [to them] literally means anything that goes up and down," she says.
Recently, Sarah and Landon had the boys "earn their first turns" at a nearby park. "They hiked up the teeny little hill there," she says. On the way down they "hit the jumps" and "caught some air."
"I picture them becoming those little diehard skier boys, those kids who have the stoke, who are super ready to get out there.…that's what I think of for shredding," she says. It's all part of building love for a sport that they hope will continue for decades. "We hope to do this forever, hopefully, together," Sarah says.
It's been that way for Pierce. Last year she especially enjoyed teaching two of her great-grandchildren to ski. She and Bill check each morning of ski season to see what resort has the best snow, then head to the mountain. A day with perfect conditions, she says, is "exhilarating."
"Skiing is a way of life," says Burge. In his 70s now, he offers good advice: "You've gotta play. If you stop playing, you stop moving."
He goes on, "When you find that thrill that gets your heart pumping and you're really enthused and you 'Yahoo!' and the whole chairlift ride is a big smile—how can you pass that up?" Burge asks.
However you define shredding, it's undeniable the joy, vitality, and meaning skiing and snowboarding bring to these people's lives. "If I didn't have snowboarding I don't know where I'd be in my life," says Wing. "I'd say it's like a saving grace for sure." //
This article was originally titled "What Does 'Shredding' Mean to You?" in the December 2019 issue.
Sarah Hauge wrote about fall color hikes and fueling cold weather runs in the most recent issue.