The folks in Idaho's historic mining town of Wallace will use any excuse for a celebration. For instance, this is the place they had a funeral for a stop light, a parade for a tombstone, and a national press conference for a man-hole cover.
So in 2016 when the State of Idaho decreed each April to be Craft Beer Month, Wallace ran with the idea. The town now has a Craft Beer Pub Crawl featuring dozens of unique brews from all over the Northwest in its dozen-plus National Register of Historic Places watering holes.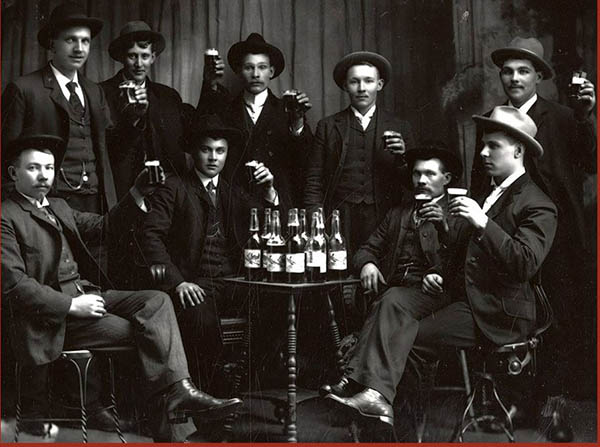 This year the festival happens to fall on Saturday April 20 from 11 a.m. to 4 p.m. (For those who partake in other substances, that date is "4/20".) Organizers are now nailing down different craft brewers to participate. Last year they had breweries from Bend, Boise, Pullman, Helena, McCall, Spokane, Victor, Moscow, Seattle, Portland and more, along with the Silver Valley local microbrewers Wallace Brewing, North Idaho Mountain Brew, and Radio Brewing.
There are a couple of things that make this festival unique. Unlike other brewfests where revelers are in a gated area, festival goers, known as Wallace Crawlers, are encouraged to wander through the picturesque downtown, where each of the dozen plus venues is within walking distance of each other.
That wandering is made even easier courtesy of the Sierra Silver Mine Tour. The tour's fleet of trolleys makes circular trips through the town for the whole five hour length of the festival. Some of the bars also offer designated drivers.
Wallace also has a "Red Solo Cup Rule." Here's the Wallace rule: you won't get busted for an "open container" in town as long as your beverage of choice is lounging in a Red Solo Cup. It's a special understanding city fathers have for the town's multiple festivals and history of being a hard working and hard living mining town. As Dolores Arnold, a late beloved local madam explained of the Wallace perspective on life, living, and the pursuit of happiness: "You'd don't have to follow all the laws, but you do have to follow the rules."
For their $15.00 ticket, festivalgoers get three free 4 oz. pours at the check-in, a commemorative 16 oz. Wallace Crawl glass, Venues and Menus guide to all the beers being offered at all the participating taverns, plus discounts on featured beers. The festival is bookended by two other local events. That morning is the 19th Annual Leadman Triathlon in Kellogg, and Wallace Fight Night USA Boxing Sanctioned matches are being held that evening upstairs in the Wallace Elks Lodge. Plus several of the venues are planning live music, games, and polls for the most popular craft beers into the night. Look for details, including a PayPal button to purchase tickets, a complete brews list, and more on the Wallace Chamber website (www.wallaceidahochamber.com), and Wallace Craft Beer Pub Crawl and Wallace Idaho Chamber Facebook pages. Or call 208 753-7151 with questions. //