Picture this: Scrabbling up a steep mountainside, an old mining town scrambles to find a new identity. Noting the proximity to a ski area (or two), outdoor recreationists—and their wallets—come calling. Dark taverns morph into lively microbreweries; gastropubs replace smoky diners. And like that, "ski town" status begins to materialize.
It's a scene that's played out across the Rockies, from Rossland to Revelstoke. Slowly but surely, it's happening in Wallace, Idaho.
Wallace sits within 10 minutes of two of the region's ski areas as well as the revered Bitterroot backcountry ski zones of Burke and the Stevens Peak area. Yet parkas and ski pants on the streets of town are still uncommon. Once the largest silver-producing region in the world, the Silver Valley remains an active mining community, where storefronts still display the day's silver prices.
Rick Shaffer, director of operations at the Wallace Inn and self-appointed "Prime Minister of Wallace," claims Wallace is definitely a Rocky Mountain ski town. He's watched it evolve over the last "26 and three-quarter years." (Shaffer has a head for dates and numbers as they relate to Wallace.) "It's small, fun, casual. With the breweries and great dining, it's everything a ski town would want to be," says Shaffer.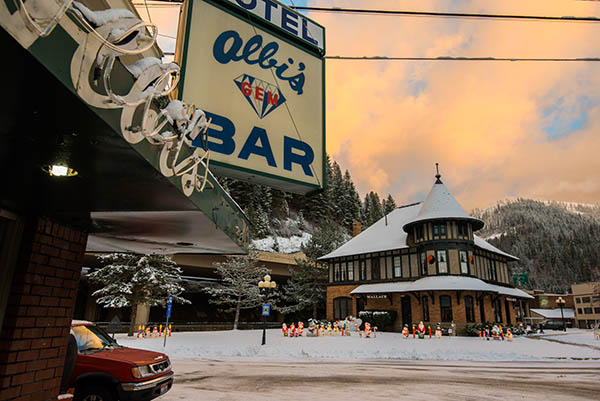 Locals note, with some pride, that Wallace has resisted the ski-town gentrification of the Jacksons and Aspens, although rumors always persist that some newcomer or other is planning to turn an old loft into five-star accommodations. Nonetheless, NASCAR jackets often outnumber Nano Puffs in the lift line at Lookout and at the bar top at Wallace Brewing Company. It's the way ski towns used to be. But it's changing.
Wallace once boasted that it had nine bars in a four-block stretch of downtown (and probably a good deal more a half-century ago). Today, the town of 784 people has two microbreweries and around fifteen full-time food and drink establishments.
"Five, six, eight years ago, visitors from Spokane would go to Lookout, stop at McDonald's in Kellogg and go home," says Shaffer. "Now they'll spend the night at the Wallace Inn, go for food to the Blackboard Café or the Smokehouse [BBQ and Saloon] and grab beers at Wallace Brewing or City Limits Pub & Grill. And it helps that you're not spending your 401K to ski at Lookout!"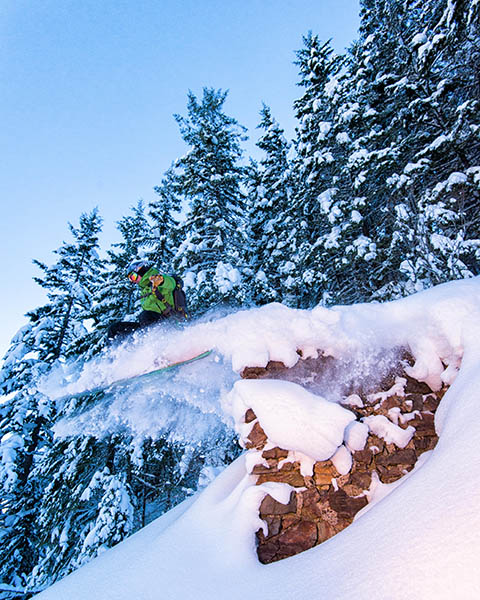 And the flipside of the town's rowdy, bordello-and-bootleg history is an entrepreneurial spirit that seems to renew every generation. "The past two, three years there's been a new vibe coming into Wallace that hasn't been here for 15 years—young people buying businesses, buying houses. These people want to live in a town like Wallace where they have Wi-Fi, can carry on a business, but still have quality of life," says Shaffer. "Wallace can still be a mining town, we can still have that heritage, but we can evolve."
And that's how Shaffer's royal title came to be, another in a series of small tipping points that have pushed Wallace into the future. It was the early 90s. Silver prices had bottomed out. The last stoplight on Interstate 90 had just been replaced with an elevated freeway that bypassed downtown. With business across town down nearly 25%, Shaffer cast about for ways to get people to stop in town. One day, during a motor coach tour, Shaffer told his Canadian guests to "tell everyone back home that Rick the Prime Minister says 'come visit Wallace!'"
Shaffer kept repeating it until it stuck. (Ask Alexa "Who is the Prime Minister of Wallace" and she'll tell you it's Rick Shaffer.) And that's the lesson that has been borne out over and over again in Wallace: keep trying new things until something sticks. "Otherwise, we're just another mountain town," says Shaffer. "You have to be something unique." //