By Jill Wagner 
Runners pass me on the neighborhood sidewalk or local hiking trails, and I wonder, what do they think about for all those miles? How do they control their emotions when grinding away stride by stride? I find running hard on my body and my mind. But when walking and hiking, I revel in the movement and the freedom to gawk at flower gardens, soaring Ponderosa pines, and swampy fields of wild yellow iris along the Little Spokane River.  
I walk as part of my work commute and to do errands, but in the past eight years or so, walking and urban hiking have become an integral part of my workout routine, and my go-to wellness practice.
Exercise routines have always been more manageable for me if I have an end goal. When I am building up to an event, the daily or weekly workouts are filled with a certain thrilling anticipation. Over the years, I have pursued that thrill by aiming for half marathons. Most recently, I joined lifelong friends in our native Southern California for the Pasadena Half Marathon.
Preparations took me through the fall and into early winter, and it was mid-December when I noticed that walking, hiking, and snowshoe training to walk a race isn't all that different from being a runner. Most organized races require walkers of half marathons to complete the course in four hours. For me, to be safe, that means maintaining a pace of about 16:30/mile. The mental training to manage that pace becomes as much a part of my workouts as the physical will to move so quickly along the roads and trails. Striking a balance between being a gawker (relaxed and peaceful) and being an athlete (constantly vigilant about time and physical execution) is a tricky prospect.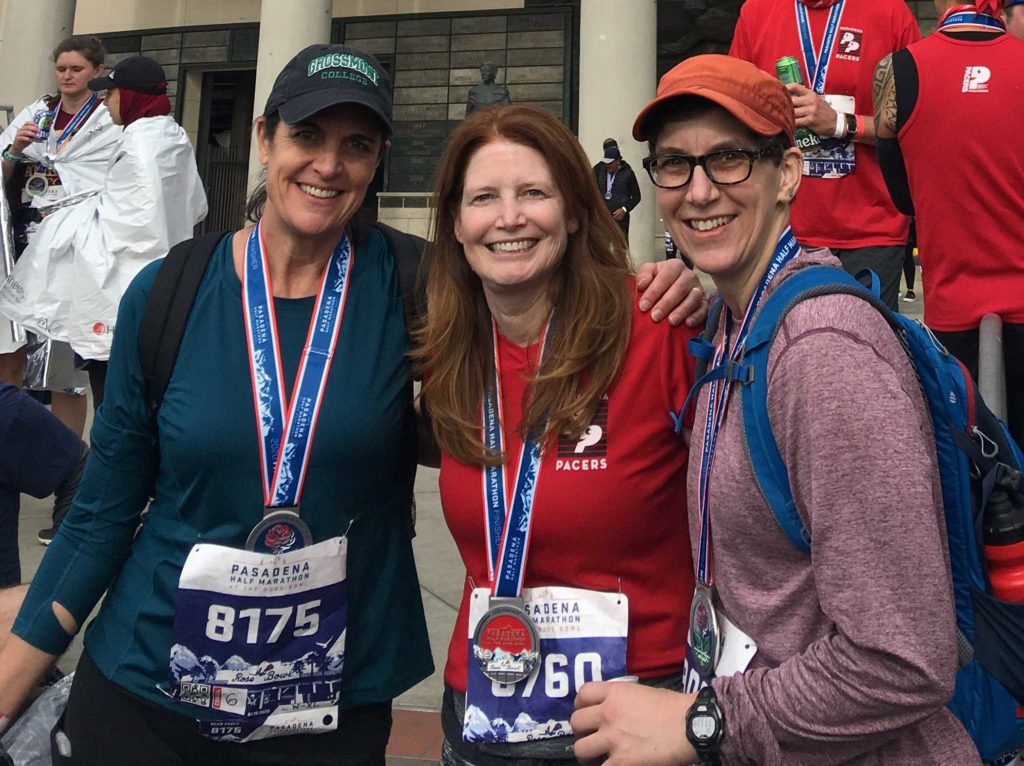 Getting onto a trail, where distractions like car noise or traffic signals are absent, can focus my attention on the moment. It's a nice addition to training on the city streets. Rather than think blocks down the road and wish I were at the next mile marker, I center on what's just four or five steps ahead. I can practice pacing while also seeing more clearly what's around me.
Generally, I train by adding a mile per week to the long walks or hikes, usually done on a Saturday or Sunday. During the work week, I will walk 2-4 miles a couple of times, and include at least one bike ride. Snowshoeing makes training doable during the winter months, and a stationary bike, or indoor trainer for your own bike, works great when it's icy and cold or when it's too hot and smoky outside.
Jill Wagner is an academic advisor at a local university, writer and blogger, and intrepid believer in self-propulsion. She has been known to walk to dinner, kayak to breakfast, and trek the Grand Canyon from the North Rim to the South Rim.  
See Jill's recommendations: "5 Great Spots for Hiking & Training."