Experience winter wonderland in Fernie, BC at these exceptional places to hang your toque for the night.
Renowned as ski destination, Fernie B.C. is a picture-perfect Rocky Mountain town 3 hours from Calgary that has become the alternative travel hot spot to Banff, Lake Louise and Canmore. Outdoor winter fun is endless with skiing at Fernie Alpine Resort, catskiing, cross-country skiing and dozens of scenic forest trails for snowshoeing, nature walks and fatbiking. At the heart of Fernie lies Historic Downtown, a wide boulevard of rose-brick and golden stone buildings; home to eclectic boutiques, shops, cosy pubs and restaurants.  Fernie's options for places to stay are plentiful and diverse; here are 6 unique accommodations to put on your bucket-list.
901 Fernie & Spa
In the heart of Historic Downtown Fernie lies a grand historic building that once housed the town's high school, built in 1908. Restored and transformed into luxurious, state-of-the-art 2, 3 & 5 bedroom condos with a 6,600sq ft spa and wellness centre, 901 Fernie has elegantly combined historical assets including original brick interiors and high ceilings with modern opulence. http://www.ferniecentralreservations.com/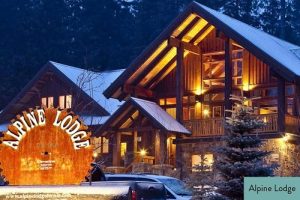 Alpine Lodge
Alpine Lodge was specifically built to offer amenities to cater to an alpine traveler's needs, blending the atmosphere of Fernie Alpine Resort with the personalized warmth and service of a B&B. With ski in/ski out access, complimentary breakfast, a steam room, jacuzzi, great room and media room, Alpine Lodge is a place where good friends and memories are made around the majestic log fireplace. http://www.alpinelodgefernie.com/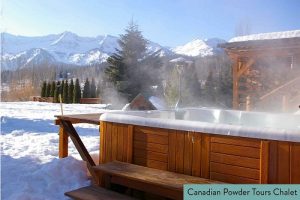 Canadian Powder Tours Chalet
Styled after the popular catered chalets of Europe, Canadian Powder Tours Chalet is rustic getaway of classic Canadian log design, located in town and owned and operated by Susan Mould. Susan is the heart and soul of the guest experience with her gourmet organic cooking, guest ski guiding and friendly, personal service. The character of the interior is defined by the old-growth Fir, worldly collections of art and cosy, welcoming furnishings. It boasts 5 comfortable guest rooms, solid log tables for homemade group meals, a large stone fireplace, and an extensive selection of music, books and games for guests to enjoy. http://www.canadianpowdertours.com/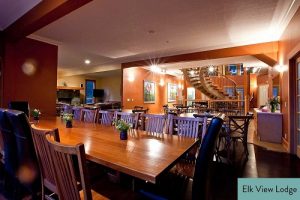 Elk View Lodge
The ultimate large-gathering mountain chalet, Elk View Lodge is a few minutes from the town in a secluded woodland setting with outstanding views of the Rocky Mountains and Fernie Alpine Resort. This 9-bedroom, 11-bathroom lodge is the perfect place for large family vacations, weddings or retreats. Over 10,000 sq. feet of luxury living sleeps up to 40 guests in self-catered, bed and breakfast or fully catered comfort. Elk View Lodge is the uniquely, private, home-away-from-home you've always dreamed of. http://www.elkviewlodge.com/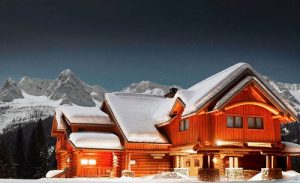 Island Lake Lodge
Named 'One of the most Unique and Authentic places to stay in Canada' by National Geographic Traveller Magazine, Island Lake Lodge sits above a picturesque lake surrounded by Old Growth Western Red Cedar Forest and dramatic Rocky Mountain Peaks. Primarily an all-inclusive luxury snowcat skiing lodge during winter season (March dates still available), Island Lake Lodge is now available for B&B stays until December 24th with fine dining, spa, cross-country and snowshoe trails to complete your winter wonderland experience. This picture-perfect B&B is also open June through September. http://islandlakecatskiing.com/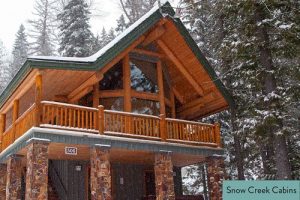 Snow Creek Cabins
Tucked amongst mighty Spruce and Fir trees, on-slope along side the village base of Fernie Alpine Resort, Snow Creek offers a classic Canadian log cabin experience for those that want to be close to the skiing action yet secluded from the village buzz. These private and cosy 2-3 bedroom cabins with private hot tub, fireplace and BBQ sleep up to 9 people and offer a perfect family winter retreat in the mountains. http://www.fernielodgingco.com/
Interested in more details? Contact Tourism Fernie at 1-877-423-2037.