People need experiences in nature, and runners truly value new scenery to beat-feet. Early summer is the best time to run in Montana's Glacier Country; foliage blooms, trails dry out, waterfalls surge, and tall, snowy peaks offer a grand show. An adventurer's paradise, Glacier is sure to earn first-place in a runners' heart.
So many trails and not enough time, so kick it up a notch and run to cover more ground. Some of the best runs around Glacier National Park are hiking trails that are rated as easy and moderate. The East Side of Glacier is equally scenic with less traffic than the west side of the park. On Glacier's east side, there's usually a lingering high-elevation snow-pack in early summer, but Glacier's lower elevation running routes are typically dry and the early morning air is cool. Montana's 2017 snowfall was significant, which translates into early summer trail runner views of the snowcapped Northern Rocky gems just as low-alpine wildflowers begin to bloom.
Recommended Trail Running/Hiking Trails
There are many trails to choose from, but here are a few recommendations to get you started. Take the Lubec trailhead as a quick and scenic three mile out-and-back run. Finding the trailhead can be difficult as there are no signs on the road. From US Route 2 East, find mile marker 203 located between Summit and the Firebrand Food & Ale restaurant. Park in the gravel turnout near the railroad tracks on the northwest side of the road. Cross the rails to the trailhead, marked by a Park Service sign. Run to the Autumn Creek South trail junction and turn around; continue to Firebrand Pass for a longer trek or head towards Marias Pass via Autumn Creek Trail South.
Another excellent option is exploring the trails out of the Two Medicine Campground in Glacier National Park. North Shore Trail is a moderate hike, and a joy to run since the path is so easy. Find the trailhead from Loop A of Two Medicine Campground, marked for "Oldman Lake and North Shore Trail." North Shore Trail winds through forested areas, over avalanche chutes, and along the lake shore. Take the North Shore Trail to Upper Two Medicine Lake Trail for more mountain views, through meadows of flowers and berries. Making it to Upper Two Medicine Lake is a strong 10 mile out-and-back. Modify the quest and take a side trip to view Twin Falls, or create a loop by taking the South Shore Trail back. Research the many excellent trails of Two Medicine, and ask a ranger about routes and specifics for camping before your adventure.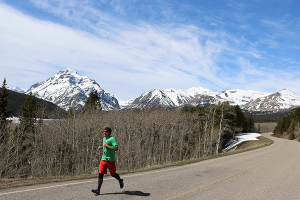 National Park Vacation Races
Summer in the Northwest is calling, as are the many races vying for your registration dollars, including the Glacier Half Marathon (June 24, 2017). As destination races increase in popularity, one half marathon race company, Vacation Races, works tirelessly to corner this growing market. Vacation Races hit-the-ground running in 2012, taking road racers to some of the most beautiful and protected places on Earth — US National Parks. The company's half marathon series now offers eleven race locations throughout the country. Northwest runners have easy access to several of these races being offered in the Northern Rockies, including near Glacier National Park, Yellowstone National Park and Grand Teton National Park.
Race routes align outside National Park boundaries, providing runners with an eye-full of the shockingly-beautiful Rocky Mountains. Most races are scheduled close to park shoulder seasons to avoid peak visitation dates, while helping to boost the economy for slower times within destination gateway communities. Additionally, the events are eco-minded, featuring cup-free races to eliminate unsightly waste from hydration stations by excluding disposable water cups.
As a bonus, a percentage of the race registration fees is donated to the National Park Foundation, to help preservation efforts within U.S. national parks. Vacation Race organizer Dehn Craig says that a two-year partnership with the National Park Foundation promised to raise $150,000 and has been a proven fundraising success, exceeding $250,000 so far. Learn more about the Glacier Half Marathon and other Vacation Races events at Vacationraces.com. //
Be Aware: Recreating in Glacier Comes with Rewards and Responsibility
There's nothing like the feeling of feet pounding the trail at running speed. It's the earth-beat known well by trail runners. Smells of plant life and melodies heard only in nature collide while zooming by under the open sky. Scanning the natural landscape during a run is a fulltime job for the senses and a time to be nothing but fully aware, especially in wild country where grizzly bears and cougars and spotted regularly. So take the ear buds out and enjoy the flow!
Awareness becomes a priority while traveling in Glacier Country at higher speeds while running or biking. Humans are not the top of the food chain in Northwest Montana. Be adventurous with caution. Don't go alone if possible, carry bear spray, slow down around corners and use your senses to scan for wildlife. //