My friend Steve is a throwback. He lives among the rest of us, but the guy belongs to the rambler's era of the old West. So when the news arrived that he had been handcrafting wooden bows and practicing traditional archery, I knew Steve was shooting for a deeper simplicity.
What a thrill when he later gifted me with the "Smoke Creek Special," an exquisite longbow rendered from Osage orange wood and then backed (laminated) with hickory. Steve's gesture overwhelmed me. I interpreted this functional art as an invitation to join him on a meditative journey. I accepted and strung the bow.
Exploring the beauty of traditional archery does not require Steve's or any other bowyer's nudge. Anyone seeking the pleasure of loosing arrows at a target can get set up without much cost or complication. Maybe the best first step is to ask, "What are my goals?" Some people strive for membership on a competitive archery team or for a pleasing form of relief at the end of stressful days. How about a step of martial preparation for a zombie apocalypse? Others interested in traditional archery might empathize with Steve's goal for lone outdoor hunting experiences with bow and arrows in the backcountry. 
Whatever the goals, the equipment needed, at least to start, is remarkably basic. I relish the traditional archer's challenges and appreciate the absence of the compound bow's cam systems, cables, parallel limbs, sights, and releases. With a recurve or longbow, the archer engages only with bow, string, and arrow.
To locate the appropriate gear, contact traditional archers. Most know that neophytes do not need a top shelf archery setup, and they will be generous in sharing their knowledge of bow shops and helpful instructional videos. Veterans of archery can dish on the risks of purchasing anything sight unseen off of the internet. There can be imperfections, twisted limbs, and cracks on bows that would not revealthemselves to the uninitiated. Be sure to elicit the assistance of people who can discern a good deal from a safety nightmare.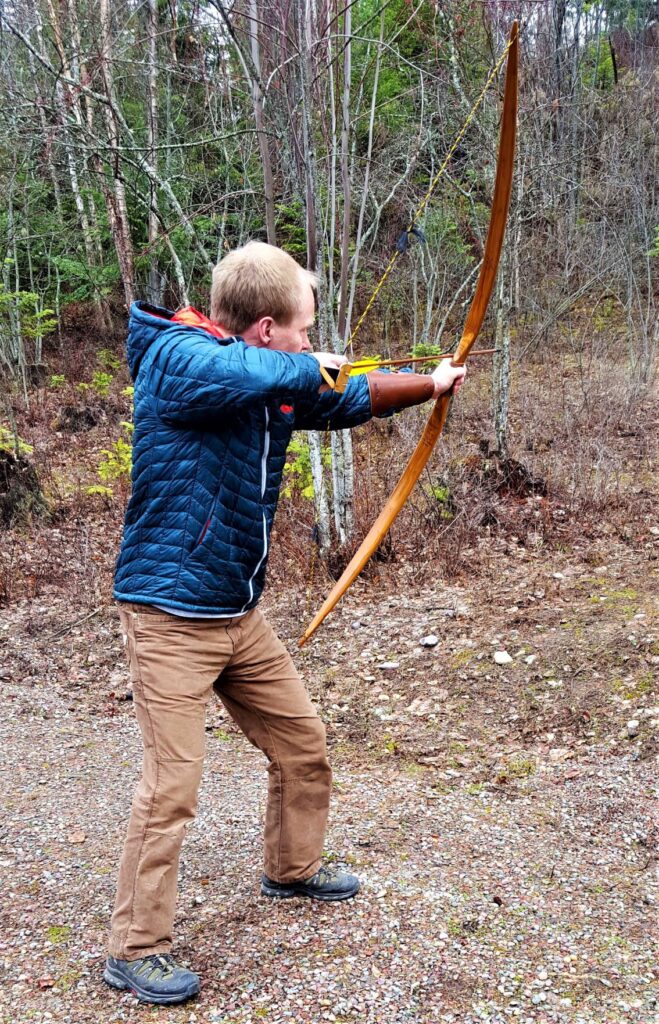 A quick online search will reveal that, wherever you are, professional guidance is not far away. Regional options include Evergreen Archery Club, Spokane Valley Archery, Blue Goose Sporting Goods in St. Maries, and Camo'd Arrow Store and Archery Range near Chewelah. The big box sporting goods stores also carry stick bows for entry-level arrow flingers. 
As with anything, traditional archers can find extraordinarily refined bows and arrows from reputable bowyers. When first starting out, a safe bow and an appropriately sized set of arrows will suffice. Seek help on measuring your draw length, and do not shoot a bow and arrows that have not been matched to your dimensions. 
Originally published as "Coming to Full Draw" in the July-August 2020 issue.
John Eliason started shooting traditional archery in the 1980s and then took a nearly three-decade hiatus. He lives and writes in Spokane, where he teaches in the English Department at Gonzaga University.