Tofino, British Columbia, is rugged and wild. As the most western point on Vancouver Island accessible by road and the terminus of Highway 4, Tofino beckons surfers, storm watchers, and culinary fanatics from around the world to its low-key paradise. Its identity is uniquely metropolitan-meets-coastal-village. As the crowds of summer thin, check out this itinerary for tips on experiencing the best of the coastal west.
Ferry
Arrive in Vancouver in time for the 5:45 a.m. ferry from Tsawwassen Terminal. Fall asleep in the cab while you wait for the cars to start loading. Once aboard, pull luggage from the back of the truck, stuff it into the cab, and roll out sleeping bags in the bed. Forfeit the sunrise for a much-needed one hour and 45 minutes of sleep. Arrive in Nanaimo at 7:30. Grab a quick coffee and walk the waterfront, sipping the hot brew and appreciating your driving achievement. The breeze rolls over the harbor, delivering whiffs of salty, dense air. Gulls scold each other in tidal pools.
Drive
Coffee in hand head north on Highway 19, parallel with the Strait of Georgia. Exit onto Highway 4 and continue west. Stop at the Taylor River rest stop for a sack lunch. Feel good about leaving a deposit in the composting toilet. Wander to the riverbank and admire the serpentine blue water and the rope swing that could take you wide over its banks. Climb back into the car and drive to the end of the road.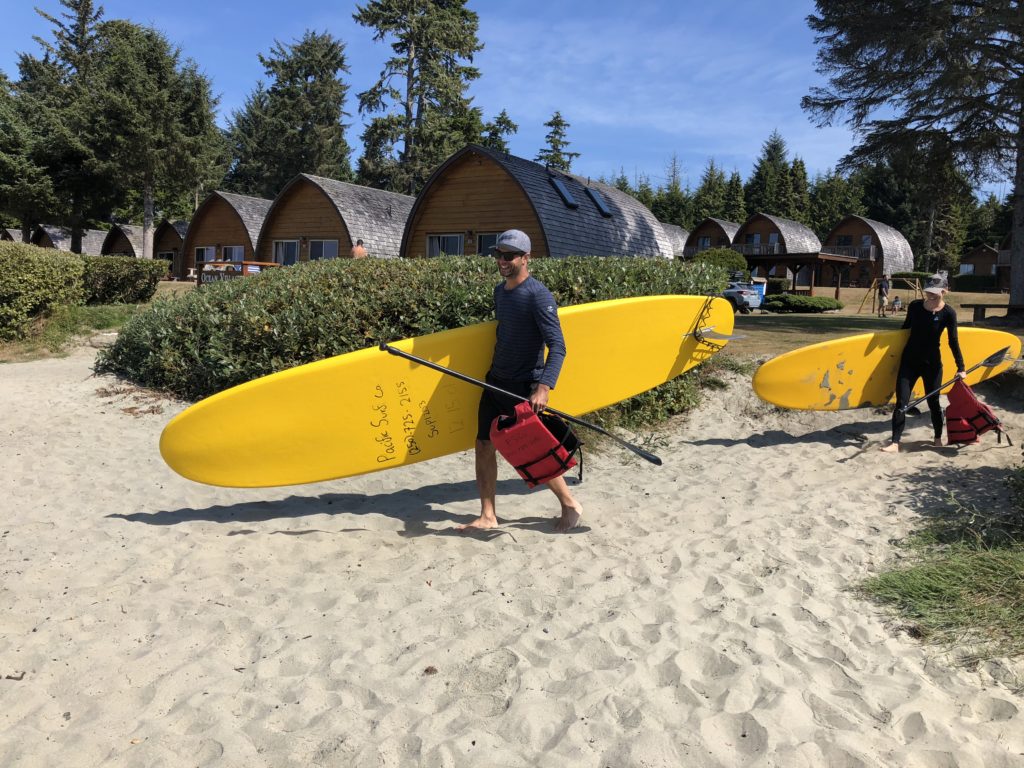 Surf
You'll have to pee when you arrive, but do not go to your campsite or hotel. Go directly to Cox Bay and prowl the parking lot for a parking spot. Remember this place: you will come here twice a day every day. Walk the sandy boardwalk to the beach break and watch dozens of surfers enjoy the costal weekend: tourists on boat-length foam boards and sea-faring paddle boards, along with locals carving their way through the crowds. Yes, you have driven all this way and will join the masses. Jog back, suit up, and paddle through the whitewash. As usual, it's bigger than it looks out there: big enough to take a few minutes to paddle out and deliver a wave or two that could playfully hold you down. Surf until your limbs start to tingle, and towel change back at the parking lot. Open a beer and enjoy the fatigue and the cleanse.
The magic of the line up happens first thing in the morning. Be like a local and get a quick rinse before scattering out to serve tourists for the day. Fortunately, the extensive beach break at Cox Bay holds a crowd. Fortunately, before 7 a.m., it doesn't need to.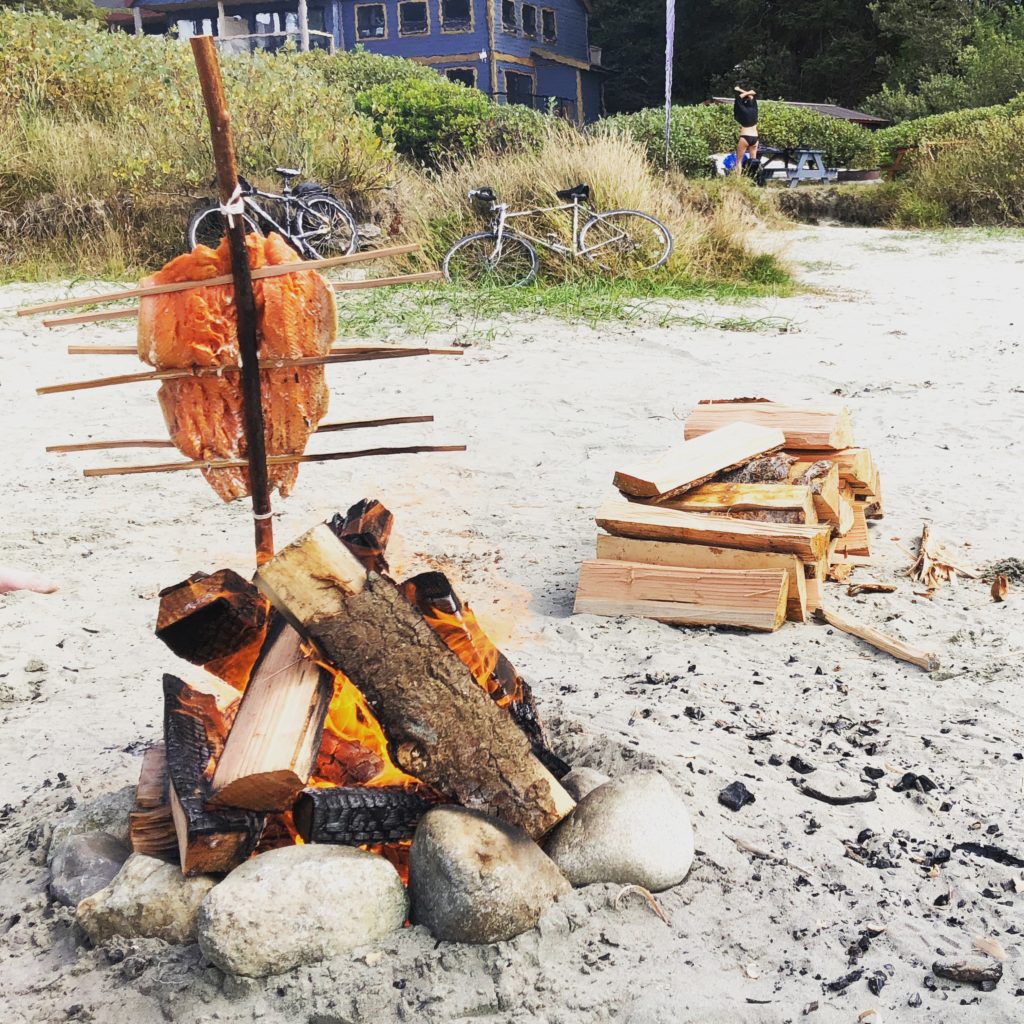 Nourish
Eat out as often as you can possibly afford. Tofino stands strong in its tradition of culinary excellence. When a commitment to local meets coastal, the menus burst forth with the highest-quality ingredients served up in unexpected combinations of flavors.
You try breakfast at Tofino Coffee Company, a local roaster with light, fresh, flaky pastries. Several mornings also find you at Rhino Coffee house for a sour cream glazed beer donut or post-surf breakfast wrap.
The Tofino Surf bowl has you returning over and over to Shelter for lunch, with its local wild salmon, steamed veggies, sesame, spicy yogurt, and cilantro. For an affordable spin on a high-end favorite, the Driftwood Café at the famous Wickaninnish Inn offers eat-in or to-go upscale deli fare.
For dinner, Tacofino food truck does a fresh, local spin on affordable tacos and burritos. For a more formal and evocative culinary experience, the Wolf and the Fog delivers ingredient-driven cuisine that presents beautifully and offers the best of land and sea. Finally, a mid-day detour at Chocolate Tofino for a sweet treat will not disappoint.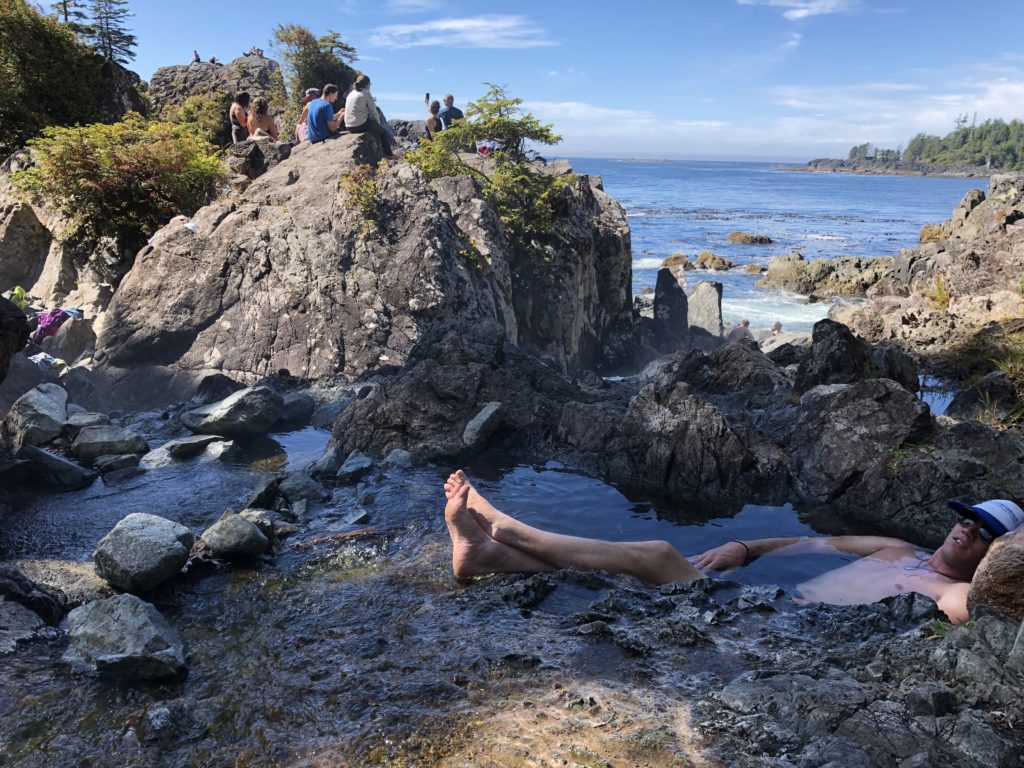 Rest
Hot showers, warm cabins, and unspoiled ocean are top priority at the beachfront Ocean Village Resort. The rustic beehive cabins peer over the pacific, always at the ready for the perfect pairing of British-Columbian wine and sunset views. The relaxing, coastal vibe also offers onsite paddleboard rentals, hot tubs, and firewood for beachside BBQs.           
Crystal Cove Beach Resort offers cabins, RV spots, and glamping accommodations to meet the needs of all kinds of travelers. The cabins have a forested feel but are close enough to hear the ocean and stroll with your toes in the sand anytime of day. With a friendly and helpful staff, Crystal Cove is an especially good option for families and groups of friends.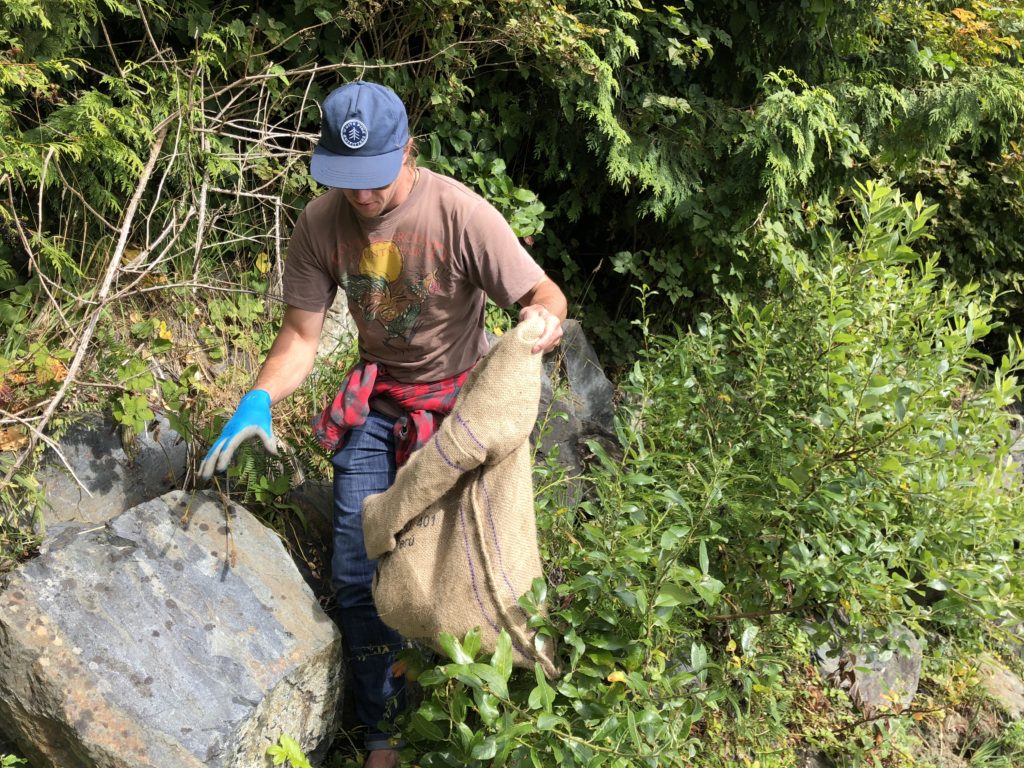 Give
Join the Surf Rider Foundation in a beach clean up at Mackenzie Beach. Learn about their campaigns to eliminate straws and other single-use plastics, and about their expeditions to collect marine debris from remote islands. Clamber up and down the beach, scanning the sand for even the tiniest flakes of plastic. Return to the white canopy and sort your findings. The metals and plastics are recycled, and only the smallest pile will be pitched into the rubbish. Contribute $10 for a BBQ and talk shop as you nibble on the rewards of stewardships: freshly caught, spit-roasted sockeye salmon.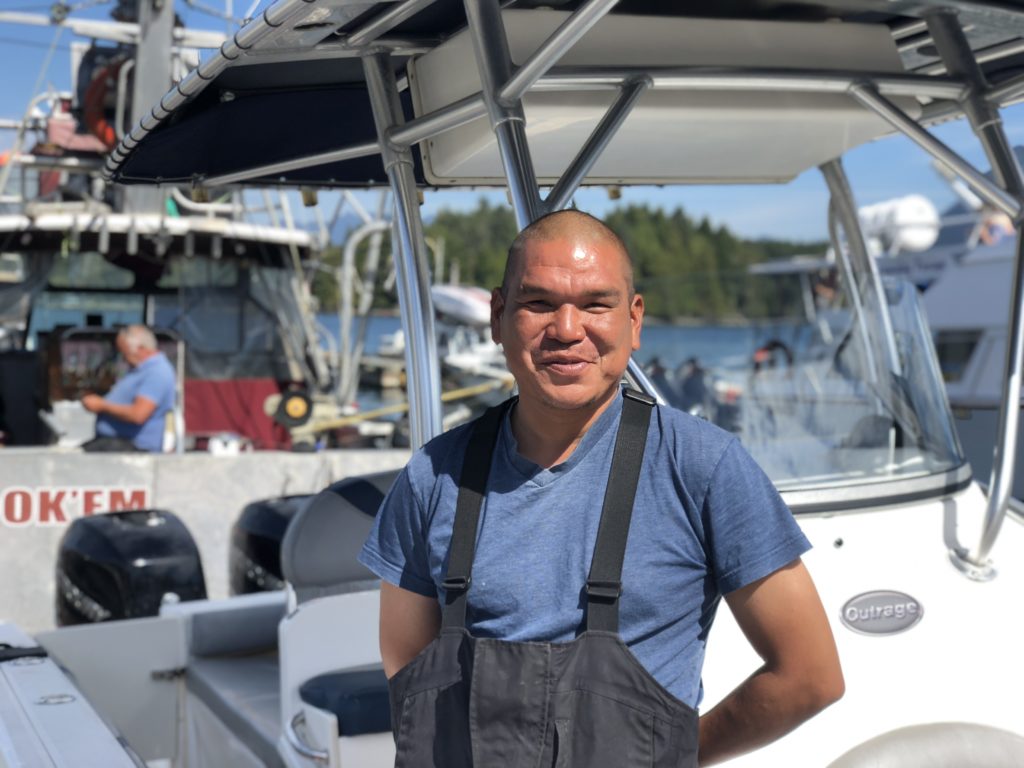 Watch
Climb into The Whale Centre's red cruiser suits that protect you from wind and spray. Feel your captain drive the boat smoothly on choppy waters, once or twice aiming for the peak of the wave to make passengers squeal—or perhaps to remind everyone how terrible this trip would be if they were in less capable hands. Captain Howie was born here, and he's on the search for a gray whale, killing the motor and scanning the horizon for the slick rise of a fin. He sees the barnacled hump first.
"She's up, she's up!" he calls, and the sea safarians nuzzle their cameras to their faces. Howie tells you she has come up from Baha. He stands firmly as the rest of us pitch around, the radio intercom draped around his shoulders like a doctor wearing a stethoscope. His company shares whale citing information with the Department of Fisheries and Oceans. They discuss encounters with famous wildlife here, like Tumbo, the killer whale with scoliosis.
Howie delivers you to the Hot Springs Cove trail and tells you to be back in two hours. He's on the boat seven days a week this time of year. You shuffle along the primitive boardwalk to the hot waterfalls and steaming holes looking over the ocean. The scene reminds you of a seal colony, with people soaking and reclining on every rock in site. You manage to find a quiet pool, slip in, and watch the cold ocean break on the cliffs.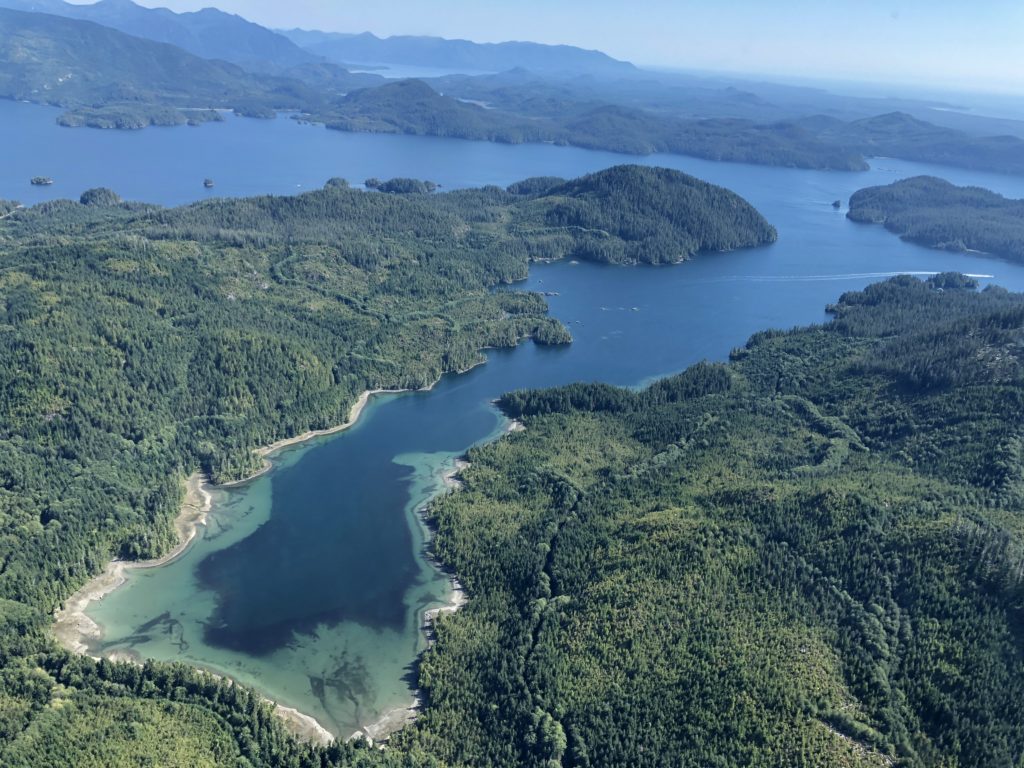 Fly
The helicopter mechanic for Altea Air keeps a close eye on his puppy as he greets you. There's a wolf pack at their airport that killed a dog just last week on Chesterman Beach. Your pilot Antony arrives, looking more like a DJ spinning indie rock than an airline pilot. You nod in unison with the other passengers during the safety briefing and smile compulsively as the flying machine trembles. Antony hits switches with the quick nudge of muscle memory.
He's been at this long enough to have an arsenal of pilot jokes. "We'll cruise low here for a bit. Mostly because I'm afraid of heights," he says as we scan the beaches for bears. At the Tofino inlet he shows you a harbor seal colony and says, "We refer to them as rock sausages." The largest section of unlogged temperate rainforests expands across this section of Vancouver Island. Antony reports four Chinook and eight Coho Salmon spotted here— a zone that used to hold 2,500 fish.
One minute of flying is the equivalent of 1-1.5 hours of hiking. This view offers a tremendous advantage over the mazes of blue inlets and green islands. He flies over a braided waterfall that once impressed a group of Saudi passengers. "How did you build all this?" they had asked.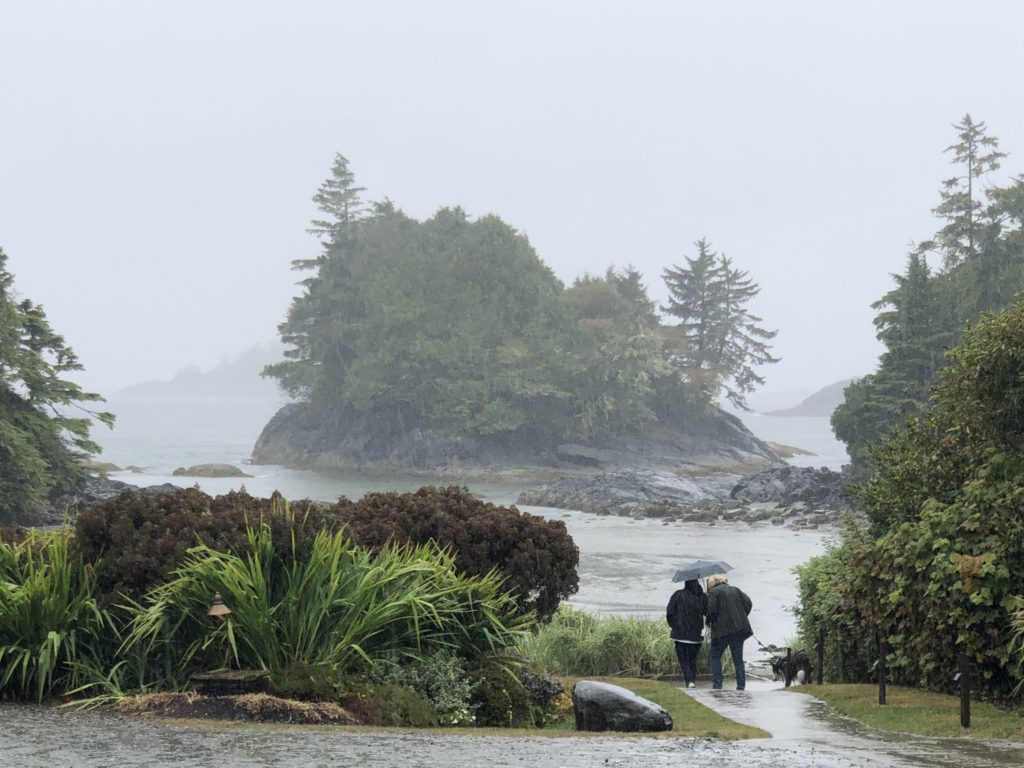 Honor
Stand at the back of the crowd as rain falls in a steady mist. The totem is freshly raised as an act of reconciliation honoring Tla-a-qui-aht chiefs. Feel simultaneously included and conspicuously out of place. The rain pulls everyone close. Stopping mid-day to be present to an act that reclaims history and evokes reverence feels odd. Feels right. Feels important. You see more sculptures of this kind of work at the Himwitsa Native Art Gallery. It specializes in fair trade First Nations artwork, handcrafted by the region's most talented and innovative artisans and visionaries. 
[Photos courtesy of Summer Hess]