Although McCall, Idaho, is better known as a lakeside getaway for Boise residents, it's not all beach cruisers and boutiques: the region has been a mountain biking destination since the sport's early years.
And autumn is an ideal time to ride here, when Payette Lake has traded summer crowds for fall color, and frosty mornings precede mild, dry days. Regardless of the season, McCall is a laid-back mountain town, where polo shirts and padded shorts live in harmony.
Each of the trail systems below will treat riders to smooth, satisfying singletrack, the fat-tire equivalent to a scoop at Ice Cream Alley downtown. It's good enough you'll be asking for seconds.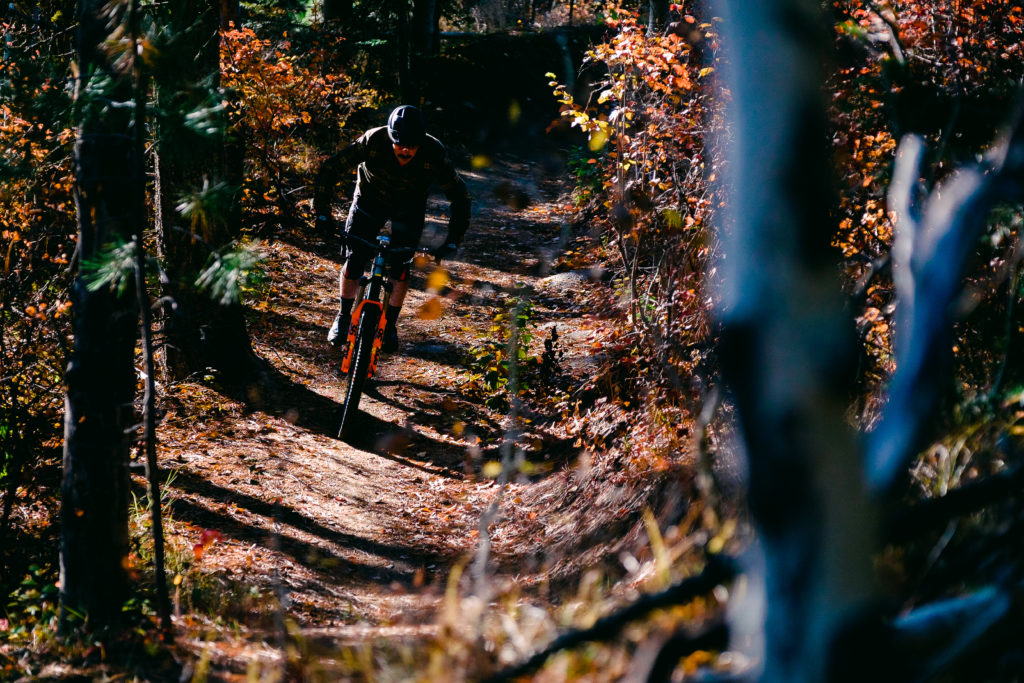 Brundage Mountain Resort
At Brundage Mountain Resort, northwest of McCall, you'll quickly realize why walk-on riders and wedding parties vie with bikers for the top of the mountain: open beargrass meadows and the snow-stunted whitebark pine of the upper mountain allow for expansive views over Payette Lake and the Salmon River Range.
From the top of the Bluebird Express lift, the loose rock and tight turns of double black diamond Hidden Valley will keep experts on their game, while the loping green descent of Elk Trail gives beginners a safe spot to practice small rollers and stream crossings.
Where Brundage really shines is its cross-country trails, which comprise a quarter of the 26 miles of old-school singletrack on the mountain. A beginner loop on the west side of the main parking area will ease first-time riders into switchbacks; the 3-mile Black Bear loop incorporates mellow single and doubletrack trails for a slightly longer introduction to pedaling. And when the lift isn't spinning, Elk Trail makes for a solid 6-mile climb to the top, with views as good on the way up as they are on the way down.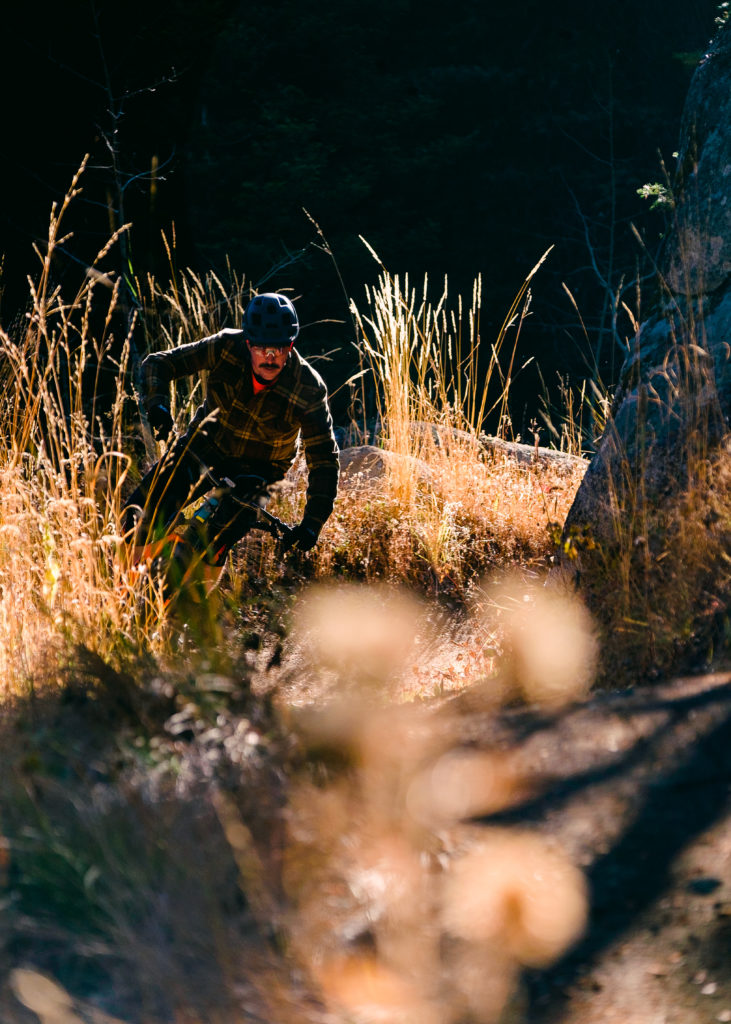 Bear Basin
Only five minutes from McCall, the Bear Basin trail system is the closest to the busy lakeside community. But even in the height of summer, when traffic slows to the crawl on Lake Street, Bear Basin remains refreshingly quiet.
Most of the immaculately buffed, machine-built trails clock in at no more than a mile, with few big commitments in either time or elevation gain. Mix and match depending on your time and ability level; the figure-eight loop of Baby Bear – Sleepy Hollow – Blue Ridge Loop – Too Short – Polar Express makes for a fast, swoopy, after-dinner ride.
For a longer ride, pedal the Payette Rim trail, which parallels the lake high above its shore with near-constant views of McCall's main attraction. It's also the entry point to the west side of the Payette Lake trail—a route that, once fully complete, will circumnavigate the lake on roughly two dozen miles of singletrack.
Jug Mountain Ranch
Pulling up to the clubhouse at Jug Mountain Ranch and parking next to a golf cart, you'd be forgiven for not knowing the private golf course community boasts one of the region's best singletrack systems. Then the shuttle vehicle—a World War II-era open-air artillery carrier—shows up, and you realize that biking is serious business here.
Tucked up against the foothills on the east side of Long Valley, Jug Mountain Ranch has constructed nearly two dozen trails ranging from two-track cruisers to drop-and-gap double blacks.
From the top of the bike park, drop into Doe Joe on a beginner-friendly flow trail or amp up the difficulty on Double Shot's rocks and wooden features. Groms will gravitate toward the pump track, gravity riders to Stitches and Double Shot. Cross-country riders can pedal up to the Shoreline Trail for some flowy singletrack through expansive aspen groves.
Although privately owned, the trails are free and open to the public to pedal. Jug Mountain Ranch also offers a shuttle service in its artillery-turned-bike carrier if you're into maximizing your bombing runs. The shuttle, which costs $20 for three hours, books up quickly; it's a good idea to call several days in advance of your visit to ensure a spot.
Tamarack Resort
Tamarack Resort, outside of Donnelly, about twenty minutes south of McCall, earned its reputation among downhill racers in the mid-aughts as one of the region's gnarliest tracks. And while the bike park made the most of its 1,700 feet of elevation loss on its rocky, fall-line double blacks, there's plenty to appeal to the modern—and mortal—rider. 
Like Brundage, Tamarack excels at cross-country, with a sizable trail network departing from the base area that's free and open to the public. For a fast lollipop loop, connect Morel – Lower Pinnacle – Merlin – Wild Turkey on buff, duff-covered trails through forest and field and aspen grove; it's one of the best fall-color rides in the region, and it's accessible well after the lifts have stopped spinning for the season.
Originally published as "Mountain Biking In McCall, Idaho" in the September 2019 print issue.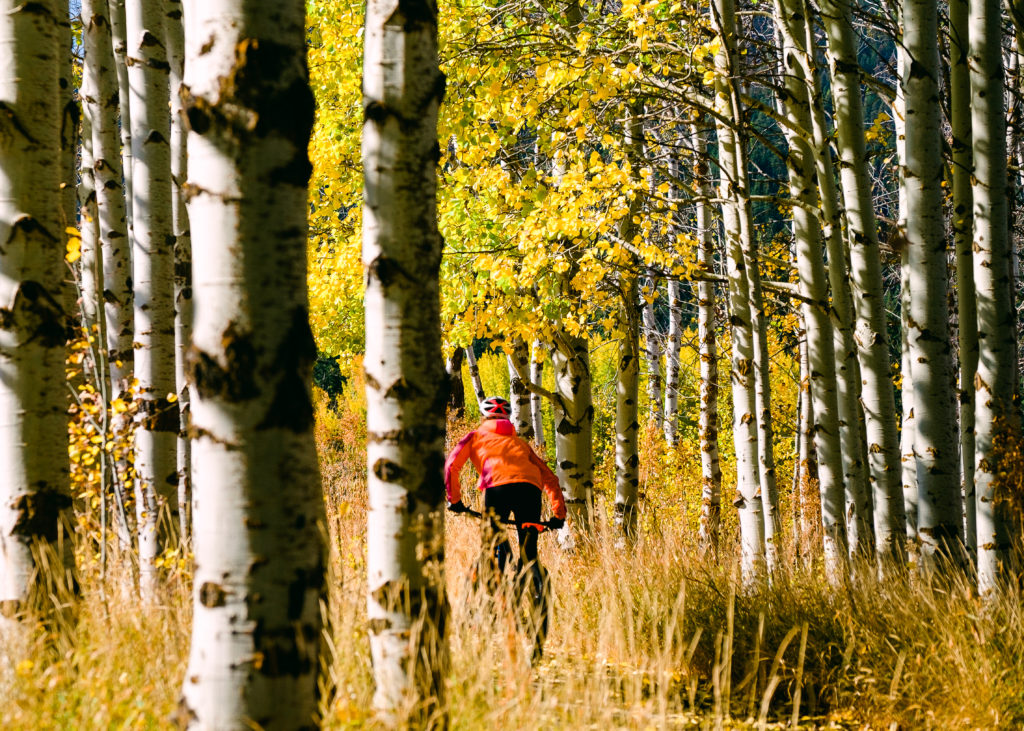 For more stories about Northwest mountain biking trails, gear, and travel destinations, or other recreation and places to stay and eat in McCall, Idaho, visit the OTO archives.
Visit the Biking archives for more articles about Inland Northwest ski mountains, snowboarding, alpine and Nordic skiing, destination recommendations, gear reviews, and more.
[Photos by Aaron Theisen]