Skiing and riding as a family can be one of the best ways to keep active and healthy in the winter, grow strong bonds between parents, kids and siblings and help your kids develop skills on the slopes that will provide a lifetime of active winter fun. Fortunately, you don't need to take out a second mortgage or borrow from your kids' college fund to get your family set up to ski or ride this winter. The Inland Northwest is blessed with plentiful family-friendly ski resorts that are still affordable for the average working-class family, offering discount learn-to-ski programs and family pass and lift ticket deals and discounts.
The next question is often how to outfit a family with ski gear on a budget. There are many ways to find excellent deals on new and used ski and snowboard equipment, from hitting the clearance sections and the ski swaps, to taking advantage of ski shop lease and rental programs. Try these tips for getting your whole family set up with the perfect gear to match their size and ability level this season and saving a ton of money in the process.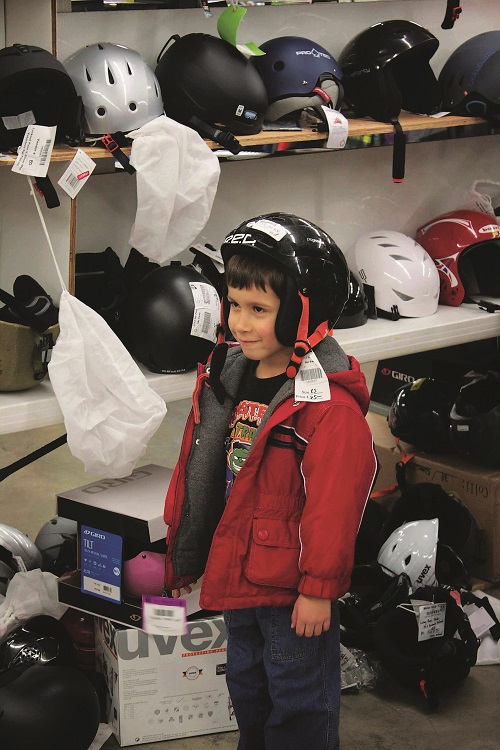 Local Shop Lease & Trade-Up Programs
Taking advantage of shop lease or trade-up programs can be a huge savings over having to buy frequent new equipment as your kids grow out of boots, skis and boards, and it can be a smart move for you too, especially if you're not sure how often you will make it to the mountain or if you want to ski on the latest technology each season.
The Alpine Haus on Spokane's South Hill offers used ski and snowboard lease packages starting at $119 used and $199-299 new depending on the size. The packages include everything (including a mid-season tune). Pick gear up now and return equipment by May 1 with the option to buy at the end of the season. Details: 509-534-4554 Facebook.com/SpokaneAlpineHaus.
For the first year ever, the Ski Shack in Hayden is offering a limited number of $100-$130 ski lease packages, with exact pricing size dependent. Packages include everything. Call for details and availability (208-772-3112). Haydenskishack.com.
While Sports Creel out on Sprague in the Spokane Valley doesn't have a season lease program, they do offer a similar "trade-up" program. Anyone (adults or kids) can bring in a package that they have purchased at the Creel in recent years and get a value back on trading it in towards a new package (trade-ins need to be in good enough shape to re-sell and the value depends on the condition of the gear). Call 509-924-2330 for more info. Facebook.com/pages/The-Sports-Creel/312711075603.
Wintersport on the Division Street hill near downtown Spokane offers new, used, and performance ski and board lease packages for kids and adults. Kid's packages range from $129-229 (boots only for $49), while adult packages range from ski only packages starting at $99, to standard ($179) and performance ($229-$349) and boot only ($69) packages. Gear can be picked up now and returned in May, with a buy option at the end of the season.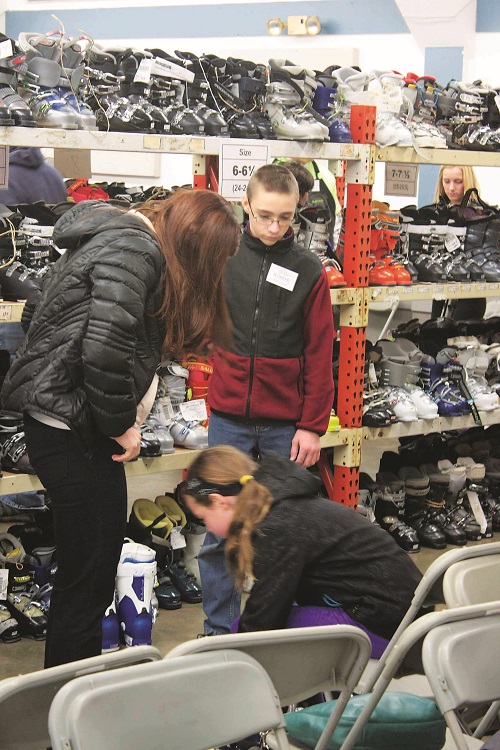 Rent on the Mountain
If you only plan to ski a couple times this season, renting ski or snowboard gear for you and your family up at whatever ski resort you go to can be more affordable than leasing from a shop. Call the resort ahead of time to make sure they have what you need and to confirm pricing.
Ski Swaps
For outfitting a family with inexpensive ski and snowboard equipment and clothing, nothing beats the bargain pricing you can find on great gear at a ski swap. There are still a couple ski swaps happening in November, in addition to the ones that usually happen in October. For tips on how to make the most of your time at a ski swap with your kids, visit Out There Monthly online at: Outtheremonthly.com/surviving-the-ski-swap-experience-with-your-kids.
Also, mark these November Ski swaps on your calendar:
Winter Swap: Saturday, November 1, Kootenai County Fairgrounds (9 a.m. – 3 p.m.). Coeur d'Alene plays host to the combined ski swap efforts of the Lookout Pass and Silver Mountain volunteer ski patrols. The 16th annual Winter Swap is an excellent place to pick up new and used ski gear and clothing for the coming season at a serious discount. Admission is $5 and children under 12 accompanied by an adult get in free. Winterswap.org.
Schweitzer Alpine Racing School (SARS) Ski Swap: November 8, Sandpoint. This annual ski swap features thousands of new and used winter sports items being sold by both individuals and regional vendors. The annual event benefits the SARSs ski racing and freeride programs for over 150 local and regional athletes ages 5 and up. For more information about the swap, visit www.sars.net.
Bargain & Borrow
Even if you're on a really tight budget, there are still ways to get you and your family up enjoying the slopes together. Here are a few ideas that could work for you. Check out clearance deals at local ski shops like Sports Outlet, Fitness Fanatics, and other shops. No luck there? Try Craigslist and eBay for used gear often at a big discount. It's also worth putting the word out to friends and family or on Facebook to see if someone you know has ski gear gathering dust down in the basement that might work for or your kids that you could borrow or even buy. //