Before my kids will have figured out their Halloween costumes, I'll know what they'll be wearing the first day it snows. For my family, October isn't just about soccer games and raking leaves; we also have our annual ski gear ritual.
My kids will semi-patiently try on all of their last-season alpine gear, from head to toe, while their dad and I figure out which new, bigger-sized items are needed for the coming ski season. We check the fit of ski boots, jacket sleeves, helmets—everything! We then re-organize all the items: individual ski bags; a bin of snow-play gear for home, sledding, and school; and, finally, any outgrown gear we hope to sell at the Mt. Spokane Ski Patrol Ski Swap, which is always the last weekend of October.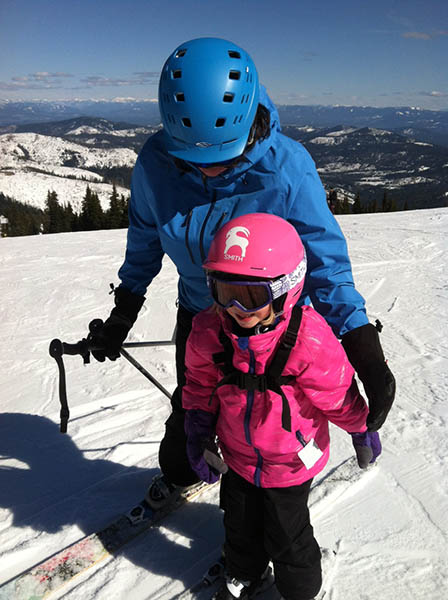 I've always felt giddy when it snows, which is why I love the Inland Northwest's four-season climate and snowy winters. But I didn't grow up in a ski family. It wasn't until junior high that I even tried on an old, used pair of skis, and even last season I took a lesson to fine-tune my skills. Now the mom of skier kids with a ski patrol husband (who's been skiing for 40 years), I geek out over gear and check mountain weather reports with my 9-year-old son. He keeps ski mountain trail maps on his bedroom wall year-round and now skis better than me.
And about those ski bags—from season opening weekend through the spring skiing days of March, they'll be lugged from home to the mountain and back at least once or twice a week, along with skis and poles. But that's the toil and joy of being a ski family.
In this double issue, our On the Mountain section and annual Family Winter Sports Guide will help you get ready for the coming season. If you're new to skiing or snowboarding, we have tips to get you started. You don't have to own new or expensive gear. And no matter your age or ability, there is a lesson program for you. It's never too late to learn, or to get back on your boards after a long hiatus. We're fortunate to live in the Inland Northwest. From the Cascades to the Selkirk and Bitterroot mountain ranges to Montana's Whitefish range and the vast wild mountains of British Columbia, majestic alpine landscapes surround us, with snow-covered summits and trails to fit any recreation style. American naturalist and preservationist John Muir famously wrote in 1873, "The mountains are calling and I must go." Be more like John this winter. Our mountains are waiting for you.