"Our thing is we want to promote distance running. A good way of doing that is to promote high school cross-country," says Lori Shauvin, a longstanding member of the Spokane running community and former race director who currently serves on the Bloomsday Road Runners Club's (BRRC) board of directors.
She's talking about the symbiotic relationship between high school cross-country teams, local running races, and the BRRC. It works like this: The BRRC, a nonprofit organization committed to promoting distance running and walking in the Inland Northwest, puts on many races every year—among them the Sundae Sunday, the Spokane Marathon (plus half-marathon, relay, and 10K), and the St. Paddy's Five Miler. These races require an enormous amount of human power to put on, from staffing aid stations to marking the route, providing entertainment, and cleaning up. Some years back the BRRC came up with a unique solution to support runners along the course and give back to the community at the same time: they take the majority of their profits and use them to pay cross-country teams for providing support at these races. Funds earned by high schoolers can go toward costs like uniforms or team shirts, entry fees for out-of-district meets, pizza parties, and travel expenses.
"It's good for the kids to give, and it's good for adults to see kids give. It's kind of a win-win situation," says Shauvin. "If we had to find volunteers to do all of that, it would be difficult. It's a really great thing because we support the kids and the kids support us."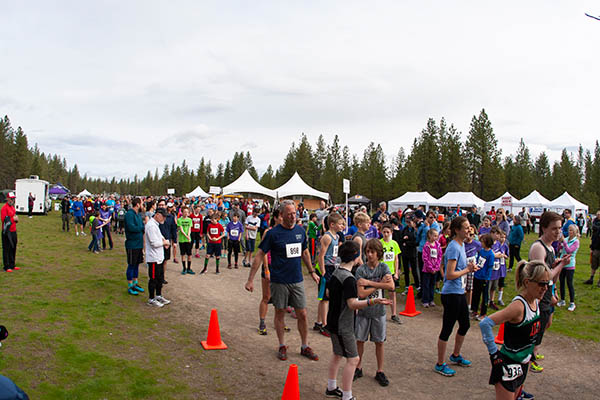 Kevin Swaim, coach of the Lewis and Clark girls cross-country team, says supporting local races gives students the chance to see where they fit in the larger Spokane running community. Providing support at local races helps high schoolers "realize that a lot of the cool events that they will hopefully take advantage of when they are grown-ups depend on a lot of people, a lot of personnel," he says. "This is a chance to realize, 'Oh, this is how these things happen.' You roll up your sleeves and get involved.'"
The financial incentive makes a difference, too, mitigating some expenses for team-building fun and running opportunities. Ava Bloom, a Lewis and Clark senior and one of this year's cross-country team captains, says that the money helps their team (with nearly 60 girls on roster this past season) maintain one of their primary aims: inclusivity. "It gives us the ability to have inclusion as one of our values, and that was really, really important to me as a captain and as a runner," she says.
Other schools have felt the positive effects of funds earned through BRRC as well. Ken Bell, coach of the boys cross-country team at Rogers, says that the BRRC "has really helped us." Rogers students help along the course of the Spokane Marathon, and earn additional money from the BRRC by taking all of the medals out of their plastic sacks in advance of the race, a job that takes hours. Rogers uses some of the funds they earn to buy team t-shirts and to pay entry fees for meets outside the GSL. "It's really nice that the community helps us out," Bell says. "We don't really have a booster club—even at our awards dinner, we're lucky to have two or three parents out of forty kids." The BRRC money helps bridge some of the gap.
For the runners who participate in local races, high school support gives a burst of energy and encouragement along the course. For the Spokane Marathon, Shauvin says the BRRC hires 14 teams to staff the aid stations; cross-country parents manage parking. In addition to cross-country teams, they also hire high school bands and cheerleaders, like the Shadle Park bagpipers. "If you're running a marathon, you're getting tired, you've got some crazy kids cheering for you, it takes your mind off the fact that your calves are killing you," Shauvin says.
The goal is to get as many schools involved as possible. "We want to spread the wealth," Shauvin says. One year, she remembers, Colville wanted to earn some money by helping with the Spokane Marathon, but the spots available were for musical entertainment. She asked if they had a band that could come. They didn't. So now Colville students bang garbage cans at mile 20. This, she says, is a perfect solution. "You need a laugh at mile 20, and you've got high school kids banging garbage cans—that's pretty good," she says.
With so many teams out along the Spokane Marathon course, "It kind of turns into a friendly competition between schools and encourages a lot of our athletes to come out," Ava Bloom of Lewis and Clark says. Each school chooses a theme and has fun dressing up—like the '80s, or Disney princesses. The Spokane Marathon is "almost always the morning after Homecoming," Bloom says. "The amount of girls who genuinely want to come out and sacrifice sleep for that speaks a lot to our team culture."
Carolyn Belarde, a Spokane runner who completes many local races each year, recalls a memorable moment last fall during the Spokane Marathon. "I was coming up the hill into mile seven and as I turned the corner into the parking lot I heard this interesting noise. As I got closer I realized it was a local high school band playing their trumpets and trombones. They weren't only playing, they were cheering on myself and all the other fellow runners. The energy they were sending was extremely high, almost too much. At that moment all I could do was smile and be thankful for these youth, coming out early on a cold Sunday to cheer us on."
"Along the course I want to say all the local high schools were represented somehow," Belarde says.
Both Swaim and Shauvin urge those who love to race to look not just at what's convenient according to your schedule, but at who race funds support. "Local runs support local runners," Shauvin says. "Support the locally-run races, because the money stays in town."
Trail Races That Give Back
Other local races, like the Sekani Trail Run (September) and the Spokane River Run (April) also support local students; those races benefits the APPLE Program at Franklin Elementary and Garfield Elementary, respectively. APPLE is a part of the Spokane Public Schools system and stands for Alternative Parent Participation Learning Experiences.
For these races, the people benefiting from race funds—APPLE students and their families—provide all of the race support. The hours families put in also count toward the 90 volunteer hours required per family per year in the APPLE program.
"APPLE's very community-based; it's kind of its own little hub or family," says Sekani race director Julie Lehmen Smith. "When you're out there, all the kids are having fun, but you're getting your APPLE hours in," Smith says. "It turns into a really fun event for everyone."
Runners who sign up for a race because they have students in the APPLE program often get hooked and continue after their students have graduated. This has been the case with the Spokane River Run. Jeff Zellerhoff, the race director, says there's a real community feel among the volunteers who come together for this fundraiser. Each year, the biggest turnout is for the 5K distance. Before that race starts, they gather together all of the kids enrolled in Garfield APPLE at starting line and take a minute to show the participants who their entry fees have benefitted. Zellerhoff says many runners have said they end up signing up again after seeing those kids and being able to picture their dollars in action.
The River Run also has a high school cross-country connection; one of their longtime partner organizations is North Central girls cross-country. "Dempsey [Ortega, the NC coach] has been involved in the River Run and APPLE since the very first race," says Zellerhoff. For North Central's support, the River Run gives a portion of proceeds to the team. "A lot of people really believe in what we're doing and who it benefits. I think it's just an all-around really good thing," Zellerhoff says.
Nonprofit organization Trail Maniacs also counts on volunteers to keep their trail races going; upcoming races include the Farragut Trail Run (May 18; 5K, 10K, and 25K) and the Mt. Spokane Vertical Challenge (July 13; 10K, 25K, and 50K). "Honestly, we just can't have races without volunteers," says race director Dave Dutro. Trail Maniacs encourages people to provide race-day support by giving a portion of their proceeds to any high school cross-country team that gets a group of seven or more together to help out. "I know that they need the help," Dutro says of these high school teams. "They don't get that much financial support. That way they can go out and do something fun, and see what racing can lead into for them as far as life enjoyment."
Other incentives for volunteers include a one-to-one race registration deal: volunteer for a Trail Maniacs race, earn an entry to another race of equal value. This year they're also giving volunteers money off race registration fees for time spent doing trail work. Another cool opportunity for youth: run any two Trail Maniacs races and receive a free pair of shoes from Fleet Feet Coeur d'Alene.
"It's all yin and yang," Dutro says. It's just one more way volunteer incentives benefit the larger community. "If I can encourage people to get out and do trail work, it's a win-win for everybody."//
Want to Volunteer?
Ready to get involved? Check out these opportunities to help at upcoming races.
Spokane Marathon (October 13): Volunteers help with every aspect of the race: setup, registration, aid stations, and more. thespokanemarathon.com/
Trail Maniacs Volunteers with Trail Maniacs races earn credit toward other race entry fees. Volunteering for trail work reduces registration fees as well. High school cross-country teams who get together a volunteer group can earn money for their teams.trailmaniacs.com/
Spokane River Run (April 28): Fill out the volunteer application on the race website.
Happy Girls Spokane (September 21): Volunteers help with registration, stuffing bags, packet pickup, aid stations, and more. Pacers are also needed. "The role of volunteers is invaluable," says Luke Larsen of Lay It Out Events, which puts on Happy Girls Spokane. "They are the heart and soul of the event and the race truly could not happen without their support." //
Sarah Hauge lives in Spokane with her husband and two daughters, where she works as a writer and editor. She's hoping to pull off the new-to-her feat of back-to-back half marathons this May (Windermere and Coeur d'Alene). She writes Out There's Run Wild Column.