While winter is often touted as the best season for warming broths and stews, I find that many soups end up being either less than filling or chock-full of cream and flour, leaving me feeling heavy and stuffed. A steaming bowl of ramen from Syringa's Japanese Café and Sushi in Coeur d'Alene is neither of these. The delectable enticement of Syringa's ramen lies in its fusion of simple ingredients and complex flavors. It is my top go-to lunch when I need a serious warm-up, relief from a stuffy cold, or a comforting food moment in the midst of a stressful day at work.
Ramen can be categorized into five types: shio (salt), shoyu (soy sauce), miso (fermented bean paste), and tonkotsu (pork). Each style refers to the ramen broth and its ingredients, because the broth is the heart of this traditional Japanese soup. Syringa only serves shoyu ramen and makes their stock from scratch in the classic French style. And you can taste the flavorful difference. "We make the broth ourselves from roasted chicken bones," says Viljo Basso, chef and owner. "That's the base, then we doctor it up."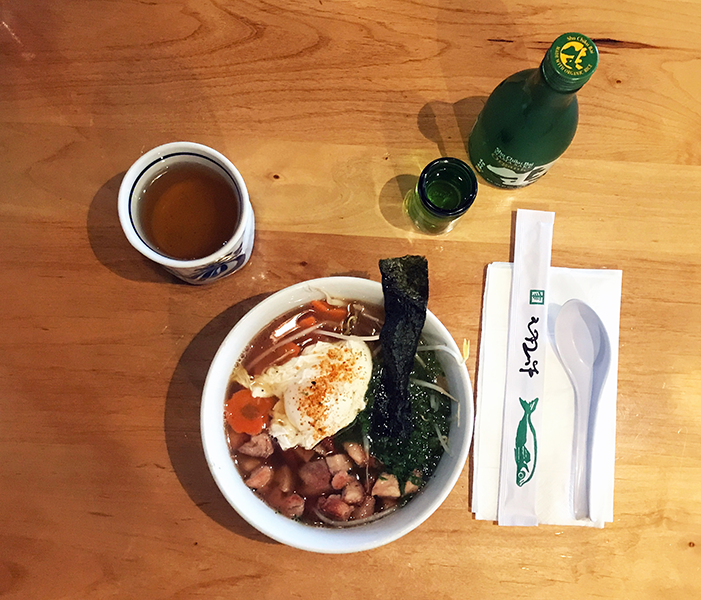 The doctoring starts with good noodles, or the body of the soup. For years, Basso talked about adding ramen to his menu, but it didn't happen until he found just the right noodles. Made by a company in California, they are creamy, savory, and the perfect complement to his broth. And they are cooked to perfection—never rubbery or bloated.
The soul of Basso's ramen exists in the toppings added just before serving, like a poached egg, nori, meat, carrot flowers, bean sprouts, and other vegetables. My favorite bowl is the smoked pork, but the chicken and pork belly are also delicious. Not a fan of meat? Syringa's vegetarian shoyu ramen is just as tasty and made with just as much scrupulousness.
Currently, ramen is a lunch menu item at Syringa, but, if you ask nicely, they'll make you a bowl for dinner. Accompanied by a piping mug of green tea or a bottle of Sho Chiku Bai Organic Nama sake, this soup will fill you up and carry you through a winter day. //