Living in the landlocked Inland Northwest, you don't hear the words "I'm going surfing next weekend" all that often. During the summer months, there are plenty of conversations about epic mountain bike trips or whitewater adventures, but seldom does talk of surfing work its way into our local outdoor lexicon. So last month when those rarest of words actually rolled out of my mouth, the response was predictable: "You must be flying to Hawaii." "No, actually," I explained; "I'm driving to Oregon."
Oregon's beautiful North Coast may not have the glamorous reputation of legendary warm-water surf breaks in California and Hawaii, but what the North Coast lacks in reputation and water temps, it more than makes up for in laid-back culture, unique Pacific Northwest landscapes, and most importantly, accessibility for beginners and novices. While it's not well-known in the Inland Northwest that there are legitimate surfing opportunities within a day's drive, the folks who live and surf along the North Coast have been enjoying this little piece of surf-culture paradise for decades. (And have been secretly hoping that the word never gets out).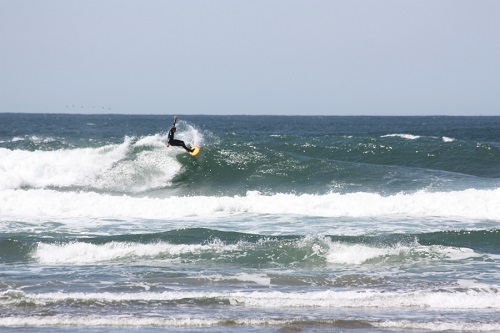 Indian Beach (Ecola State Park)
There are many unique locations to surf along the North Coast. Since I only had a couple of days to work with, I zeroed in on one of the more remote beaches in the region: Indian Beach. Just a little north of the touristy hustle and bustle of Cannon Beach, Indian Beach is a small, uncrowded gem tucked away in Ecola State Park. Wrapping around Tillamook Head, south of Seaside, Ecola State Park stretches along 9 miles of pristine northern coastline.
Having surfed a handful of times before, I was somewhat confident that I could handle the mellow spring conditions in the forecast, but I was still uncomfortable with the idea of surfing alone in waters I had never been in. After a few quick phone calls, I was on my way to Cannon Beach for a morning, pre-trip meeting with Mark Mekenas, owner of Cannon Beach Surf. After chatting for a bit about the local scene, Mark set me up with a 5 mil wetsuit, explaining that the 3 mil I had brought along wasn't going to cut it in the 50 degree water. Mark then introduced me to Julie Adams, his shop's resident surf instructor, and we were quickly on our way to Indian Beach.
We drove the winding road through a forest of massive, moss-covered cedars until we reached a bluff that revealed a breathtaking vista of the entire beach. Walking down the little trail to the shoreline, I could see several mellow sets of waves in the 4-6 foot range rolling in.
To make sure I was both safe and informed, Julie gave me the rundown on the unique riptides at Indian beach, including how they relate to the shape of the waves. After a brief skill assessment on the beach, Julie and I paddled out towards a small set that was rapidly approaching. With the set almost on top of us, I quickly turned my board towards the shore, with Julie yelling "paddle, paddle, paddle!" I did my best to match the rhythm of the oncoming ocean with my paddle strokes and within seconds, I was up on the board, riding my first wave to shore. The pure joy of gliding on Mother Nature's creation drove off any thoughts of the chill in the water and reminded me why so many people spend their whole lives chasing this feeling.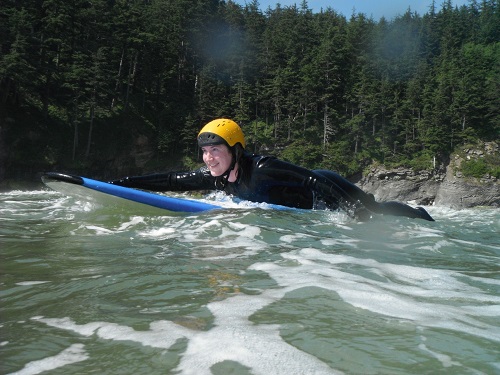 Short Sand Beach (Oswald West State Park)
Short Sand Beach, sandwiched between Cape Falcon to the north and Neah-kah-nie Mountain to the south, is another accessible surf spot along the North Coast. A popular beach that's alive with activity on any weekend or summer day, Short Sand Beach lies very sheltered in a south facing cove with a backdrop of stunning Oregon coast forest. Known as Shortys to the locals, this beach is a safe yet sometimes crowded option. For lessons and rentals at Shortys, Cleanline Surf Shop in Seaside is the place to go. Lexie Hallahan, Cleanline's resident instructor, has been providing lessons to groups and individuals at Shortys for the past 14 years.
Surfing Safety for Novices
For those who are unfamiliar with the ocean, the idea of getting in it can cause a lot of fear that may keep many people from ever giving surfing a try. The first risk that many people think of is sharks. Like any other stretch of ocean, sharks do live in waters off the North Coast; however, your chances of actually encountering one are roughly equivalent to being struck by lightning. Riptides are another much more serious risk to an ocean novice. Knowing where they are and how to work with them, not against them, is the key to minimizing the risk of being pulled out away from shore by a riptide. By taking a lesson, asking for advice at the local surf shop, studying the tide charts, and never surfing alone in unfamiliar waters, you'll gain the knowledge you need to manage these risks. A little respect for the locals, both on the beach and in the surf line-up, is also always a good idea.
When You Go
The North Coast is about a seven hour drive from Spokane. From Portland, head west on Highway 26 to Highway 101, which will get you to Indian Beach or Shortys. Whether you're traveling on the cheap or living it up, the North Coast has a range of lodging for every budget, from rustic yurts in Manzanita to high-rise hotels in Seaside. //