By Carolbelle Branch
Organizing a community bicycle event wasn't on Bill Gothmann's mind when he left office as a Spokane Valley City Councilmember at the end of 2011. He was just looking for a way to improve his health. But just a year later, he found himself in charge of the first ValleyFest Cycle Celebration.
Like most of us, Gothmann got his first bicycle as a gift. His grandmother gave it to him when he was about 7 or 8 years old. He recalls that it was a big, heavy Schwinn with double braces and a speedometer. That bicycle took him on regular adventures with his brother, including expeditions from his family's home up near York and Ash in Spokane all the way out to Fish Lake, a distance of about 14 miles one way. This was a kid undaunted by long distances and hard pedaling.
One day when he was about 11 years old and upset with his mom for one thing or another, he decided he ought to go visit his granddad, maybe to talk things out with another man. So he hopped on his bike and pointed it toward his grandfather's home 32 miles away in Worley, Idaho.
After his mom was called and he was reported safe, arrangements to get him home were made. On his way to work in Wallace, his granddad dropped him off in Coeur d'Alene. From there, Gothmann rode his bike home to Spokane, where his wise mother didn't say a word about his adventure.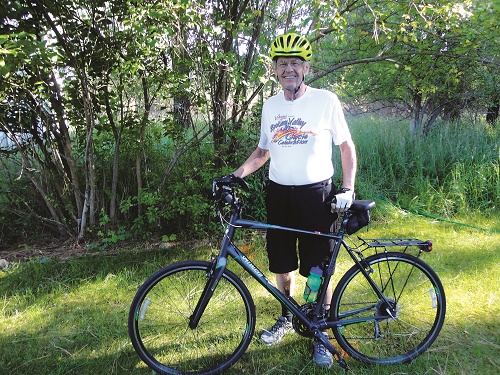 Gothmann quit riding when he entered the military academy at about age 13, and it was about four decades later when he bought himself a used bike to get a little exercise. He quickly became a fairly regular rider once again.
In 2003, Gothmann was appointed to the first Planning Commission for the newly incorporated City of Spokane Valley. As a planning commissioner, Bill used his bike to ride around the city and familiarize himself with the areas that were topics of discussion by the commission He found that riding his bicycle instead of driving through the neighborhoods gave him a different perspective. He also found that people were more likely to talk with him when he was riding his bike.
Several years later, he decided to run for office and joined the Spokane Valley City Council in January of 2006. No doubt Gothmann's experiences on his bike influenced his support of the Council's efforts to make the city more bike and pedestrian friendly. Those efforts appear to be paying off, as Spokane Valley was named by The League of American Bicyclists as the "Top city for women bicyclists" in 2013.
Being a creature of habit and a little at loose ends since being freed of his Council obligations, Gothmann decided to make biking a more serious habit. He set goals for himself, slowly increasing the number of miles and days he rode each week. He began losing weight, and was feeling healthier and happier.
He readily volunteered when invited to join the committee planning the 2013 celebrations marking Spokane Valley's 10th anniversary of incorporation. During a brainstorming session, Gothmann suggested a bicycle event as part of the festivities, and so the ValleyFest Cycle Celebration was born. In its first year, it attracted over 200 bicyclists from around the region.
Now 76, Gothmann rides 10-12 miles a day most days of the week. He has lost between 55 and 60 pounds and no longer has to take medicine for acid reflux. His advice on bicycling for a happy and healthy life? "Do it!"

ValleyFest's Cycle Celebration is a family-friendly event featuring 10, 25, and 50-mile rides through some of the most picturesque scenery in and around Spokane Valley, and takes place on the last Sunday in July. Full details at cyclecelebration.com.
Story originally published in the July 2014 print edition.
[Updated online May 2021.]