There are some things that, when combined, fall just shy of magical. Campfires and sunsets, warm weather and cold brew, marshmallows and graham crackers, and of course, lakes and mountains. Sandpoint, Idaho, tucked between the Selkirk and Cabinet mountain ranges, perched alongside the eleventh largest freshwater lake in North America—Lake Pend Oreille—and surrounded by a bounty of state and federal public lands, is a premier destination for these charm-filled duos.
Although the 8,000-person town is the place to be in all seasons, locals and visitors alike agree there is something extra special about Sandpoint in summertime. With its bounty of parks, beaches, restaurants, trails, and entertainment, Sandpoint summers have something to offer just about anyone.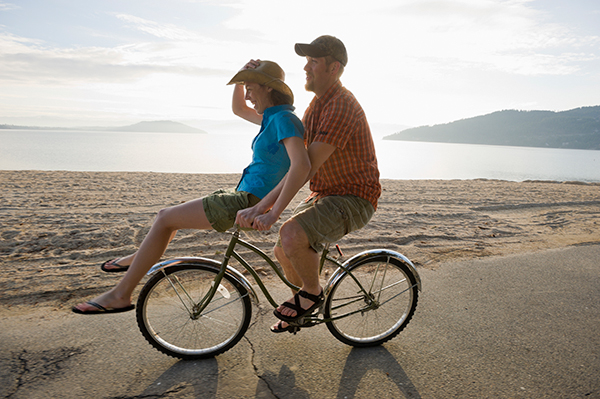 For those headed across the iconic long bridge for a bit of North Idaho adventure, and even locals who are still exploring their backyard, there are more hiking and camping options than could possibly be conquered in a series of weekends. But fortunately, there are a few must-do's that shouldn't be missed.
Camp at Green Bay, with its stunning series of private rocky beaches, beautifully jagged cliff faces, and access to lush trails and epic view points. Then, for near-town walks and hikes, stroll the Pend Oreille Bay Trail for easy lake vistas, and tackle Gold's Hill or Mickinnick climbs for sweat-worthy lookouts ending among the clouds high above town.
Head northeast along historic Highway 200 to attempt to bag one of North Idaho's tallest mountains, Scotchman's Peak. The hike contains dirt-packed switchbacks, exposed scree scrambles, and views all the way to Canada—often shared with resident mountain goats.
For those seeking views without the exertion, try hopping the chairlift to the top of Schweitzer Mountain and strolling the wildflower and huckleberry-littered ridgeline. Even grab a bloody Mary at 6,400 feet elevation on the deck of the Sky House restaurant and bar while watching two-wheeled adrenaline junkies fling themselves off rock faces on mountain bikes.
For more beverages with a view, Sandpoint offers a plethora of sunshine drinking and dining options. Salads and sandwiches after a hike just taste better on the beach's edge at Trinity at City Beach, and dinner on the deck of Forty-One South is often accompanied by a famous North Idaho sunset.
Beyond dining, being lakeside in Sandpoint has so much to offer. City Beach is at the heart of town, with soft sand for sunbathing; supervised swimming areas for splashing; and volleyball, tennis, and basketball courts for endless playing. Duck under whizzing Frisbees in the lush grassy areas, sling your slackline between pines, or take your pup over to Dog Beach for four-legged, tail wagging fun.
If being on the lake itself is what you're after, stand up paddleboards (SUPs), kayaks, jet skis, and boats are available to rent by the day or weekend. Try your hand at water skiing, wakeboarding and wakesurfing, or simply bob among the waves with family, friends, and undisturbed sunshine.
If you're more drawn to river recreation, grab your flotation devices of any kind and head over to the Pack River. The sun-soaked winding stream, with a combination of exposed and canopied shoreline and bountiful wildlife, is the place to be on a hot, summer day. Popular put-in destinations include the Pack River Northside Bridge and the Pack River General Store, and take out is commonly off of Highway 200 near Trout Creek Road.
Finally, summer is the perfect time to visit Sandpoint if you're seeking an amazing destination for live music and entertainment in addition to your outside adventure. The Festival at Sandpoint is celebrating its 36th year of pairing breathtaking lake views with nationally-acclaimed bands and musicians. The venue is unique in its convenient casualness with a bring-your-own food and beer policy and first-come, first-serve general admission seating. This year, the headliners include Amos Lee, ZZ Top, Greensky Bluegrass, Phillip Phillips and Gavin Degraw, and Sublime with Rome.
It only takes one visit to understand what people mean when they say, "there's just something about Sandpoint summers." It's the excited buzz of the residents and visitors, the glisten of the sun rays bouncing off the lake, the beauty of the surrounding peaks, and the ease of access to an undisturbed, starry night's sky.
[Feature photo courtesy of Dan Chamberlain.]
For more ideas check out The Local's Guide to Sandpoint.