Summer is here. School is out and both kids and grownups are already out in force on bicycles. What rides should you do? Here are a few recommendations to help you choose from the many cycling events available in our part of the country. They range from family friendly to borderline insane, which means there is something for everyone.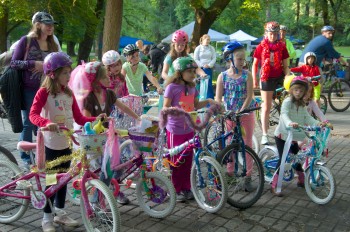 Jedermann Gran Fondo (July 25, Cheney, Wash.)
This is a timed recreational ride, which means the medal you receive is based on your finish time and not on how you finish compared to everyone else. There are 30, 66, and 100-mile routes and a new 12-hour challenge for individuals or teams. Emdesports.com/life-at-camp.html.
Silver Valley Ride to Defeat ALS (June 27, Kingston, Idaho)
Ride 27.2 or 42.6 miles along the spectacular trail of the Coeur d'Alenes, one of the most beautiful road bike rides in North America. Every participant can count on support from start to finish with crewed rest stops, SAG vehicle and a safety team. The ride is a fundraiser that supports efforts to fight Lou Gehrig's disease. Rideals.org.
8 Lakes Leg Aches (August 1, Spokane)
Proceeds benefit the Sexual Assault and Family Trauma Response Center. You can ride 15, 30, 45 or 75 miles. All routes include snack stops and SAG support. Food and ice cream await you at the finish. Lcsnw.org/8LakesRide.
The Midnight Century (August 1-2, Spokane)
This is an unofficial, unsanctioned and unsupported ride. It's all on you. The ride begins at 11:59 p.m. at The Elk Public House in Browne's Addition. The nearly 100-mile loop is roughly half pavement and half gravel with some challenging climbs and a couple of pretty rough patches. Finishing gets your name on the web site results page and maybe some sort of printed commemorative item 6-8 months later. And bragging rights. Midnightcentury.com.
Tour De Lentil (August 22, Pullman, Wash.)
The Tour de Lentil offers a 50k, 100k and 150k bike ride (not a race) through the scenic Palouse. This is held in conjunction with the National Lentil Festival. The ride is a fundraiser for the WSU Cycling Club. Lentilfest.com/activities/100k-bike-ride.
Spokefest (September 13, Spokane)
This is Spokane's signature social cycling event. About 2,000 riders take part and then join the party in Riverfront Park after the ride. There's a one-mile loop and Bike Safety Rodeo for children in the park. Everyone else chooses from 9, 21, and 50-mile routes. Water and food stations are along the way. There's a lot of bicycle traffic, but that's a good thing. Ride safe and have fun. Spokefest.org.
Huckleberry 100 (September 19, Kalispell, Mont.)
You have four routes to choose from: 100 miles, 50 miles, 25 miles and a 12 mile out-and-back family ride. From historic Kalispell, you visit gorgeous Bigfork on the shores of Flathead Lake and then wind your way towards Whitefish. (Don't let the skull and crossbones logo scare you off.) Save $10 with early registration. Finish to plenty of food at the Bikes and Berries Fest. Huckleberry100.com.
Blazing Saddles (September 19, Colville, Wash.)
The Rotary Club of Colville claims to host the best ride in the Pacific Northwest. I think they're on to something. Route options include 20, 40, 65, and 100 miles. They stagger the start times so most people finish around the same time so you can finish at Blazing Spoons, also known as the Inland Northwest International Chili Cook-off, in the fairgrounds where your ride wristband gets you free entry. Blazingsaddles9.wix.com/blazing100.
Bike MS: Cycle the Silver Valley (September 19-20, Kellogg, Idaho)
Enjoy a "Rails to Trails" ride almost entirely off roadways as you cruise through the ancestral lands of the Coeur d'Alene nation. Multiple daily route options appeal to every experience level of rider. Look forward to fully-stocked rest stops and a Saturday evening beer garden at the finish at Silver Mountain Resort. Every mile pedaled and dollar raised helps people affected by MS. Call to register: 800-344-4867 Opt. 2.
Coeur d'Fondo (September 26, Coeur d'Alene)
Last year, about 1,000 riders ventured out on routes of 15, 37, 47, 84 and 108 miles. The 37- and 47-mile routes include a boat ride. Finisher medals are awarded for the 84 and 108-mile rides. Registrants in all except the 15-mile family ride also gain entry into Coeur d'Alene's Grand Oktoberfest. Cdagranfondo.com.
Rivers & Ridges Rotary Ride (September 26, Clarkston, Wash.)
This Rotary Club of Clarkston ride explores the Nez Perce/Snake River country around Clarkston on a road bike. Ride over major rivers, through the Palouse and back. Try the 25, 50, or 100 mile distances or the family friendly ride. Enjoy food, music, beer and wine at Riverfest at Granite Lake Park after the ride. Riversandridgesride.org. //