Have you always wanted to try stand up paddleboarding, rock climbing, kayaking or geo-caching? How about SUP yoga, disc golf, rafting, slacklining or demoing the latest mountain and road bikes? Or is hanging out in a pine-shaded beer garden watching mountain bikers flying through the air at the Spokatopia Mountain Bike Jump Jam and listening to live tunes more your style? At the first annual Spokatopia Outdoor Adventure Festival (July 11 from 10 a.m.-6 p.m.) at Camp Sekani along the Spokane River, you can do all of those things plus sign up for a morning trail run to the top of Beacon Hill (the Up Chuck Challenge), enjoy live entertainment and check out dozens of outdoor-oriented booths and free samples and demos at the festival exhibitor/demo area. General admission is only $5 per person (5 and under free), and there is an additional cost to sign up for different outdoor activity excursions.
Try Different Outdoor Recreation Activities
Festival goers can try out many different outdoor recreation activities, all in the Camp Sekani/Boulder Beach area. Prices range from $8-20 per person and include admission to the rest of the festival. Find more info for all of these excursions, including times, location, other requirements, and registration info here. Space is limited, so don't wait to sign up!
Intro to Rock Climbing: Take adventure to new heights rock climbing with Peak 7 Adventures. Learn basic rock climbing techniques to reach the top of a rock face. All the gear and equipment is provided for this exciting and challenging sport. Multiple sessions. Cost: $5.
Whitewater Rafting: Join Wiley E Waters for an exhilarating river rafting trip down the Spokane River. Professional certified guides will provide you with equipment on this fun-filled paddle experience. Trips run from 10:30 a.m. to 12:30 p.m. and 1-3. Cost: $20
Voyageur 8 Person Canoe Tour: Take a voyage with Spokane's Canoe & Kayak Club in this historic 22-foot voyageur canoe that will hold up to eight people. This excursion will be guided by experienced canoeists from the Spokane Canoe & Kayak Club. Rides will leave Boulder Beach for several 30-45 minute long tours. All necessary equipment will be provided and no experience is necessary. Cost: $8
Stand Up Paddleboard Lesson: Join Spokane Parks and Recreation and Mountain Gear for a morning or afternoon stand up paddleboard tour. Stand up paddleboarding is a great workout and balance tuner, not to mention a fun way to share the summer sun with others. No experience is necessary and all equipment will be provided. Multiple sessions. Cost: $15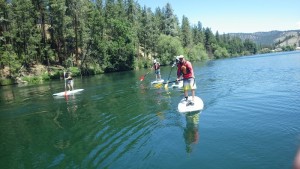 Tandem Kayak Tour: The best way to experience the Spokane River is with a paddle in your hands and sun on your skin. No experience is necessary, only the desire to paddle. All equipment will be provided. The 60 minute excursions will begin with a 10-minute warm up and instruction. Multiple sessions. Cost: $15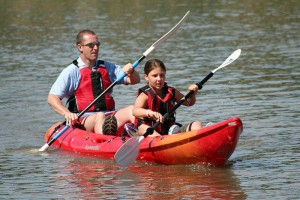 Stand Up Paddleboard (SUP) Yoga: Kick off your Spokatopia Festival experience with a tranquil SUP yoga sequence with SUP Spokane. This amazing cross-training sport, guided by SUP Spokane, is low impact on the joints and is used to improve balance and core strength. 9-10 and 10:15-11:15 a.m. sessions. Cost: $15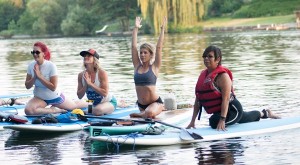 Inflatable Whitewater Kayaking: Join FLOW Adventures on an inflatable kayak adventure down the Spokane River. Inflatable kayak trips make a terrific alternative to hard-shell kayak tours for those wanting to try something new. They are incredibly fun and easy to paddle and maneuver. Individual and tandem kayak options are available. Multiple sessions. Cost: $15
Disc Golf Intro Lesson: Team up with an experienced player from Disc Golf Uprising to learn about different types of discs and how they fly, proper stance and grip, disc golf terms, and throwing techniques. 11 a.m.-12 p.m. and 12:30-1:30. Cost: $15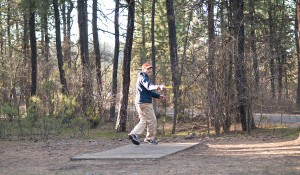 Intro to Geocaching: Come and experience this high-tech scavenger hunt that is sweeping the nation. Cache-Advance instructors will teach you the tricks of the trade in the geocaching world. Cache-Advance will help you learn new strategies for locating the skillfully hidden caches, teach you basic GPS skills and discuss the equipment needed to successfully find caches around the world. Cost: $15
Festival Details
Camp Sekani is located between downtown Spokane and Spokane Valley on Upriver Drive. For more details, visit Spokatopia.com and follow the festival on Facebook. Spokatopia is presented by Out There Monthly, City of Spokane Parks & Recreation, and Evergreen East Mountain Bike Alliance. Proceeds benefit Evergreen East.
Three Reasons to Ride Your Bike to Spokatopia
The best way to get to the festival is to ride the Centennial Trail from your neighborhood or from one of the festival parking areas (Pasadena Elementary 1-mile east on Upriver Drive and at the Avista building several miles to the west on Upriver Drive—details at Spokatopia.com). Need more convincing? Here are three reasons why you should pedal your way to Camp Sekani on July 11:
It's THE cool, fun and sustainable way to get to an outdoor adventure festival.
Parking at the festival grounds will be super slim pickings and Spokatopia will have a massive, guarded and fenced bike corral to keep your bike safe.
A considerable amount of free outdoor gear and prizes from Mountain Gear and other local businesses will be given away randomly to people who show up with a bike and a helmet at the corral.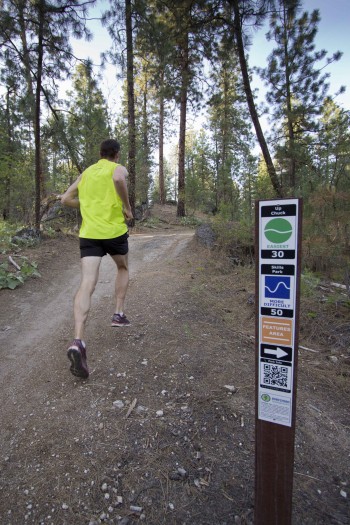 Up Chuck Challenge Trail Run (July 11, 9:30 a.m.)
The first annual Up Chuck Challenge trail run starts at Camp Sekani Park on the Up Chuck Trail for a fun, winding, nearly all singletrack climb to the top of Beacon Hill. The 5k course gains nearly 1,000 feet of total elevation, with a few dips, grunts, twists and turns to keep the mostly mellow and meandering racecourse interesting. The race is timed on the up only, with another 2.3 mile run or walk back to the start at Sekani Meadows where the 1st annual Spokatopia Outdoor Adventure Festival will be underway (beer garden opens at 10:30 a.m.). There will be no vehicle parking at the race start but parking and shuttles will be available 1-mile to the east at Pasadena Elementary and there will be a bike corral at Sekani, so you can bike to the race start on the Centennial Trail. $20 registration ($25 after July 8). More info here.