During the sunny, warmer months, citizens of the Northwest find as many opportunities to get outdoors as possible. One of the best ways to enjoy the sunshine and soak in some music is by visiting a few of the many bluegrass, folk, Americana, and other local music festivals scattered throughout Washington, Oregon, Idaho and Montana. Take a road trip and jam out with our summer music festival picks.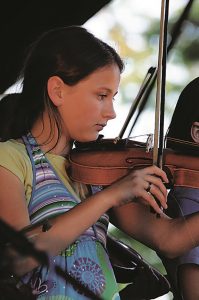 11th Annual Sacajawea Bluegrass Festival & Dutch Oven Rendezvous
June 13-15, Sacajawea State Park, Pasco, Wash. ($25-$35, day passes available).
Take a break from fast food and fast living at this cozy festival put on by the Mid-Columbia Arts & Music Association, with a focus on bluegrass, old-time music and Dutch oven cooking. The weekend will feature music jams, cookouts, shows, seminars and a lineup that includes John Reischman and the Jaybirds, The Sweet Lowdown and more. Mctama.org.
KYRS Marmot Fest
July 12, 12-11pm, Glover Field, Spokane, Wash. ($20, 12 and under free).
The only solar-powered music festival in the Northwest, Marmot Fest 2014 will be headlined by Rogue Wave, most recently known for their songs "Lake Michigan" and "The Wolves & The Ravens" on "The Secret Life of Walter Mitty" movie soundtrack. The stage will also feature local artists and regional independent groups and is a family-friendly event, with an art "draw-off" and activities for kids. There will also be a food court and beer garden sponsored by Ninkasi and local Orlison Brewing. "The goal is to put on a great, low-impact outdoor music festival," says KYRS community radio Station Manager Lupito Flores. "In addition to the solar powered show, we'll have recycling and composting and a bike corral to encourage people to ride to the festival." Marmotfest.com.
Blue Waters Bluegrass Festival
August 8-10, Medical Lake, Wash. ($50-$55, day passes available).
Since its inception in 2002, Blue Waters has brought some of the biggest names in bluegrass music to the Inland Northwest – and this year is no exception. Their 2014 lineup of world-class and regional bands includes The Rambling Rooks, True North and The Brad Keeler Trio, just to name a few. Proceeds from the festival benefit local charities, and this year they will even be hosting their very first Blue Waters youth bluegrass camp (ages 20 and younger, $35). Bluewatersbluegrass.org.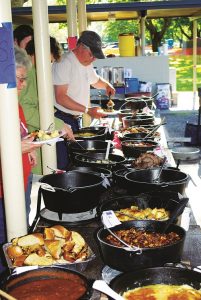 Wenatchee River Bluegrass Festival
June 20-22, Chelan County Expo Center, Cashmere, Wash. ($25-$30).
One of the longest running bluegrass festivals in Eastern Washington, this year's events will include music from IBMA Award Winners The Boxcars and Della Mae, as well as instrument workshops such as Taylor's Camp for Kids, Slow Jam and Band Scramble. Festivities start Thursday evening with a "Meet & Greet Luau." WenatcheeRiverBluegrass.com.
27th Annual Winthrop Rhythm & Blues Festival
July 18-20, Blues Ranch, Winthrop, Wash. ($90-$100, only 2,500 tickets available).
The Winthrop Rhythm & Blues Festival is a three-day event packed full of exciting national and regional entertainment for all ages. It is the largest and longest running festival in the state of Washington and features on site camping, food and craft vendors, portable showers and a beer garden. Over eighty thousand people have attended this event in the past twenty-six years, and this year's festival will kick things off with a Lowdown Hoedown show and end each night with electrifying blues jam sessions in the beer garden. Winthropbluesfestival.org.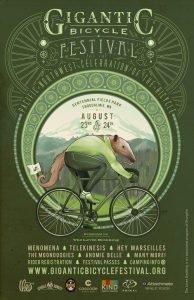 Gigantic Bicycle Festival
August 22-24, Centennial Fields Park, Snoqualmie, Wash. ($15-$30, 12 and under free).
Produced by The Levee Breaking, the Gigantic Bicycle Festival is the Pacific Northwest's summer celebration of bicycle culture and the arts. The two-day festival features a diverse, multi-faceted and regionally representative mix of live music, hand-built bicycles, visual and performance art, film, comedy, guest speakers, sculpture and interactive installation pieces. Ride from Seattle's Magnuson Park to the festival with other festival goers on the morning of the 23rd and camp in the 20 acres of field with a view of Mount Si. Lineup will include Menomena, Telekinesis, Hey Marseilles and The Moondoggies. Giganticbicyclefestival.org.
Juniper Jam
August 30,12-10 p.m., Wallowa County Fairgrounds, Enterprise, Ore. ($12-$15, 6 and under free).
"Once upon a time in a high valley nestled in the remote wilds of Eastern Oregon, there began a small one-day music festival." The "Sweetest Little Music Festival in Eastern Oregon," takes place in at the foot of the Wallowa Mountains and the Eagle Cap Wilderness. Celebrating musical diversity from Americana, folk, and roots-rock, this year's stage will feature Cody Beebe & The Crooks, Zoe Muth & The Lost High Rollers, Bitterroot and many more great bands! Juniperjam.com
3rd Annual Historic Wallace Blues Festival
July 11-13, Wallace, Idaho. ($30-35, 12 and under $10).
Voted Best Blues Festival by the Inland Empire Blues Society two years in a row, this little festival takes you around the historic town of Wallace to enjoy a wealth of local, regional and national blues artists: Anita Royce, Fat Tones, Sammy Eubanks and the Sara Brown Band (IEBS's Best Female Blues Performer), just to name a few. Sunday will also feature a pancake breakfast served by the Kiwanis club at the Elks Lodge. Wallace-id.com/bluesfest2014.
Schweitzer Mountain Music Festival
July 19, 11 a.m. – 6 p.m., Schweitzer Mountain Resort, Idaho. (Free, other activities priced individually).
Grab your lawn chairs and take a ride to Schweitzer for a full day of fun: live music, zipline and lift rides, biking, hiking, kid's activities, and BBQ. Come early and take part in the 3rd annual Schweitzer Mountain Trail Run (3.5 and 10 mile options, smtrailrun.com). Schweitzer.com.
Silver Mountain Brewsfest
August 16, 1 – 6 p.m., Silver Mountain Resort, Kellogg, Idaho. ($30-35).
Silver Mountain's annual Brewsfest will have 36 craft beers from 18 breweries served at 5,700 feet. "This makes for a beer connoisseur's dream," says Willy Bartlett, Silver Mountain's Marketing Coordinator. Enjoy North America's longest gondola ride, amazing views in all directions, great music from three bands and some of the best microbrew in the country. Silvermt.com.
25th Annual Yellow Pine Music & Harmonica Festival
August 1-3, Yellow Pine, Idaho. (Free).
For the last 24 years, this sleepy mountain hamlet has transformed into the "harmonica capital of the western world." Situated in the beautiful mountains of the Idaho backcountry, the 25th anniversary of this hoppin' festival will feature harmonica jams, harmonica-featuring bands, a full spectrum of harmonica lessons and under-the-stars concerts. This is a family-oriented event. Yellowpinemusicandharmonicafestival.org.
32nd Annual Festival at Sandpoint
August 7-17, War Memorial Field, Sandpoint, Idaho. (Prices vary).
This year's summer concert series will feature eight nights of music under the stars on the beautiful shores of Lake Pend Oreille. Enjoy the food and drink vendors or bring your own picnic and hang on your own lawn chair or blanket, sit in the grandstands or let loose in the dancing area. Festivalatsandpoint.com.
Montana Folk Festival
July 11-13, Butte, Mont. (Free).
The Montana Folk Festival's multi-stage setup will highlight continuous live performances by national traditional performers, as well as Montana's finest and regional artists, including bluegrass, blues, reggae, zydeco, soul, gospel, old time and mariachi artists. The festival includes ethnic foods, a lively family area and demonstrations and workshops that focus on Montana's heritage. Montanafolkfestival.com. //