School is out, the sun is shining, and everyone is ready for some outdoor fun. This summer, Spokane Parks and Recreation is offering myriad different outdoor adventures. No matter your fitness level or outdoor experience, there is a program for everyone. "Spokane has hiking and biking trails for all skill levels and pristine waterways for canoeing and kayaking that are very accessible and affordable through our programs," says Ryan Griffith, Program Supervisor for Spokane Parks and Rec. "And the greatest part about it, many of these activities are within 15 minutes of most people's back doors!"
Here's a sampling of some of the many offerings available this summer. Check out the complete summer catalog and register for programs: Spokaneparks.org.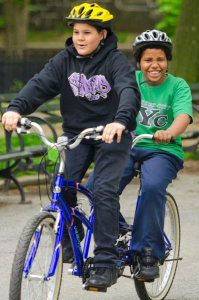 For families: Family Tandem Biking Tour (Root beer floats provided!)
An evening tandem bicycle ride on the mostly-flat Fish Lake Trail. Spokane Parks and Rec provides the tandem bicycles, the helmets, and the delicious refreshment at the end! June 26, July 18, Aug. 22 (6-8 p.m.).
For the first date: Float the Little Spokane River
The route on this meandering river makes its windy course from Indian Painted Rocks to Nine Mile Dam. Guides, transportation, and canoeing and kayaking equipment are provided, with both midday and evening floats available throughout the summer. A great first date! "You really get to know a person when you share a canoe with them," advises Griffith. Available multiple times throughout the summer.
For the coffee lovers: Kayak and Coffee Tour
With delicious coffee and pastries from the Rocket Bakery, enjoy the serene and flat water of the upper stretches of the Spokane River. Leisurely, beautiful, and delicious. July 6, Aug. 3, or Sept. 6 (8-11 a.m.).
For the night owls: Full Moon Raft Trip
Float along the lower Spokane River in the moonlight! No need to wear sunscreen, but keep an eye out for werewolves. July 12 or Aug. 16 (8-11:30 p.m.).
For a new sport: Stand Up Paddleboard Tour
Join the revolution! According to a 2013 report from the Outdoor Foundation, stand-up paddling was listed as the most popular outdoor activity among first-time participants. You have a chance to experience the fun during this evening tour on the flat downtown section of the Spokane River. Paddleboards, equipment, and expert instruction all provided. July 30 or Aug. 13 (6-8 p.m.).
For the rainy day: Intro to Canning
Did you come back from Green Bluff with 90 pounds of tomatoes? Don't let them go to waste! Learn to stock your pantry the old-fashioned way. Healthy, thrifty, and scrumptious. July 21, Aug. 18, or Sept. 22 (5:30-8:30 p.m.).
For the competitive: Kayak Water Polo
For only $5, bring your whitewater kayak to Witter Pool at Mission Park. Practice your techniques in the open pool, and engage your friends in a game of kayak polo. A guaranteed good time! July 24 or Aug. 21 (6:30-8:30 p.m.)
For the post-expedition reward: Sunset Dessert Train
Are your legs tired from all your outdoor adventures? Treat tired legs with a ride on the Riverfront Park Express as you sample local wines, discounted appetizers from downtown eateries, and enjoy a scrumptious dessert buffet from Celebrations Bakery. Indulgent and fun. July 22 or August 5 (7:30-9:30 p.m.).
Article by Jamie Redman