The 73.2-mile paved Trail of the Coeur d'Alenes is the connecting thread between a network of outdoor recreation activities and events across the Idaho Panhandle. The friendly towns along this world-class biking and walking trail boast many historic buildings and sites and incredible scenery and outdoor activities. The lakeside community of Harrison, Kellogg in the Silver Valley, and the historic mining town of Wallace all have in-town access to the Trail of the Coeur d'Alenes and plenty of lodging, dining, and entertainment options that make for a comfortable base-camp for exploring the trail.
A great way to experience the natural beauty along the trail and the unique culture and personality of the trail-side communities is to plan one or more days of riding the trail around one of these events planned throughout the summer and early fall. Whether you choose to ride the trail in several sections or one long epic ride, you'll find uncrowded recreation in a beautiful setting; friendly people; and fun, authentic events that will be one of the highlights of your summer. Shuttles are available from the major trail gateway communities by contacting the chambers of commerce in Harrison, Kellogg, or Wallace.
MAY & JUNE
Acoustic Sundays (all summer long): Catch acoustic live music and play cornhole on Sunday's in Harrison.
Saturday Music in the Park (Saturdays May 25-August 31): Relax in Harrison's City Park overlooking Lake Coeur d'Alene and listen to a wide range of music, from country and Americana to rock and blues, all season long from 2-5 p.m. Different musicians each week with something for everyone.
Harrison Grange Market (Saturdays Memorial Day weekend through Labor Day weekend): Enjoy an authentic, community farmers' market across from the Harrison City Park from 10 a.m.-3 p.m.
Kids and Kickstands (June 1): A kid's biking event, part of bike month in Kellogg.
79thAnnual Gyro Days and Lead Creek Derby (June 12-15): BBQ, a three-day carnival with Midway rides, and the Lead Creek Derby from Mullan to Wallace on Saturday afternoon. Win a cash prize if you correctly guess how long it takes a giant, multi-colored leather ball to float seven miles down the river.
Silver Valley Community Market and Music Series (Starts June 13): Every Thursday evening from 5-8 p.m. June 13- Sept 12 can catch live music, a beer garden, and market goods such as plants, fresh cheese, coffee, and preserves in Kellogg, Idaho. Find the full music schedule here.
Pig in the Park (Saturday, June 16): food, music, yard games, vendors, and activities at this annual event at Harrison City Park.
18thAnnual Silver Valley Jeep Jamboree (June 20-22): Set in the heart of the world's largest silver-mining region, this Jamboree starts off at Wallace, an old mining camp on the National Historic register. Travel up old military wagon trails that wind their way through the Idaho Panhandle National Forest. There's lunch on a mountain top with unparalleled views of Idaho and Montana as the backdrop. Weather permitting, you will enjoy an evening cookout in the scenic setting of Shoshone Park. Mine tours and one-day fishing licenses are available.
Ride the Wall Bike Ride (June 21): A 13-mile bike course that follows the Trail of the Coeur d'Alene's from Enaville to Cataldo then along the historic CCC-Wall Ridge route with beautiful views of the Coeur d'Alene River and the Silver Valley, ending back in Enaville.
Mountain Extreme Challenge (June 22-23): This white-knuckle enduro dirt bike race features spectacular views for both riders and spectators in the mountains above Kellogg.
Kegs and Kickstands (June 29): Bike around Kellogg for a tour of the town's culinary and adult-beverage delights.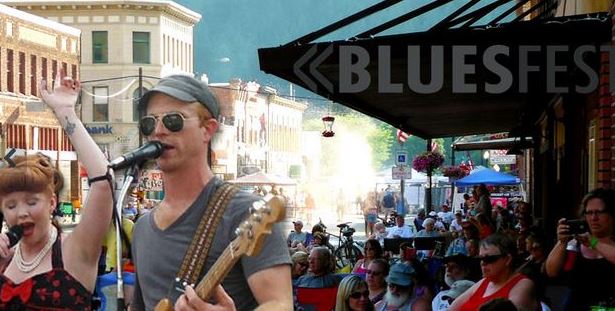 JULY
Wallace Idaho Statehood Day Parade (July 3): This parade through downtown Wallace's streets will celebrate Idaho's 129thbirthday.
4th of July Fireworks (Thursday, July 4): Enjoy live music, food, vendors, games, and fireworks at dusk in Harrison City Park.
Live Music & Community Market (July 4): Shop from local farmers and vendors and enjoy live music from 2-8 p.m. in Kellogg City park.
Historic Wallace Blues Festival (July 12-15):The 8th-annual Wallace Blues Festival is sure to be a hit. It's been voted best blues event three years running in the Inland Northwest, and was selected as best blues festival of 2018 by the Inland Empire Blues Society.
Annual Historic Skills Fair in Kellogg (July 13-14):Participants dress in period clothing and demonstrate historic skills such as spinning and flint knapping with the backdrop of Idaho's oldest standing building, the Cataldo Mission. A large cannon will be fired on the hour all day Sunday, and you can visit with the Frontier Regulars Army Corps re-enactors or the Mountain Men re-enactors as they do their thing. Food and handmade crafts will be available for purchase, with free live music.
Wallace ATV Jamboree (July 23-27): ATV and UTV enthusiasts band together in Wallace for a week's worth of riding in the 1,000-plus miles of trails and roads in North Idaho's Bitterroot Mountains.
Old Time Picnic (July 26-28): A traditional community celebration in Harrison complete with a parade and family-friendly games such as sack race, baby crawling contest, and the greased pole climb. There is also a ladies' nail driving contest and a men's obstacle contest.
SilverHoops 3 on 3 Tournament in Kellogg (July 27-28):One of the largest streetball tourneys in the northwest, great for all ages! Register your team online.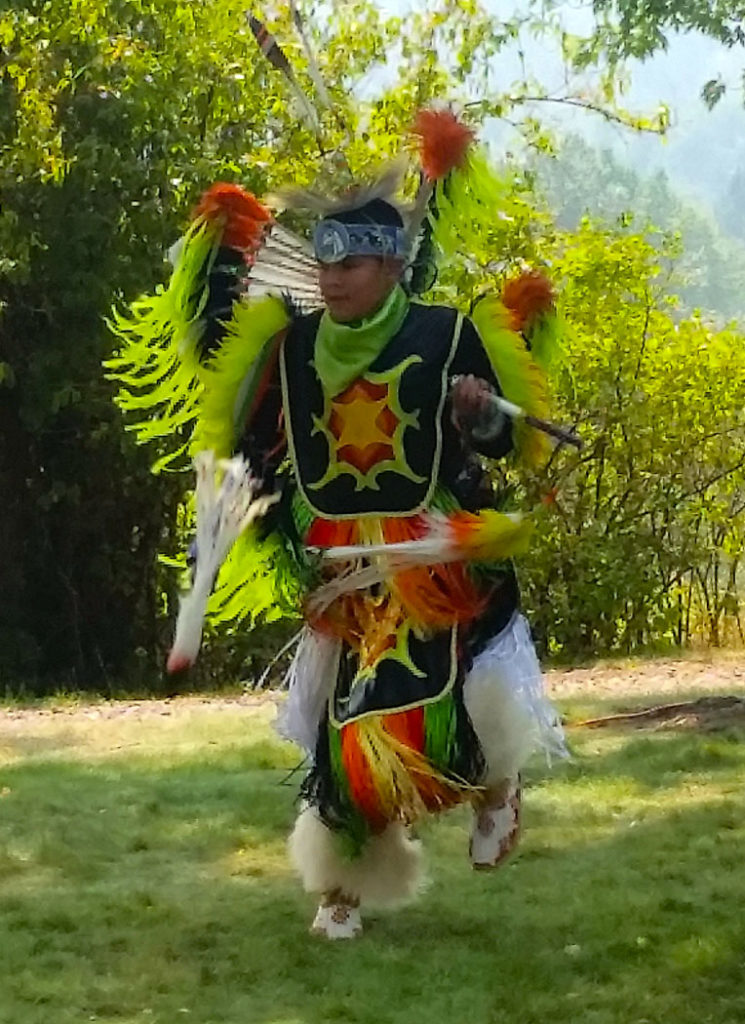 AUGUST
Pinehurst Days (August 2-4): A weekend of fun with a traditional parade, local vendors, food, and kids' activities.
Coeur d' Alene District Mining Contest (August 3): Miners come from around the West to compete in the events starting at 8 a.m. in Gene Day Park in Osburn: Jack Leg Drilling, Team Jack Leg, Hand Mucking, 12-B Mucking, and Spike Driving for men and Hand Mucking and Spike Driving for women and children.
Wallace Accordion Jubilee (Aug 9-11):Accordion players from around the world will come together at Wallace's iconic Red Light Garage and Fainting Goat Restaurant for concerts, parades, live music and dancing.
Coeur d'Alene Tribe Pilgrimage and Feast of the Assumption (Aug 15):Celebrate the Coeur d'Alene Tribe and its return to the river, commemorating Chief Circling Raven, and celebrating the Feast of the Assumption of the Virgin Mary at the Coeur d'Alene's Old Mission State Park near Kellogg.
Wallace Huckleberry Festival & 5k Walk/Run (Aug 16-17):An annual celebration of all things huckleberry. You'll find music, street dancing, huckleberry pancake breakfasts, street vendors, kid's activities, a dunk tank, and the 5k Walk & Run.
Dave Smith Motors Jeep Jamboree (Aug 16-17): Jeeps from past and present will be on display during this JeepFest that occurs at the same time as the Huckleberry Festival in Wallace.
Under the Freeway Flea Market (Aug 30-Sept 2): Hundreds of vendors will display their treasures in the protected open-air space under I-90 in downtown Wallace. There will also be live music, kids' games, street drinks & eats, and more. As you stroll along the booths you can enjoy views of the river, historic town, and mountain landscape.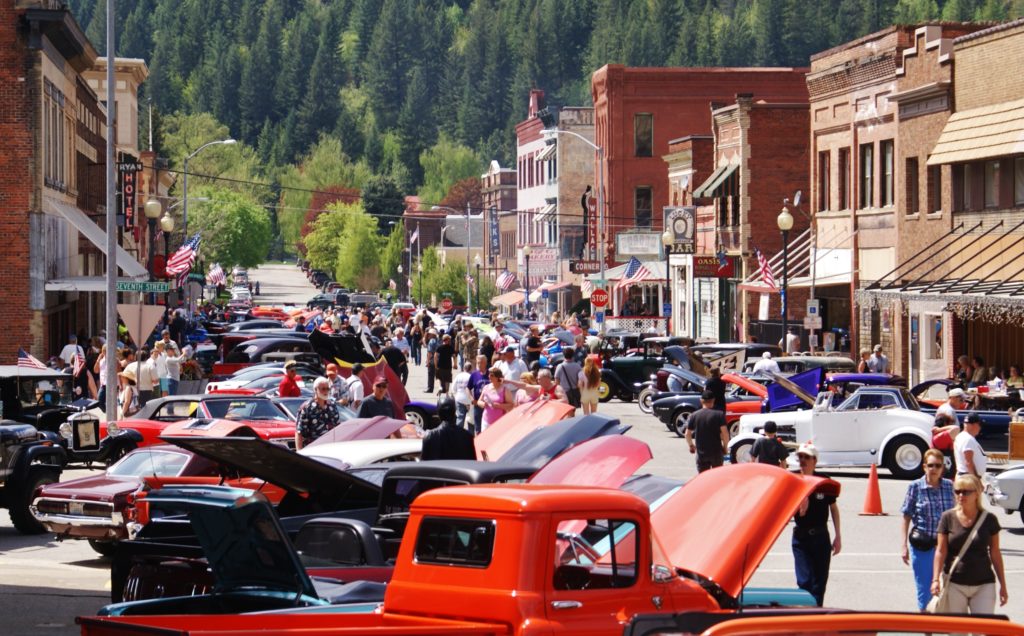 SEPTEMBER
Haul Ass to Harrison (Saturday, September 14): A classic car show in Harrison, located in the center of town, with music, raffle, and voting for the best cars.
Gamblers' 500 Road Rally (Sept 14-15):A 500-mile road rally for auto enthusiasts. The local car club trolls the internet, auctions, and estate sales for vehicles less than $500, then sets out on a 500-miles road trip with an overnight stay at the midpoint in Wallace.
Re-dedication of the Center of the Universe (Sept 21):Wallace is a town that likes to celebrate whimsy, as with this event, that marks the anniversary weekend of the night in 2004 that a manhole cover at the junction of Sixth and Bank Streets was named the probably center of the universe.
OCTOBER
Wallace Idaho Fall for History Festival (Oct 3-6): Celebrating Wallace's colorful history during the most colorful time of the year. You'll find guided tours of the National Register of Historic Places homes and churches; trolley rides to Nine Mile Cemetery, where actors portray past notable townspersons; lectures; plays; dinner shows; and other special events.
Oktoberfest (Saturday, October 5): Features area micro-breweries and home brewers, vendors, food, music, games, and activities for the kids, including face painting and a bounce house in Harrison.
DECEMBER
Winterfest (Saturday, December 14): Caroling, scavenger hunt, raffle, food and more to celebrate winter on the lake in Harrison.
For more information and tips for planning your ride on the Trail of the Coeur d'Alenes, check out this article on Out There Outdoors.
(Sponsored Article)