What's New with Spokane Area Mountain Bike Trails
Mountain biking in the greater Spokane area is phenomenal, and it's one of the main reasons I moved to this area from Central Washington. We are seriously spoiled to that point I can ride from my house to the Saltese Uplands trailhead and be on single track in about five minutes. I can drive 30 minutes in any direction and be in a totally different environment, from open, arid hillside to lush forest at Liberty Lake or sub-alpine terrain at Mount Spokane. Or, my personal favorite, the amazingly rocky landscape of Beacon Hill.
The trails around North Idaho bring us higher elevation forested rides, many of which are world class. You don't need to go much further than the outskirts of Coeur d'Alene to find a thrilling escape suitable for a variety of riding styles and skills. The climbs can be tough, but the views and long descents more than make up for it. We have so much great riding all around the Inland Northwest, from mellow cross-country to gnarly downhill trails and everything in between, that it could take years to explore them all.
Our glorious trails didn't just get put in by sheer luck. There are so many people involved in developing and maintaining them, from land managers like Spokane Parks and Recreation, Spokane County Parks, State Parks, Forest Service, DNR, BLM, Inland Empire Paper Company, and private land owners. These agencies often have tight budgets and staffing limitations, which makes organized volunteer groups so critical in keeping quality mountain biking and hiking trails open. Groups such as the Evergreen Mountain Bike Alliance, Lake City Trail Builders, Washington Trails Association, Dishman Hills Conservancy, the Spokane Mountaineers, and others have become so valuable. If you can, follow their efforts and lend a hand when you can. Many of the trail work days require no special skills or tools, just a willing attitude. I have met some amazing and fun people out working on trails together; it's a community thing and a fun way to stay in shape while helping fellow trail users.
Now use this guide to get out there and explore some of the Inland Northwest's newest trails and old favorites that are seeing improvements. For trail references and positioning, I recommend using Trailforks and the MTB project apps. Download them on your phone along with any updated mapping files before you head out. (Dan Wilson)
Beacon Hill/Camp Sekani: Lots of terrain variety from beginner to expert on over 30 trails, featuring flow trails, jump lines, and a mix of chunky rock technical trails. Average vertical is around 670 feet, allowing the rider to get in shorter laps or make creative routes for an all-day ride. Evergreen East is completely revamping the east side of Camp Sekani Park to accommodate for a professionally-built bike park skills area with a pump track (fundraising efforts are underway; visit evergreeneast.org or follow Evergreen on Facebook to support this effort). Trail improvements in the works this year include Upper Hollywood, Summer Daze, and Upper Stahlingrab on the east side of the park. Come check out the trails, get a tour, and demo the latest and greatest bikes at Spokatopia Outdoor Adventure Festival July 7 (Spokatopia.com).
High Drive/South Hill Bluff: Steep and rolling single track along the hillside overlooking Latah Creek, offering amazing views and flowy terrain with exposure in some places. Over 20 miles of trails with 400+ foot climbs possible make the Bluff a go-to ride after work. The Friends of the Bluffs maintain the trails and are leading the charge on repairing damage caused by an illegally placed service road last year. A positive outcome of the illegal road debacle, the group is working on the final stages of securing additional acreage of public lands in the area.
Riverside State Park: The largest state park in Washington, Riverside's trail system consists of excellent cross-country riding on winding single track through pine forests; lush, twisting riverside trails; and some rocky, technical sections and short, challenging climbs. 70 miles of trails spread out over 14,000 acres, and new trails and trail improvements make for an ever-evolving riding experience. Don't forget your Discover Pass.
Iller Creek/Tower Mountain: South of Spokane Valley, find higher elevation rides here with spectacular views of Spokane and the Palouse.  The terrain is flowy and steep in areas and can be busy with bike and foot traffic on weekends. The climb is one of the more challenging ones around, with 1,600 feet of elevation gain per lap. The main loop is 5-miles long, but several spur trails, including dropping down to the Stevens Creek trailhead on the south side of the mountain, can add to the mileage. Ongoing trail maintenance efforts and replacing old fire road with new single track continues.
Saltese Uplands: Open cross-country style single track with great views from Mica to Liberty Lake and limited climbing required. This 550 acre chunk of public lands near Liberty Lake is a fantastic place to start riding your bike. The system includes 7+ miles of trail, and the front side switchbacks feature nice long berms that are great for cornering practice. The short draw trail has been re-built and offers a nice change of pace or extended loop option.
Antoine Peak: Mid-elevation forested trails (2,500-3,500 foot range) with steep climbs and descents, the Antoine Peak area offers great views of Spokane Valley and the Rathdrum Prairie. While many of the nearly 10-miles of trails on this 1,100-acre piece of Spokane County parkland are on steep, old roads, new single track trail construction thanks to WTA continues. Explore this area from two trailhead options.
Mica Peak: A recent public land addition of just under 1,000 acres is all thanks to the Conservation Futures program. New trail construction on the west side of Mica Peak (2,500-4,500 foot elevation range), including a mountain bike flow trail and new hiking trails, is in the works this year. Access to the area is easiest from just south of Spokane Valley via Highway 97 at a newly-built trailhead off of Belmont Road, although future conservation land/access efforts could include new trail that would link Mica Peak trails to the 3,500 acre Liberty Lake trail system.
Mount Spokane: Phenomenal mountain bike trails on 14,000 acres of state park land with high elevation gains of around 3,000 feet if you're pedaling or much less if you choose to shuttle. 20+ miles of single track trails range from rocky and technical to flow and off camber rooty sections. Mount Spokane showcases some of Spokane's best mountain landscapes and views on an ever-improving and expanding trail system. The Trail 290 (The Goods), which is the newest trail addition to the park, is a mostly pedal-free, 3-mile descent from the snowmobile parking lot. New this year, an upper section of Trail 290 is slated to be cut in, giving mountain bikers a new, awesome descent route once it's completed.
Spirit Lake Empire Trails: A relatively new trail system of around 10-miles with punchy climbs and descents on the edge of Spirit Lake, Idaho, trails range from the adrenaline rush of Pin Ball to the family friendly Charleston Loop. Lots of trail options and limited vertical make the Empire Trails perfect for a wide skillset of riders. New trails and trail improvements on this private land owned by Inland Paper Company are in the works, including an additional loop that will connect to the trailhead near Sedlemayers Resort (adding 4-5 miles to the system) and an old trail built by the Boy Scouts back in the 90s is also going to be cleared for use. Views of Spirit Lake and a public access area for swimming and paddle craft rentals at the edge of town make this a fantastic riding destination on summer days. A trail pass is only $2.50, and you can ride to the trailhead from town (3.5 miles) or drive. Find maps and info at Bikespiritlake.com.
Blue Creek Bay: Lake City Trail Builders and friends are helping to develop a new mountain bike trail system in this recently-thinned recreation area managed by the BLM east of Coeur d'Alene. The trails in the area, known as the Wallace Forest Conservation Area, will include single track trails suitable for a wide range of riders. Follow the Lake City Trail Builders on Facebook for updates.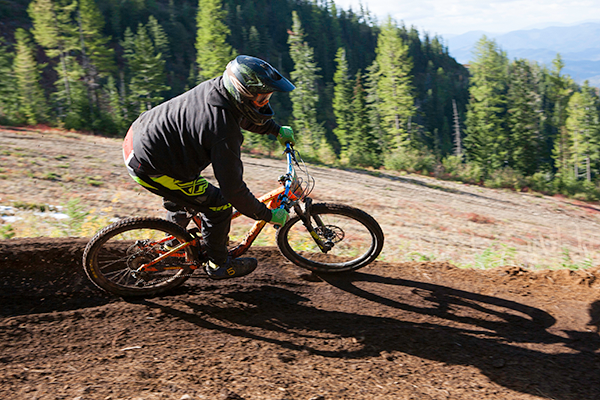 Silver Mountain Bike Park: New trails and maintenance are in the works for Silver's lift-accessed, mostly gravity-oriented trails. Mourning Wood is a local's secret trail that's going on the map this year with a re-built exit. Wildcat, Manchild, Pirate Trail, and Secret Squirrel will all see improvements. For more family riding, check out Silver Mountain's redone Crescent Trail. Stay tuned on social media for updates on other new trails moving forward this year. // (Dan Wilson & Derrick Knowles)
Mountain Bike Skills Classes
Evergreen East offers mountain bike classes for every level of rider, with professional, certified instructors who will help you progress. Classes start with skills like body position, descending, climbing and switchbacks and then move on to more advanced skills—depending on the class—like drops, high-speed riding, berms, cornering, and jumps. Spring and fall classes include skills practice and trail riding and Evergreen East also offers private coaching.  Details at Evergreeneast.org/skillsclasses.
June 3: MTB Foundations Jr., ages 8-12: this fun class just for kids is designed to build confidence and develop skills for real world trail riding.
June 10: MTB Foundations, Teen, ages 13-16: This class takes teens through the skill set for success on the trail.
MTB Foundations, Level 1 & 2, Coed and Women: This two-class series will make any rider a stronger, more confident rider. (Look for fall classes.)
Freeride Foundations Part 1 & 2: This series focuses on bike handling skills for more aggressive riding and terrain. (Look for fall classes.)
Taking to the Trail: Freeride and Downhill at Silver Mountain. (Details online.) // (Penny Schwyn)
Feature photo: Courtesy of Spirit Lake Empire Trails
Originally published in the May 2018 print edition of Out There Outdoors under the title "State of the Trails."