By Jean Arthur
Cowboys and cowgirls gallop their horses out of the start, snow clods flying, chaps flapping as skiers hang tight to ropes attached to saddles. Skiers and snowboarders, towed behind the steeds, hit snow jumps built into the 700-foot loop course.
This is skijoring, an old sport rejuvenated. Here in Red Lodge, Mont., near Yellowstone National Park, the National Skijoring Finals kick and snort each March.
Skijoring teams compete for cash prizes and national titles. Cheers and laughs increase as a horse picks up speed and the alpinist is flung even faster around the loop and over the 5-foot, snow-covered jump.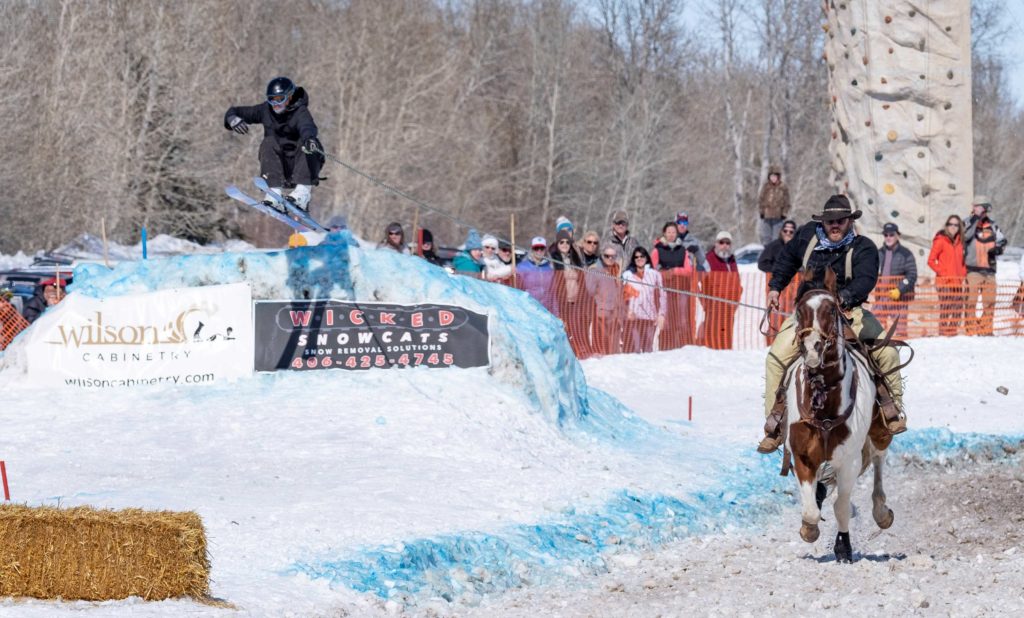 Despite the chaos, the horses stay focused, ranch animals with vibe. Some skiers and boarders don't make it past the first jump, sometimes landing in the muck, much to the pleasure of the hundreds of spectators.
Kids who have been cheering their favorite teams now trot themselves to the fire pits and S'mores station for warm-ups and sweets. There's a chili cook-off, wagon rides, a climbing wall, and live music on Saturday night at the Snag Bar.
Downtown Red Lodge, all six blocks of it, lines with skiers in puffy coats and cowfolk in Wranglers. They find soft pillows at the historic Pollard Hotel, where cattle rustlers, gunslingers, and mogul mashers have snoozed. Famously, the Pollard hosted Calamity Jane, frontierswoman and professional scout. Liver-Eatin' Johnson, who claimed to eat the liver of any man he killed, also resided at the three-story red-brick hotel, established in 1893, as did Pony Express Rider and grand showman Buffalo Bill Cody.
Back then, Red Lodge, which was established in 1884 when Montana was still a territory, flourished thanks to coal mining—and 20 saloons. Reportedly, the town's name was derived from the Crow Indians' red clay painted council tepee, used here when the Native Americans stayed to worship and hunt.
Today, Main Street merchants shovel snow from sidewalks of brick storefronts where the Swanky Fork sells high-end kitchen wares and Roscoe Outdoor offers gear and active ware for skiing, hiking, climbing, and relaxing. It's tough to walk past City Bakery without stopping for coffee and croissants or the Red Lodge Books & Tea for good reads and hot sips. There's the Carbon County Arts Guild and Depot Gallery with regional artists' works. Lively bars host music and good eats such as Sam's Tap Room & Kitchen, famous for its Red Lodge Ales like Bent Nail IPA and Rocking Horse Black IPA.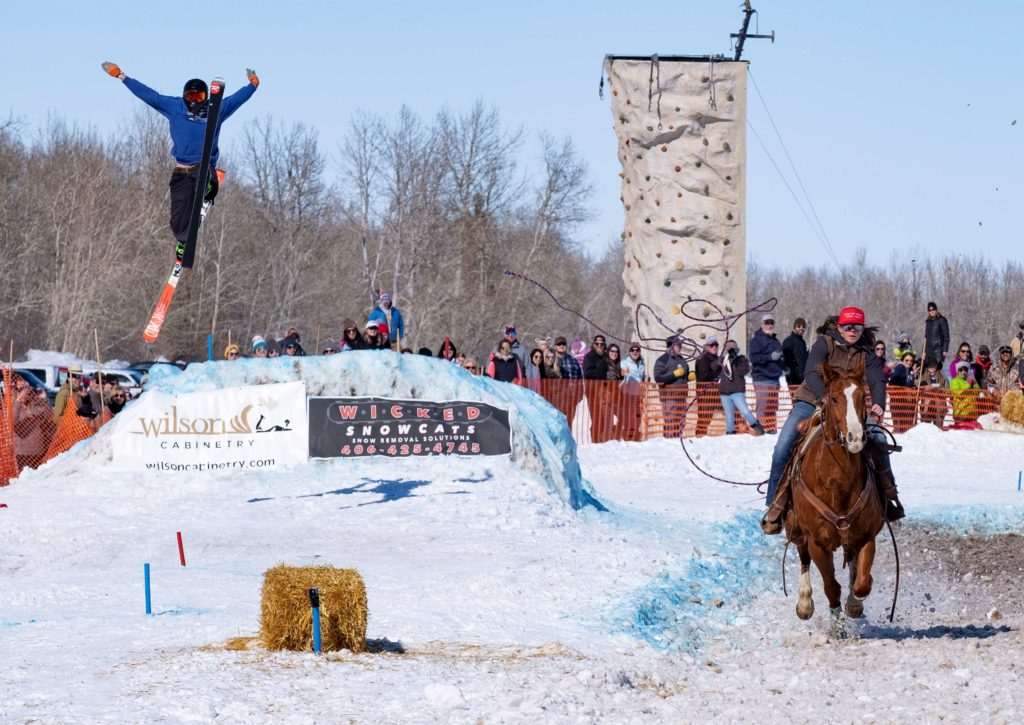 During the anchor event, The Red Lodge Winter Fest when the town hosts the National Skijoring Finals—which it's done since 1980—family events include moonlight cross-country ski trips, the Backcountry Film Festival, a Monster Dog Pull, and dance contests. There's pint night at Red Lodge Ales craft brewery, where Winter Fest royalty is crowned. This year's skijoring finals will be hosted on March 14-15, but the Red Lodge Winter Fest starts on March 6 and carries on for 10 days. For a full schedule of events, visit redlodge.com.
At the Red Lodge Mountain ski area just above town, costume contests, rail jams, a torchlight parade, and fantastic snow greet skiers and riders during Winter Fest. It offers 1,635 acres of terrain among the Beartooth Mountains, fluffed with light and dry snow. Lift tickets at $69/day for adults seems underpriced considering the seven lifts, mountain lodges, and 70 runs that look out over the Great Plains to the east. Steep runs, deep snow, and spring sunshine entice sliding folks to the Grizzly Peak summit at 9,416 feet where views deep into the wilderness to the south compete with sparkling double black diamond runs like Durango.
Après ski spectators line the rodeo grounds on Red Lodge's western edge, cheering on their favorite buckskins and paints, and skiers and snowboarders, too. High Plains Brewing and The Snag Bar serve beverages at the event. Entry is $10 per person for one day or $15 for both. Free shuttles from downtown allow more room for horse trailers and hay bales.