Two of the region's best birding fests, where you can let the experts help with the avian identification, happen in March. Don't miss the migration and the chance to see several species of birds up close and personal.
Pend Oreille Valley Tundra Swan Festival (March 21)
Between mid-February and mid-April, up to 5,000 tundra swans migrate through Washington's Pend Oreille Valley on their way from wintering grounds in the southwest to summer abodes in the Canadian tundra. Celebrate all things swan during the annual Pend Oreille Valley Tundra Swan Festival, co-hosted by the Kalispel Tribe of Indians and Pend Oreille River Tourism Alliance. Participants in this kid- and budget-friendly festival enjoy a bus ride from Usk to privately owned Calispell Lake, a 500-acre swan magnet that has earned it the unofficial title "Swan Lake." Bird watchers can scope Canada geese, northern pintails and wood ducks too, but it's the swans who are the stars here, with their grand and graceful bodies contrasting with cacophonous honks. Wildlife related presentations follow back in Usk. Info: www.porta-us.com.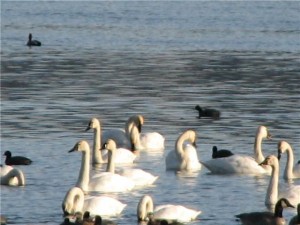 Othello Sandhill Crane Festival (March 27-29)
Each year since 1998, over 1,000 birders have flocked to the basalt and sage of the Columbia National Wildlife Refuge for the Othello Sandhill Crane Festival to glimpse the nearly 30,000 cranes which stop here each spring on their way to summer breeding grounds in Alaska, enticed by pothole lakes created by the Columbia Basin Irrigation Project. Keen-eyed observers can also spot long-billed curlews and various waterfowl. Attendees enjoy tours and presentations on the area's natural and cultural heritage as well as children's activities. Prepare to be awed by the size of sandhill cranes – nearly four feet tall – and their high-volume honking. Info: www.othellosandhillcranefestival.org. //