What's a skier or snowboarder to do when the snowflakes finally stop falling and things on the hill get slushy? Pond skimming may be the greatest spring ski tradition you've never heard of. Less sport than spectacle, it's composed of a few simple elements: a man-made pond on a mountain slope, a few folks who aren't afraid to laugh at themselves, and some crazy costumes. Music, crowd cheering, and sunshine help too.
You'll be able to find most of these elements at the four local Ski the Northwest Rockies resorts this month. Bring your skis or snowboard and wetsuit (or bikini, or hot dog costume, or—you get the idea) and get in on the end-of-season fun.
Mt. Spokane: March 17
As with most pond skims, competitors start at a distance that's far enough from the pond to gather speed. If you make it across the pond on your ski- or snowboard-ensemble, you get to participate in the next round. The starting point gradually moves closer to the pond, making a successful skim rare as it becomes tough to gather adequate speed. If you sink, you sit out.
Unlike most pond skims, Mt. Spokane offers the Mario-esque addition of balloons to the course. Snag a balloon as you're heading toward the pond and keep the prize inside. All ages are welcome to test their coordination, but they must be able to swim.
"The sun's usually shining, and there's music playing over the loudspeakers. It's just a really happy, fun event," says Mt. Spokane's Brenda McQuarrie.
McQuarrie says that last year's pond skim course played out a bit too easily, so they plan to make it a challenge this year. The resort will give prizes to the youngest and oldest participants, and a prize for the best costume. This year's pond skim, which is free to enter, coincides with Mt. Spokane's Hawaiian Days, so think about adding a tropical twist to your costume.
Most memorable costume to date: Evel Knievel in a cape, giving the crowd a giant rooster tail of water as he made it across the pond.
49 Degrees North: March 17
Better known as the Slush Cup, 49's pond skim event also takes place during a Hawaiian-themed celebration. The Slush Cup is a fundraiser for the 49 Degrees North Ski Patrol and funds training and medical supplies. Word has it that, on occasion, a ski patroller will persuade someone to test the pond via toboggan. Word also has it that both ski patroller and passenger will get wet.
"It's a lot of fun to watch those that don't make it across," says Ski Patrol volunteer Pat Estes. "From big smiles to the look of panic—and the facial expressions when they realize the temperature of the water—to the thrill of victory of those who do make it are all entertaining for the crowd."
This Slush Cup promises to be fun to watch, as the Hawaiian Days celebration will also include a poker run, costume contest, raffle, silent auction, and burgers and beer on the deck. You can sign up for the Slush Cup and other activities at the lodge on the day-of. It's $10 per pond skim attempt. Prizes are awarded based on costume and style.
Most memorable costume to date: A gentleman in a "tuxedo" carrying a bottle of Champagne and a Champagne glass.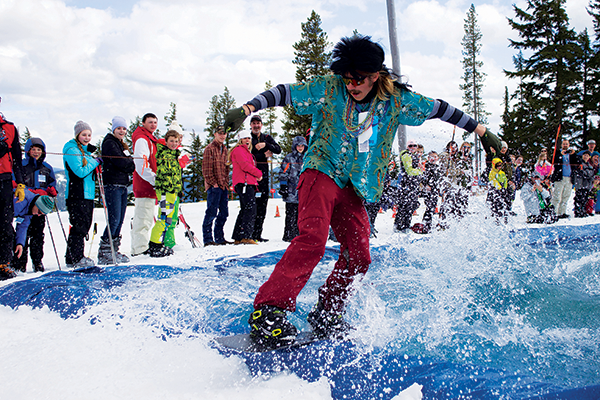 Silver Mountain: March 31
Silver Mountain's pond skim is part of the resort's Spring Carnival celebration. Silver's Willy Bartlett says the skiing is usually good during the morning, and the pond skim makes for a fun event to wrap up the day.
Bartlett estimates that the pond skim success rate hovers around 25-percent, with folks popping tricks on the other side of the pond, but it's just as fun to expect to splash and focus on bringing a wild costume.
Signing up is free and this year Silver Mountain will award a $50 gift card to the best male costume and the best female costume and a $100 gift card for best crossing and best in show. Competitors will have 45 minutes to put in their best crossing.
While the pond skim is limited to ski or snowboards for the public, Bartlett says you'll be in for a treat if the rental shop staff bring out their tandem ski attempt again this year. The pond skim starts at 2 p.m. Register on the patio from 12:30-1:30 p.m. Helmets are required, as are guardian signatures for those under 18 wishing to skim.
Most memorable costume to date: A male ski patroller dressed up as a mermaid, complete with starfish bra.
Lookout Pass: March 31
Lookout's pond skim is part of the Spring Fling event ($10 gets you into all events). In addition to the pond skim there is a cardboard box derby, beach party luau, and coconut bowling for kids. This pond skim will have randomly-awarded prizes, influenced by crowd approval, and contestants will run from youngest to oldest.
Lookout's Matthew Sawyer says he recommends a "go big or go home" mentality, and to have fun as you celebrate the coming of spring. To prep for going home post-skim, Sawyer recommends bringing a change of clothes, towels, and possibly a sleeping bag. Pro tip: bring a garbage bag to stash your wet costume on the drive back.
Sawyer says some of the most creative pond skim approaches he's seen include people going in switch (backward) or doing flips into the pond. People also try to "wake" their friends by tossing up a wave of water onto the crowd. Lookout is a family-friendly area, so while they want all ages and abilities to be able to skim across, they'll also bring a challenge, so the crowd gets the satisfaction of a splash. //
Skim, Don't Sink: Tips for a Successful Pond Skim
Mt. Spokane:
Get some speed and keep your tips up.
Make sure you know how to swim.
49 Degrees North:
Stay centered on the skis and don't lean back.
Don't let the transition from snow to water to snow catch you off guard.
According to a speed gun, the ideal speed for success was 32-35 MPH. If you're too slow you won't make it, too fast and you'll nosedive.
Bring a change of clothes.
Lookout Pass:
Dress in costume—you'll get more cheers.
Speed is your friend. Skate to add speed and wax your skis or snowboard.
Do it for yourself: don't let friends or the beer talk you into it.
Be creative and stay relaxed.
Don't turn if you want to make it across.
Know how to swim while wearing skis or a snowboard.
Silver Mountain:
Bring a helmet and a sense of humor.
90% of this is in the costume, so invest in it.
Speed and balance are your friends—be ready to lean back a little.
Bring your friends. It's more fun as a group.
Lisa Laughlin is Out There's Digital Editor. She enjoys long-distance running and paddleboarding. She wrote about Learn to Ski month in January. //
Sponsored by Ski the Northwest Rockies
Originally posted in the March 2018 print edition of Out There Outdoors under the title "Spring Traditions at Local Resorts."
Feature photo: Skimming in style. // Courtesy of 49 Degrees North.