Two years ago I had an on-trail meeting with a BLM employee at Fishtrap Recreation Area. We were scoping a section of the Fishtrap Loop, but during our conversation I asked about his favorite trail in the region. He spent the next several minutes gushing about the spring beauty of Odessa Craters, with its gorgeous spring wildflowers and unique geology. It's a spot that hadn't been on my radar, as it's a long drive from my house for what I consider a very short hike. But when someone in charge of numerous recreation areas on the shrub steppe points out this specific trail as a far and away favorite, I knew it would be worth the trip to see it in person. For those who also like a longer hike, know there are other trails to explore in the vicinity of Odessa Craters, including the nearby ADA-accessible Cache Crater Trail. But it's also a lovely spring drive to Odessa for this hike alone, and since the loop is so short, hikers can afford to take their time along the way.
When I visited, my group opted to hike the trail clockwise, but the loop can be completed in either direction. This is a landscape shaped by the Missoula floods, with hike highlights 15,000 years in the making. The trail is well marked and there are well-spaced benches along the way, inviting hikers to linger along the route. By hiking clockwise we found a dramatic vantage point allowing us to look down on Rock Rose Crater from above.
Since the hike is short, bring some additional supplies to help you savor the journey. This is an ideal place for photography and bird watching, or even plein air painting. Books on geology and the Missoula floods can also be useful to have along on the hike to help interpret geologic features visible along the trail. We found spring wildflowers including arrowleaf balsamroot and phlox. On my group's visit, we also packed a picnic lunch to enjoy at Odessa's Reiman Park after we had completed the hike.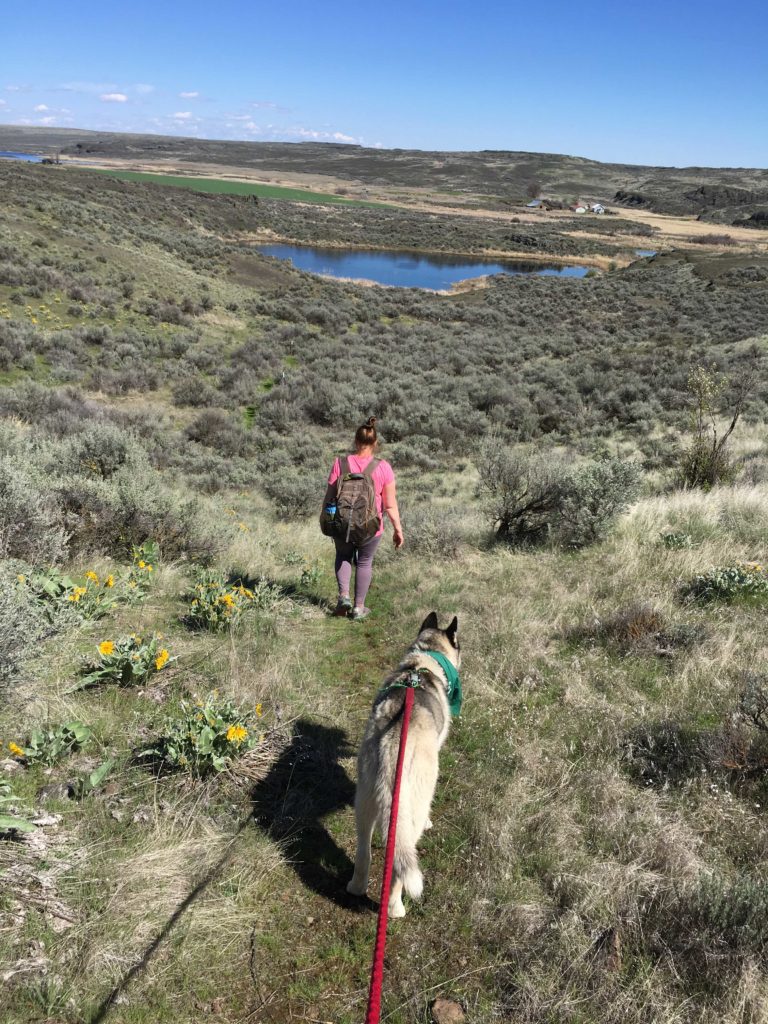 There is one warning I must pass along about this hike: It is a spring hotbed for ticks. I had already applied my annual clothing treatment of Permethrin prior to my mid-April visit, which I found worked well for myself. My hiking companion didn't have any tick treatment on and discovered several ticks along the course of the hike. My poor dog, who was wearing a Permethrin-treated bandana but had not yet received his spring and summer tick treatment, ultimately brought several hitchhikers home. While dogs are permitted on this hike, due to the prevalence of ticks, it might be better to leave them at home.
Hike Stats
Round-trip distance: 1.5 miles
Rating: Easy
Elevation gain: 175 feet
Map: Lakeview Recreation Area on the BLM Website (map)
Getting there: From Odessa, Wash., take Highway 21 north. Travel 6.6 miles to a small parking area with a trailhead kiosk located on the east side of the highway.
Find more Hike of the Month ideas in the OTO archives.
Holly Weiler is a crew leader for Washington Trails Association and writes the Hike of the Month for each issue. She looks forward to enjoying spring wildflowers.
Editor's Note: Fishtrap Recreation Area remains open year-round even during stay-at-home orders because of its open accessibility (no gates). It has limited facilities and those remained locked and unusable during the Washington State "Stay Healthy, Stay Home" public health proclamation.
This article was originally published as "Odessa Craters: Eastern Washington's Channeled Scablands" for the Hike of the Month column in the April 2020 issue.