By Chris Cindric
To help you make the most of your outdoor time and keep things fresh during the pandemic, the faculty of Eastern Washington University's Recreation and Leisure Services Program in partnership with Out There Outdoors has created the SPOvid-19 Local Adventure Series.
Episode 8 – River Surf Spokane
Telling someone you are a river surfer is not an easy thing to do. Most people stare at you in disbelief or act like they heard you wrong. Inevitably I sometimes wish I just told them I like to hike a lot for my recreation.  
So, if you're one of those people reading this, I say to you now, "Yes, stand up paddle riversurfing is a thing. And yes, you can do it on the Spokane River."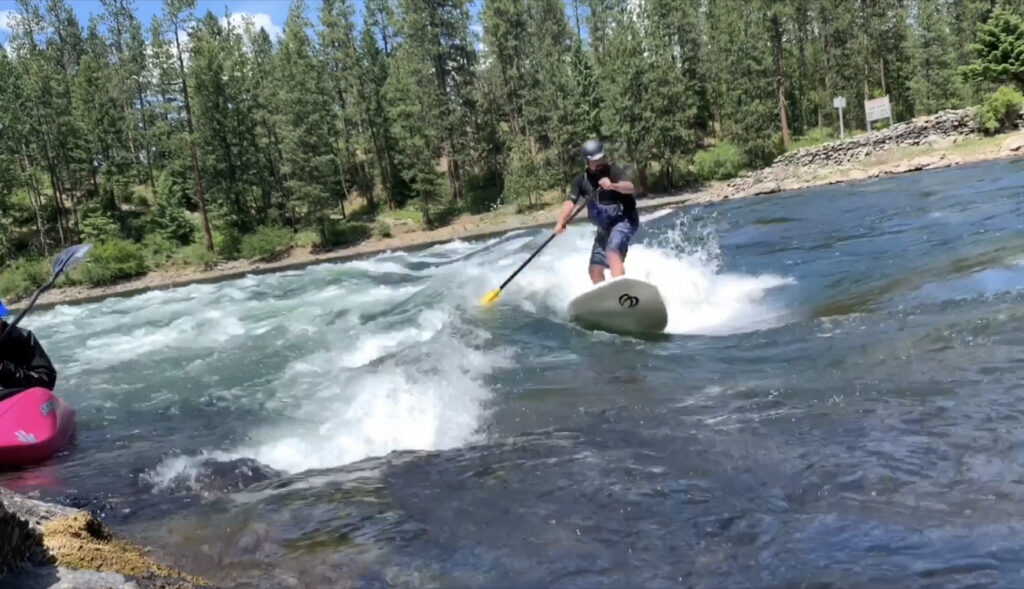 I say you can do it because you can.  It takes some time, equipment, and instruction, but it is attainable. First comes the equipment, what I call the stand up paddle river surfer's Big Five: an appropriate board for your skill level, paddle, pfd, helmet, and a reachable and releasable leash. 
Once you get to the river there are 3 important things to know about stand-up paddle riversurfing:
Nobody else on the river cares that you surf.
Be respectful of the river and other paddlers.
Be safe and have fun.  
You have to remember you're the oddity on the river.  It's important to recognize that not everyone will be thrilled to see you at the wave and learn to understand their perspective. And it's also why it's key to wear the proper safety gear. Then with some river knowledge, time, and instruction, you'll be surfing.
I have to say there really is something special about surfing a clear, glassy, river wave. And the best part is when your day is done, you can just sit back, relax, and enjoy the show. Isn't Spokane awesome? 
River Surfer Safety Video
Resources: