The 4th annual Spokatopia Outdoor Adventure Festival, set for Saturday, July 7, at Spokane's Camp Sekani Park and Boulder Beach on the Spokane River, has grown into one of the region's most popular outdoor recreation events. While the festival is one of the biggest bike demo events in the Northwest, there are plenty of things to see and do at Spokatopia that don't involve wheels, from water sports and kids' activities to live music and shopping for deals on outdoor gear.
Try the Latest Bikes, Paddleboards, Kayaks, and Boats
Spokatopia is the largest bike and watersports demo event in the Inland NW. That means you can try the latest and greatest bikes, boats, and other water sports toys all in one day at the same location. While general admission to the festival is free, a $5 demo pass is required to take advantage of unlimited bike and water sports demos. Demo passes are available at the event from the Out There Outdoors booth at the Camp Sekani festival grounds and at Boulder Beach (cash and cards excepted). Bring appropriate clothing, gear, a towel, and your ID and a credit card, required for some demos. (A bike and bag check will be available.) More info on the Spokatopia.com demo page.
So Many Demo Bikes, So Little Time
Spokatopia is the place to try out a wide range of dirt and pavement-oriented bikes from several bike shops and a dozen different bike brands all in one location from 9 a.m.-6 p.m. The Bike Hub, Wheel Sport, North Division Bicycle Shop, Velofix Spokane, Mojo Cyclery, and Shred Sports Outlet will have plenty of mountain bikes that you can take for a spin on Camp Sekani singletrack, as well as other electric-assist bikes, road bikes, and hybrid bikes that can be ridden on the paved Centennial Trail or Camp Sekani gravel roads. Bike brands lined up this year include Specialized, Pivot, Niner, Yeti, Ibis, Trek, Rocky Mountain, Transition, Santa Cruz, Giant, Raleigh electric bikes, and the new line of Rossignol mountain bikes.
Test the Best Boats and Boards at Boulder Beach
On a hot July day, there's no better way to cool off than by trying out different boats and boards on the lake-like waters of the Spokane River behind Upriver Dam. The water sports demo area at Boulder Beach (across the road from Camp Sekani Park along the Centennial Trail) will include demo paddleboards and boats and water sports vendors on hand to talk about their gear. With a $5 demo pass, you can try inflatable paddleboards, kayaks, canoes, Hobie kayaks and trimarans, and multi-purpose Switchblade SUP paddles from Fun Unlimited, Mountain Gear, SailSport NW, and Switchblade Paddles from 11 a.m.-4 p.m.
Free Climbing, Yoga, Slacklining, and Trail Run
New to Spokatopia this year will be a bouldering wall designed by Spokane's Bloc Yard Bouldering Gym with routes for kids and adults and a free, beginner-and-intermediate level trail run (starting at 8:45 a.m.). Back again this year is the slacklining area where you can test your balance and a free "yoga for everyone" class under the big tent at 9 a.m.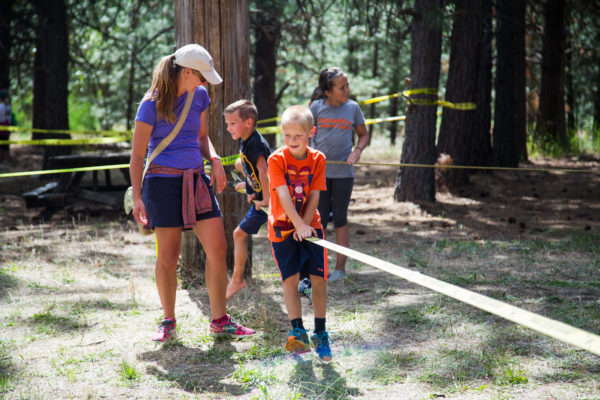 Kids & Family Activities
There are plenty of free activities set up for families this year, including slacklining; Strider balance bikes for kids to try; a climbing wall; General Store water soaker "squirt gun" zone; REI Campground with free outdoor skills clinics, tents and outdoor furniture, and free trail mix bar making activity; geocaching sponsored by REI with a chance to win prizes; the INB sponsored "Game Cave" with games for kids and parents; a mountain bike jump show (1 p.m.); and several "Adventure Clinics" suitable for kids and families, including rock climbing, paddleboarding, disc golf, and more (look online for more info).
Outdoor Gear Deals & Information
With over 40 exhibitors, including local outdoor retailers, brands, and bikes shops, be ready to find deals on outdoor and biking gear, water sports equipment, and apparel from The North Face Spokane store, Mountain Gear, Spokane Alpine Haus, The General Store, local bike shops, Switchblade Paddles, Stillwater Outdoors, Shred Sports Outlet, Kind Apparel, Fleet Feet Spokane, and Potty Glove. And cruise the exhibitors to chat with experts from local outdoor clubs, organizations, and travel destinations.
Adventure Clinics
Get hands-on instruction and pick up a new outdoor sport or brush up on your skills. Clinics include paddleboarding, canoeing, kayaking, disc golf, SUP yoga, climbing, and mountain biking. Space is limited and clinics, which cost from $10-$20, usually sell out, so sign up early. More info at Spokatopia.com/adventure-clinics.
More Festival Activities & Info Online
Check out the full schedule of Spokatopia activities and attractions at Spokatopia.com. Parking is limited, so consider other options on the "Getting There" page. See you at Spokatopia! //