At the 2nd annual Spokatopia Outdoor Adventure Festival Saturday, July 9 at Camp Sekani Park on the Spokane River you can try stand up paddleboarding, rock climbing, kayaking, slacklining, geo-caching, SUP yoga, disc golf, and other outdoor activities all while hanging out in a fun, festive atmosphere that includes 40 outdoor recreation-related exhibitors, live music, a beer garden, mountain bike jump jam and the biggest bike demo and sales event of the year.  Kick the festival off with the Up Chuck Challenge 5k trail run or 1.5 mile run or walk. General admission, bike demos, paddleboard demos and many other activities are free, although there is a cost to sign up for the outdoor adventure clinics offered through Spokane Parks and Recreation.
Try Different Outdoor Activities at an Adventure Clinic
Festivalgoers can try out many different outdoor recreation activities, all in the Camp Sekani/Boulder Beach area. Activities include stand up paddleboarding, kayaking, canoeing, rock climbing, geocaching, and other fun outdoor sports. Prices range from $10-20 per person depending on the clinic and include equipment and instruction. Find more info for all of these adventure clinics, including times, location, other requirements, and registration info at: Spokatopia.com/excursions. Space is limited, and all of the clinics sold out last year, so don't wait to sign up!
Intro to Rock Climbing: Learn rock climbing basics on mellow routes in the crags behind the festival grounds in a friendly, encouraging atmosphere, sponsored by Mountain Gear. Learn rock climbing techniques to reach the top of a rock face. All the gear and equipment is provided for this exciting and challenging sport. Multiple sessions.
Voyageur 8 Person Canoe Tour: Take a voyage with Spokane's Canoe & Kayak Club in this historic 22-foot voyageur canoe that will hold up to eight people. This adventure clinic will be guided by experienced canoeists from the Spokane Canoe & Kayak Club. Rides will leave Boulder Beach for several 30-45 minute long tours. All necessary equipment will be provided and no experience is necessary. Cost: $10 per person.
Stand Up Paddleboard Lesson: Join Spokane Parks and Recreation for a morning or afternoon stand up paddleboard tour. Stand up paddleboarding, or SUP, is a great workout and balance tuner, not to mention a fun way to share the summer sun and water with others. No experience is necessary and all equipment will be provided. Multiple sessions. Cost: $15 per person.
Tandem Kayak Tour: The best way to experience the Spokane River is with a paddle in your hands and sun on your skin. No experience is necessary, only the desire to paddle. All equipment will be provided. The 60-minute excursions will begin with a 10-minute warm up and instruction. Multiple sessions. Cost: $15 per person.
Stand Up Paddleboard (SUP) Yoga: Kick off your Spokatopia experience with a tranquil SUP yoga sequence with SUP Spokane. This amazing cross-training sport is low impact on the joints and is used to improve balance and core strength. Multiple sessions. Cost: $15 per person.
Inflatable Whitewater Kayaking: Join FLOW Adventures on an inflatable kayak adventure down the Spokane River. Inflatable kayak trips make a terrific alternative to hard-shell kayak tours for those wanting to try something new. They are incredibly fun and easy to paddle and maneuver. Individual and tandem kayak options are available. Multiple sessions. Cost: $15 per person.
Disc Golf Intro Lesson: Team up with an experienced player from Disc Golf Uprising for a 1-hour lesson.  Learn about different types of discs and how they fly, proper stance and grip, disc golf terms, and more! Cost: $15 per person.
Intro to Geocaching: Come and experience this high-tech scavenger hunt. Cache-Advance instructors will teach you the tricks of the trade in the geocaching world as well as sharing new strategies for locating skillfully-hidden caches and basic GPS skill and equipment tips. Cost: $15 per person.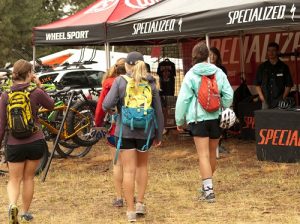 The Biggest Bike Demo and Sales Event of the Year
Local bike shops, including Wheel Sport, North Division Bicycle Shop, This Bike Life, The Bike Hub, Velofix, and Cool Water Bikes will be set up at Spokatopia offering demos and selling bikes from Specialized, Pivot, Yeti, Trek, Norco, Ellsworth, Santa Cruz and other brands. Come check out full suspension, front suspension, hardtail, and downhill mountain bikes; fat bikes; hybrids; 29ers; and road and commuter bikes. This will be the biggest bike demo and sales event in the Inland Northwest this year, so don't miss out if you're thinking about buying a new bike or want to see what's out there for the future. Demo bikes can be checked out and ridden on Camp Sekani singletrack, forest roads or on Centennial Trail pavement right there at the festival (bring your ID and riding clothes/helmet). Look for a full list of demo bikes that will be on hand at Spokatopia.com.
Stand Up Paddleboard and Water Sports Demos
If you've been thinking about buying a stand up paddleboard, this is your chance to try Stillwater Outdoors inflatable SUPs and paddles with Fun Unlimited at Boulder Beach below the central festival grounds on the Spokane River. This Bike Life, a local NRS dealer, will be showing off NRS paddleboards and Switchblade paddles (a SUP/kayak/canoe combo paddle) will also be for sale. Mountain Gear will have their demo fleet of kayaks and canoes on hand to try as well.
Free Sekani Downhill Mountain Bike Shuttles
For one day only, you can ride your choice of Sekani trails without having to pedal or push your bike to the top in the July heat – that is unless you want to! Bring your own mountain bike or take a demo bike for a spin down your choice of Camp Sekani trails, from easy, intermediate to expert or insane. And then catch a ride back to the top in the Evergreen East sponsored shuttle vehicle and do it again! Evergreen East members will be on hand with maps to help you navigate the trail system.
Mountain Bike Jump Jam
Watch talented local riders fly through the air on bikes, pulling off tricks and launching off huge gapped jumps that few mountain bikers can execute and land. Follow the signs to the Camp Sekani bike park through the trees a few hundred yards to the east of the main festival grounds. This free event promises to be an awesome experience for spectators. The show runs from 1-2 p.m., but show up early to watch riders practice from the Jump Jam beer garden.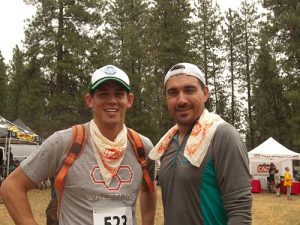 5K & 1.5 Mile Up Chuck Challenge Trail Run
The 2nd annual Up Chuck Challenge trail run starts at Camp Sekani Park on the Up Chuck Trail for a fun, nearly all singletrack 5k climb to the top of Beacon Hill (1,000 feet of elevation gain). New this year, run or walk the 1.5 mile "Up Chuck Lite" course to the top of Camp Sekani. The race is timed on the up only, with another 2.3 mile run or walk back to the start for the 5k, and a half mile walk/run back down for the Up Chuck Lite 1.5 miler. Pick up your race bandana back at the start at the Spokatopia festival and hit the beer garden. The 5k starts at 9:30 a.m. and the 1.5 mile run/walk starts at 10. More info at Spokatopia.com.
Beer Garden, Music & Food
Enjoy craft beers from the Inland Northwest and beyond in the pine-shaded beer garden located in the central festival grounds while watching live music and grooving to KPND 95.3 FM in between sets. Proceeds from the beer garden and the festival benefit Evergreen East Mountain Bike Alliance – drink up and support your local mountain bike club! Food vendors will also be on hand to fill your belly after a day of spinning pedals, paddleboarding, slacklining, trail running and checking out other festival activities.
Festival Parking
Additional festival parking in designated areas along E. Upriver Drive will be available this year, and you can also park at nearby Pasadena Elementary (1-mile east on Upriver Drive) or Shields Park (aka Minnehaha, around 1-mile west of Sekani on E. Upriver Drive) and catch a van shuttle or walk/bike to Camp Sekani from those locations (a free bike corral will be available at the festival). The other more fun options is parking at Avista Utilities (1411 E. Mission Ave.) and riding your bike 4.6 miles on the Centennial Trail to the festival.
Ride Your Bike to Spokatopia: Avista Sponsored "Park and Bike Area" and a Secure Bike Corral Make it Easy
The most fun and easy way to get to the festival is to ride the Centennial Trail from your neighborhood or from one of the festival parking areas (Pasadena Elementary 1-mile east on Upriver Drive and at the Avista Utilities building 4.6 miles to the west on Mission Ave.). Vehicle parking at the festival grounds will be limited, but there will be a big, guarded and fenced bike corral at the festival at Camp Sekani Park to keep your ride safe while you try different outdoor sports and demo bikes and paddleboards. Details at Spokatopia.com.
Finding the Festival at Camp Sekani Park
Camp Sekani Park is located between downtown Spokane and Spokane Valley on E. Upriver Drive. For more details, visit Spokatopia.com and follow the festival on Facebook. //