Don't let the indoor setting fool you at this new outdoor recreation event at the Spokane Convention Center February 18-19, 2017. Discover fun, entertaining and engaging activities at this two-day celebration of all the awesome outdoor recreation and travel opportunities and the amazing lifestyle we enjoy here in the Inland Pacific Northwest. Cruise a huge selection of bikes (for sale and demo), paddleboards, kayaks and other outdoor gear; check out product samples and interactive displays; enter contests and giveaways; and take part in free outdoor recreation oriented clinics, demonstrations, and speakers all weekend long! Engage with over 40 exhibitors and activities and also gain access to the Spokane Golf Show that will be connected to the Spokane Great Outdoors & Bike Expo in the Spokane Convention Center. Tickets are available for $8 online here and $10 at the door.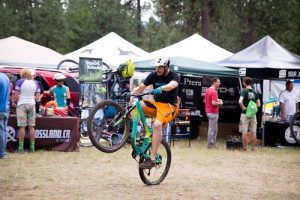 Explore Over 40 Exhibitor and Outdoor Adventure Opportunities
Check out and shop for bikes, both the latest and greatest technology and sweet deals from Elby, North Division Bicycle Shop, The Bike Hub, This Bike Life, Velofix Spokane, Wheel Sport Bicycles, and Yeti Cycles
Shop for new paddleboards, canoes and kayaks from Mountain Gear, including these brands: Wenonah Canoe, Wilderness Systems, Hobie Kayak, Amundson, Riviera and Boardworks
Explore tourism destinations and plan your next escape
Check out outdoor and biking gear from Fleet Feet, Hoka, Tonik Cycling, and other brands
Learn about local trails, health and fitness trends, and public lands and wildlife issues from the experts.
Find the complete exhibitor list at SpokaneOutdoorExpo.com.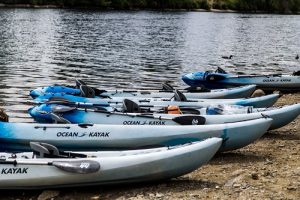 Outdoor Adventure Presentations
The Spokane Great Outdoors & Bike Expo will also feature several presentations on different outdoor topics throughout the weekend. Learn and discover new things about the Inland Northwest's great outdoors, from hiking, wildlife, fishing, trail running and more!  All seminars are free with expo admission.
Saturday, 10:30-11:15 a.m.—Outdoor Recreation Safety/Awareness in Bear, Cougar, & Wolf Country with Washington Department of Fish & Wildlife Assistant Wildlife Biologist Annemarie Prince. Practice using inert bear spray canisters outside after the presentation.
Saturday, 11:30-12:15: Inland NW Wild Edibles, with Out There Monthly "Leaf, Root, Fungi, Fruit" columnist Kelly Chadwick. Learn about some of spring's first wild edible plants.
Saturday, 12:30-1:15 p.m.—"Nutrition for Hikers, Cyclists and Other Adventurers." Sandpoint-based writer, adventure mom, nutritional therapy practitioner, and Out There Monthly columnist Ammi Midstokke will present her case for caring for our insides by eating right when we head outside.
Saturday, 1:30-2:15 p.m.—"Exploring Spokane County's Conservation Futures Lands and Trails." Looking for new trails? Take a tour of the over 7,000 acres of open space and recreation lands acquired through the Spokane County's Conservation Futures Fund with Spokane County Parks, Recreation & Golf's Paul Knowles.
Saturday, 3:30-4:15 p.m.—"Outdoorsy People: Knowing What You and Your Outdoor Adventure Partners are Made Of." Awareness of and willingness to adjust expectations of ourselves and our hiking, running, biking, and other adventure companions is the key to health and happiness in the outdoors, maintains adventure writer Ammi Midstokke in this sure-to-be entertaining and engaging talk.
Saturday, 4:30-5:00 p.m.—"Lessons Learned from Teaching Kids about the Great Outdoors." Amy Silbernagel McCaffree, who writes Out There Monthly's "Out There Kids" column, will share her experiences skiing, biking, camping, and hiking with kids. Amy will pass on tips and lessons her family has learned from enjoying outdoor adventures together, including budget-friendly gear ideas.
Sunday, 11:30-12:15 p.m.—"The Columbia River: A Paddler's Recreational Paradise." Author and photographer John Roskelley is a dabbler in everything outdoors. In his first half century, Roskelley fought his way up four 8,000-meter peaks, including K2 and Everest, plus many other unclimbed Himalayan faces and ridges. A graduate of WSU in geology, Roskelley's most recent book, which he will be highlighting in his presentation, is a paddler's guide to the entire 1,200 miles of the Columbia River. Whether gliding along in the glacier-fed upper reaches of the Rocky Mountain/Purcell Trench through one of North America's largest wetlands, paddling hard against an incoming tide below Bonneville Dam, or racing along with a flow of 200,000 cu ft/sec below the White Bluffs in the Hanford Reach, a paddler can experience a lifetime of challenges and experiences on any segment of the Columbia. "Get to know your river," says Roskelley. "It has the finest big water, miles of pristine sandy beaches, iconic wildlife refuges, and best of all—it's in your backyard. Push off. Paddle it. You won't be sorry."
Sunday, 12:30-1:15 p.m.—"Spokane Area Fishing: Tips to Catch Fish on Any Lake." Cabela's Post Falls store fishing manager Justin Carlile will cover practical fishing advice for newbies and seasoned anglers alike, including where to fish, what bait and gear to use, and other techniques you'll need to hit the water and catch fish.
Sunday, 2:45-3:20 p.m.—"Long Distance Hikes Close to Home," with Holly Weiler, Washington Trails Association's Eastern Washington Coordinator and author of Out There Monthly's "Hike of the Month" columns.
Sunday, 3:30-4:00 p.m.—"Top Inland NW Trail Runs." Are you interested in trail running? Explore some of the region's best running trails with the Trail Maniacs running club, which offers a wide variety of trail runs in the Inland Northwest, from free social runs to epic 50-mile trail adventures.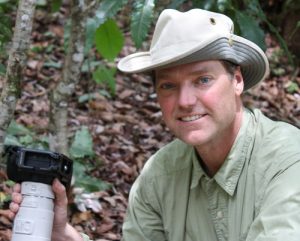 Keynote Presentation: Sunday, 1:30-2:30 p.m. "Owl: A Year in The Lives of North American Owls," By Paul Bannick
Award winning photographer Paul Bannick will present a new program featuring video, sound, stories from the field and several dozen new images from his brand-new book: "Owl: A Year in the Lives of North American Owls." Paul uses intimate yet dramatic images to follow owls through the course of one year and in their distinct habitats in some of the most remote parts of the continent. "Owl" is a stunning follow-up to Bannick's bestselling title, "The Owl and the Woodpecker." Don't miss the first time this stunning presentation has been given in the Spokane area!
Clinics & Activities
Experience outdoor activities, including yoga for hikers/runners, rock climbing, natural movement exercises, slacklining, geocaching, and more for free with your expo admission! Find the full activity schedule at Spokaneoutdoorexpo.com
Slacklining
Try your balance on a slackline all weekend long with expert advice and encouragement. This fun activity for kids and adults is a great way to build better balance and core strength.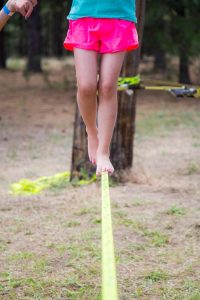 Geocaching 101
Learn all about the real-world, outdoor treasure hunting game of geocaching using GPS-enabled devices such as a smartphone or GPS unit. Find out how to play and what gear you'll need to get started. Cache Advance founder Lisa Breitenfeldt has been geocaching since 2002 and is excited to share her love of this fun, family-friendly activity! The Geocaching 101 clinics are scheduled on Saturday from 10:30-11:15 a.m. and from 3:30-4:15 p.m. and on Sunday from 12:30-1:15 p.m.
Training Balance: The Universal Principal
Learn to improve your balance in outdoor sports like biking, paddleboarding, kayaking and hiking from personal trainer Donnie Kissick. This workshop will introduce you to one universal principle that you can use to find balance in everything you do. Saturday, 1:30-2:15 p.m.
Bridging the Gap Between Fitness and Recreation.
Learn ways to implement fitness training to support your active lifestyle. "Fitness people don't do enough recreational activity and people with an active lifestyle often stay away from the gym," says workshop leader Donnie Kissick who offers a middle ground approach. Sunday, 11:30-12:15 p.m.
Yoga for Tired Hiking/Biking Legs
Sign up in advance for this limited-space clinic to learn basic leg-stretching and rejuvenating yoga poses that will benefit hikers and cyclists from yoga instructor and avid hiker, biker and snowboarder Janelle Britton. Saturday, 9:15-10:15 a.m.
Learn the Art of the Yoga Headstand
Increase core strength and balance, relieve stress and increase focus with proper headstand technique and alignment with yoga instructor Janelle Britton. Sunday, 10:15-11:15 p.m.
The Great Gear Giveaway
Show up at the expo and you automatically enter to win sweet outdoor gear from Mountain Gear, Crazy Creek, Bar Mitts, Tonik Cycling, and other brands that will be given away every hour throughout the show*. (*Must be present to win hourly prizes.) One grand prize Cabela's Camping package will be given away at the end of the show (the winner doesn't need to be present to bring home the goods for this one).
Expo Tickets
Buy Expo tickets online early and choose one of these bonus prizes while supplies last: Bike tune-ups from Spokane bike shops, paddleboard rentals from Fun Unlimited, Silver Mountain Bike Park 2-for-1 passes, Wild Walls climbing day passes, and other sweet outdoor recreation giveaways! Tickets are good for the entire weekend and get you into all free presentations, clinics, and demos. Tickets are $8 online here and $10 at the door.
For more information about the Spokane Great Outdoors & Bike Expo, call 509-822-0123.