Lucy Larsen, 45, is an active person. Her work as a nurse in Spokane has meant many years of 12-hour shifts, and she's always kept busy with her dogs, her husband, friends, and a plethora of outdoor and fitness-related activities: cycling; skiing; long, brisk hikes; lifting weights five days a week.
All of that came to a screeching halt in November when Larsen contracted COVID-19. She was ravaged by symptoms. "I thought I was going to die three times," she says. "I told my husband and taught him how to do CPR." Thankfully, that wasn't necessary, though life has been far from normal ever since.
Her husband became "the cook, the cleaner, the shopper," she says. "It took me six weeks to drive, six weeks to leave the house." At one point, "it took me an hour and a half or two hours to eat breakfast," Larsen says. "An hour to get up the stairs." More than six months later, the acute phase has passed but many of her symptoms have not gone away.
Larsen is a "long-hauler," someone who is still experiencing symptoms weeks or even months after the first onset of COVID-19. She's far from alone. The exact numbers of those who have "long Covid" are hard to pinpoint; one recent survey in the UK (ons.gov.uk) shows that 13.7% of participants continued to experience symptoms 5 or more weeks after the assumed time of infection.
Larsen is a "long-hauler," someone who is still experiencing symptoms weeks or even months after the first onset of COVID-19. She's far from alone.
Larsen, a native Australian, knows many others in Spokane and around the world who are also long haulers. "One of my best friends—she's an athlete—she is six weeks ahead of me."
Larsen suffers from POTS (postural orthostatic tachycardia syndrome) and dysautonomia—an issue with the regulation of the blood flow that can affect heart rate, blood pressure, and cause brain fog, among other symptoms. Since November she's dealt with inflammation, anxiety, balance problems, hair loss, an impaired sense of smell and taste, and relentless fatigue.
She's had to focus on taking care of herself—switching units and going part time in her career as a nurse so she can work shorter shifts, cutting out formerly favorite foods that are known to increase inflammation, and easing way, way back on the activities she loves.
Rather than the 5-miles-per-hour hikes she used to do, she's slowly worked her way up to walking one mile a day. She's done one, one-mile bike ride. "My mountain bike and my road bike have been sitting in the garage looking at me, just looking. I've had to come up with ways to cope." The key to remaining optimistic, she says, is focusing on how far she's come, not how far she has to go.
"I don't want sympathy. I don't need it," she says. "I've realized it's more about connection, friendship, generosity." Her husband has been "amazing." Friends have brought her dinner. She's also made vital connections through the Survivor Corps group on Facebook.
Larsen has realized that with long-haul COVID—as those who've suffered from chronic illness and injury have long known—it can be very difficult to communicate to others what you're going through. There are no quick fixes. Sometimes people don't understand, or they expect friends or family to snap out of their ailments and go back to normal. "People who don't believe you…that is detrimentally insulting," she says.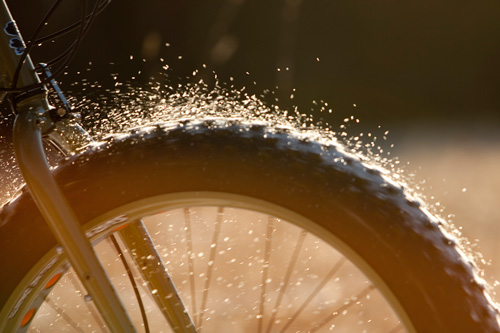 "It's important to connect with people who get you, but who aren't going to drain you," she says. It's also important to accept your own body's relationship with its illness. "A very good person told me, 'don't try to dominate COVID, accommodate COVID.' I'm living with this and I'm coming at peace with this. That's very important. I'm fighting."
Larsen hopes that a couple of years out from her positive COVID diagnosis she'll be back to her normal level of health and fitness, but she knows it's going to take many small steps along the way. She's trying to embrace that. Growing up, Larsen's mom always told her to stop and smell the roses. "It took me 45 years on this earth to do so. Slow down. Don't rush. I am learning, and it takes a whole attitude adjustment, but slow it down."
Recovery is happening at its own pace. In the meantime, Larsen is doing her best to lean on her community and accept things as they come. "Set healthy boundaries and take care of yourself," Larsen advises anyone else going through a similar struggle. "You have one life."
Originally published as "Local Outdoor Athlete Ravaged By COVID Symptoms Maintains Hopeful Outlook" in the July-August 2021 issue.
Sarah Hauge is a writer and editor who lives in Spokane with her husband and children. She wrote about walking and running every street of Spokane in the last issue of Out There.
To read more stories and other content coverage about COVID-19, visit the OTO archives.