Just a few hours' drive from Spokane, Coeur d'Alene, and other Inland Northwest cities, Slidewaters Water Park and Lakeside Surf offer one of the largest water slide park experiences in the Northwest, plus the largest man-made surf wave of its kind in the world. Check out the 2022 schedule and plan your weekend water park or surf safari getaway!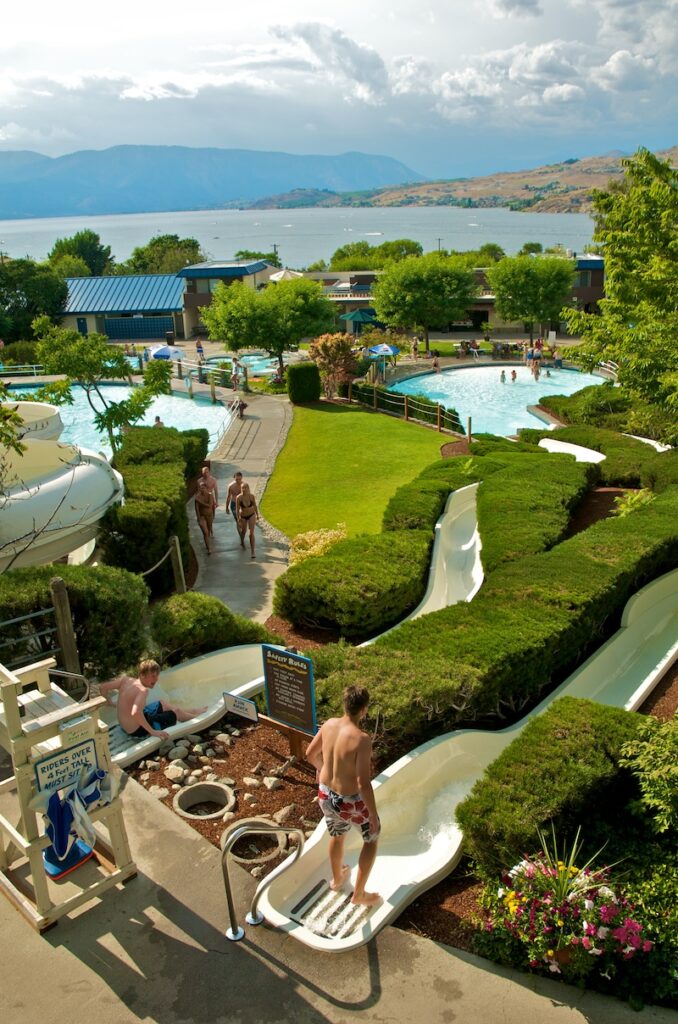 Slidewaters water park features water slides for all ages and thrill-seeker levels, a lazy river, fun water features, shaded hangout areas and dining options, and a new surf wave that opened in 2021.
Water Slides for Thrill Seekers & Beginners
For those looking for a thrill, Slidewaters has several longer, steeper slides. The Blue Blaster features turns and drops on its 300-foot-long run. Sidewinder hits riders with a 360 turn right out of the gate followed by multiple quick drops, turns and a tunnel. Aptly-named Corkscrew includes multiple 360 turns, fast drops, a tunnel, and final big-splash finale in the pool.
There are also several beginner and intermediate level slides. Bonzai Pipeline is a favorite for parents and children to slide together. The slide offers gentle turns, soft drops, and a fun 360 degree turn before splashing down into the main pool above a waterfall. The short and straight Bug-A-Boo is perfect for parents and toddlers to slide together or for brave young ones to slide solo with a catch at the bottom. Squirt Gun is a few more steps up the hill and offers a quick drop and a sharp turn for those kids ready for a little speed.
Whitewater and Run Amuck are intermediate slides perfect for parents and young kids who want to slide together, race a friend, or just enjoy a short, fast slide with quick turns. With the exception of Bonzai, all of these beginner and intermediate slides end in the intermediate splash down pool.
Tube Slides
A tube slide classic, Thunder Rapids Tube Ride is one of the most popular slides in the park because it provides a unique experience every time. Ride in your own tube and with a group of up to four people. Enjoy multiple chutes, slides and shallow pools as you work your way down over 75 feet of vertical drop before the final crash into the catch pool at the bottom. (Sliders must be 48 inches tall to ride.)The Tube Blaster fits single and double tubes for riders who can handle over 400 feet of slide at high speeds. The run includes multiple 360 degree turns and a surprise shower at the end. (Must be 48 inches tall or able to swim or wearing a life-saving flotation device to ride.)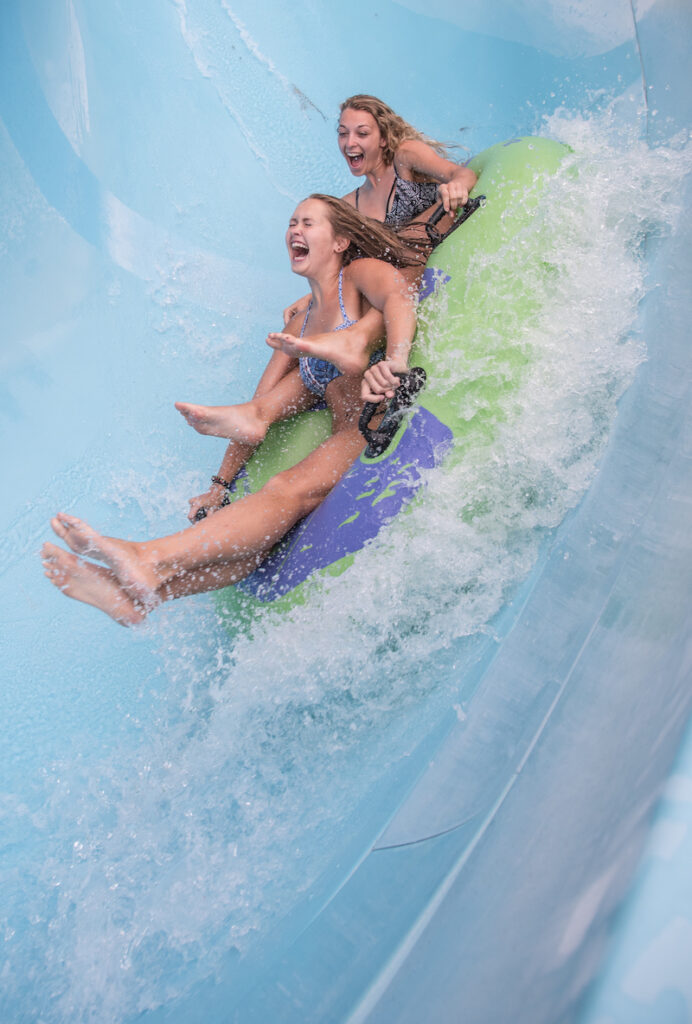 High-Speed Action with the Downhill Racer
With three lanes of racing excitement, the Downhill Racer entices competition, friendly wages, and trash talk as guests race on this head-first mat slide. Enjoy a dramatic drop to start the race. Then pick up speed over two more drops before racing to the finish line on the long run out. (Sliders must be 48 inches tall to race.)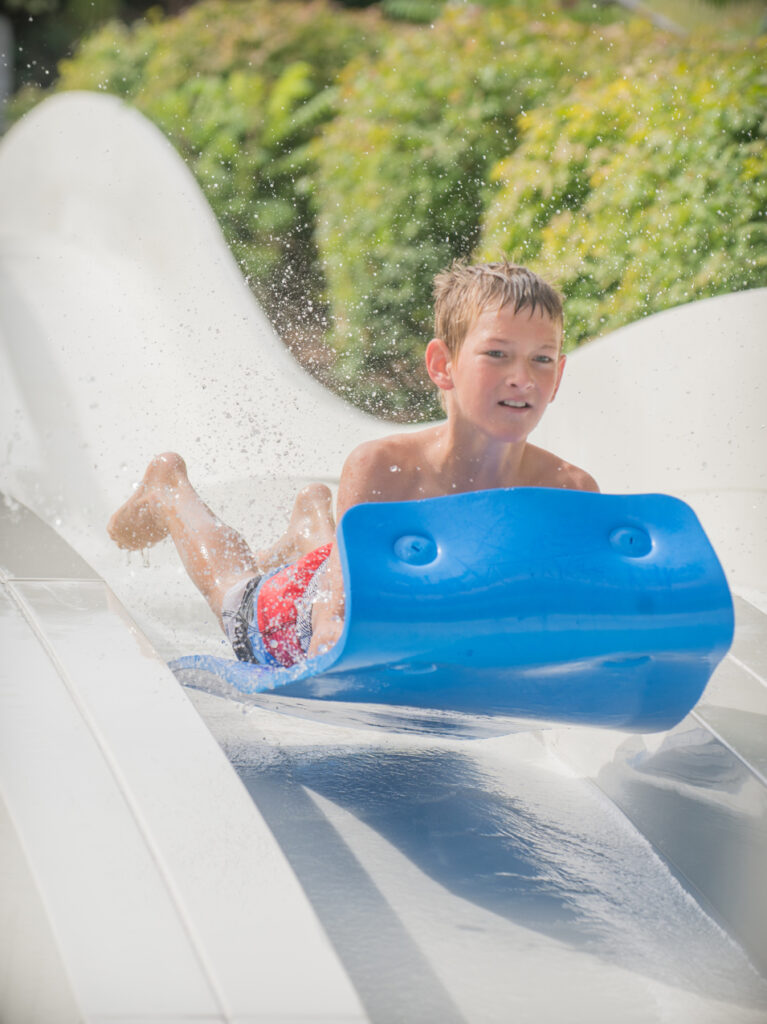 Slide in the Pitch Dark on Purple Haze
For the most adventurous sliders, Purple Haze is the fastest slide and is a completely enclosed, pitch-black slide from start to finish. Plunge through 400 feet of twists, turns, and drops before dumping out into the light and water simultaneously.
Lazy River
Enjoy views of Lake Chelan while you float around the water park on a tube. Added in 2012, enjoy laid-back floating along a 500-foot river. Ease into the river through the large zero-depth area or via the stairs by the Downhill racer.
Zero Depth Beach
Home to the 150-gallon tipping bucket and numerous other spray features, the zero-depth zone is great for all ages. Young guests love to play in the spray features coming out of the ground, and older kids love the water from above options. Keep an eye on the tipping bucket though, because a surprise tip can knock any guest down into the water!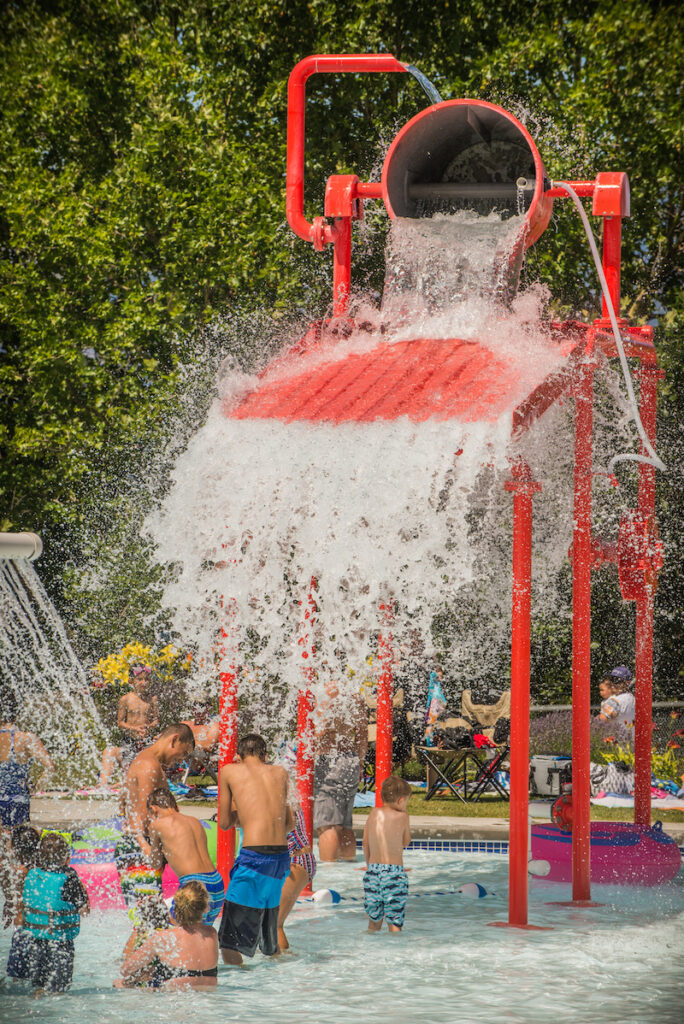 Massive Hot Tub
Heated to over 100 degrees, this 60-person, flower-shaped hot tub is the perfect place to take a break from sliding and relax your muscles.
Activity Pool
Some kids (old and young) just need a spot to splash around in the water. Located next to the exit of Thunder Rapids, this is the pool to jump, swim, dive, and play your favorite pool games.
Kids' Aqua Zoo
A special attraction attraction designed to entertain guests under 48 inches, the Aqua Zoo has two kid-friendly animal slides, a whale with an active spout, and a teeter-totter with a spraying surprise. The fun for everyone mushroom waterfall is located next to the Aqua Zoo.
Try Surfing at Lakeside Surf
The new stationary wave at Lakeside Surf  that opened in 2021 happens to be the largest of its kind in the world. The 54-foot wide, deep-water stationary wave is up to six feet tall and allows surfers to ride across the wave as the water rushes by. The wave can be set up for a wide range of ability levels, from beginners to expert surfers. You'll need to book any surf sessions at Lakeside Surf separately from your Slidewaters admission. Check out our full article covering our visit of the opening of Lakeside Surf here.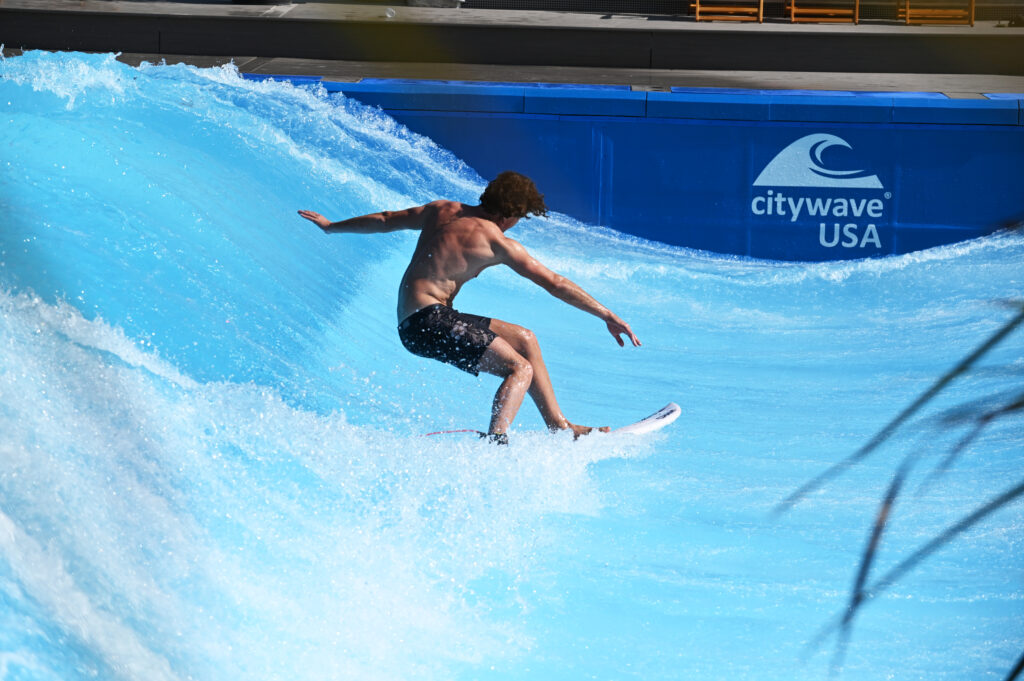 Other Slidewaters On-Land Activities & Attractions
Sand Volleyball: The sand at both of the professional-quality volleyball courts is imported for its low dust and texture. Set up a day of intense matches or just wander up for a pick-up game. Either way you won't be disappointed by the court or the view.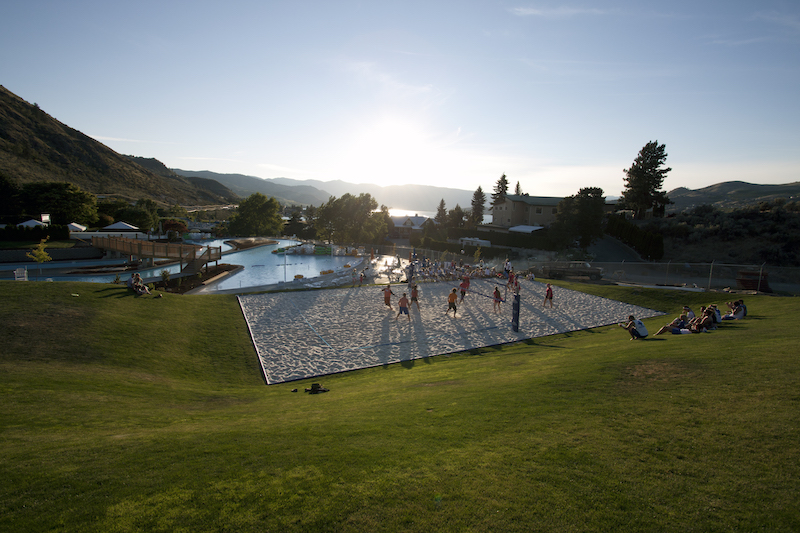 Sun Deck and Lazy River Lounges: All lounges and tables with umbrellas are first-come, first-serve. The sun deck offers great views of both Slidewaters and Lake Chelan. At the Lazy River beach you'll also find plenty of lounges, beach chairs, and tables. Perfect for families with little kids who just want to splash around in the zero-depth area of the Lazy River.
High Trek Chelan: Also new to the water park in 2021 is a ropes course and zip lines. Perched at the top of the park, this is the perfect complement for families looking for a little dry adventure! With over 60 challenging obstacles and 400 feet of zipline, this aerial adventure brings excitement and adventure for the whole family. This addition to Slidewaters is an excellent evening activity for after Slidewaters closes. Book your adventure now at hightrekchelan.com.
Book your tickets to Slidewaters today!
(Sponsored Content)