Ski boots planted firmly into the side of a snowy cliff, I test the rope by slowly easing my weight back into the harness, a completely foreign feeling to me especially in full ski gear with my skis strapped to my pack. My fear of heights makes it difficult to focus. Trusting that my partner will help pull me back up when it's time, I try not to think about the fact that it was the two of us who built the ski anchor currently holding me. But then I think, why I am worried? We built that anchor just as they taught us, we have all of our redundancies in place, and we have become pretty deft at tying our knots. Then it suddenly clicks for me. I'm doing it. I took the jump and now I'm right here, right now, relying on the skills I've been taught and am now executing. Becoming more self-reliant is the whole reason I'm here, and a major sense of accomplishment rolls over me as I register this.
I'll go back a bit further and explain how I got here. It's April and I'm at the second session of the 2016 SheJumps Alpine Finishing School (AFS) with 17 other women I've just met. We're in the beautiful Revelstoke backcountry, high in the alpine where our lodge and home base sits at 2,200 meters (that's 7,200 feet for us Yankees). On the Albert Icefield in British Columbia, our location is only accessible by heli, adding a little gravity to each decision we make out here. Our group is an assortment of mountain women; the youngest is 21 and the oldest is in her 60s. Fourteen of us are skiers and three are splitboarders. A handful are pro riders but everyone here is strong. We hail from across the U.S. and Canada, and one even made the long journey from New Zealand. We have different backgrounds but we are here for a common purpose: to push ourselves.
AFS is an all-women ski and splitboard mountaineering course taught by seasoned female guides. This unique course comes recommended by the likes of Backcountry Magazine and is the creation of SheJumps, a 501(c)(3) nonprofit whose mission is to increase the participation of women in outdoor pursuits. SheJumps creates safe and encouraging environments where women of all ages can "take that jump" into a new outdoor skill. AFS is the epitome of what that experience can mean. We are here for the next eight days and seven nights to test our physical and mental capabilities in the mountains. I'd be remiss if I didn't mention that I'm also here for the food made famous by Claire Smallwood, the Executive Director of SheJumps. An accomplished skier, Smallwood will be feeding us gourmet food all week.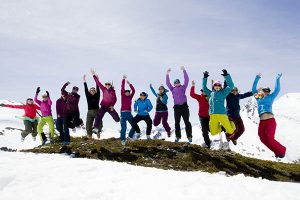 Our daily lecture sessions are followed by 3,000-plus vertical foot days in the field applying what we've learned. This includes building ski anchor and pulley systems above cliffs and then rappelling down to simulate crevasse rescues; roping up and practicing proper travel techniques crossing glaciers; using our boot and ski crampons while summiting peaks; and spending time drilling ourselves in avalanche safety and rescue, route planning, navigation, and daily terrain decisions.
Surrounding myself with this array of elite athletes whose boldness is balanced by their capability is pure inspiration to me. Seeing other women strongly execute crucial maneuvers necessary for success in the mountains motivates me to push myself further. It begs the question as I watch them: If she can do it, why can't I?
During our eight days in the backcountry, we have our share of laughs, sweet ski lines, high fives, campfire songs, injuries, sunburns, lots and lots of sweat, and a few tears. Coming together as strangers and learning how to effectively communicate and work as a team under pressure is challenging, but rewarding. This course has helped us become better decision-makers and ultimately better touring partners to those waiting for us at home. SheJumps Alpine Finishing School occurs annually in April and May. For more information, visit www.SheJumps.org. //
Anna Twohig is an enthusiastic skier and mountain biker and likes to explore rivers and lakes on her SUP, often while wearing a tutu. Anna is the Spokane Ambassador for SheJumps, a national nonprofit that encourages women to take on outdoor pursuits. Anna wrote about custom ski and snowboard construction in March.