Mt. Spokane Ski Patrol Ski Swap: Friday, October 24-26, Spokane County Fair & Expo Center
For 50 years now, the Mt. Spokane Ski Patrol Ski Swap, the region's largest winter sports equipment and clothing sales event, has been helping skiers find the best deals on new and used ski gear and clothing. The swap has grown over the years beyond its traditional ski swap roots and now has all the elements of major regional ski expo and is now the biggest event of its kind in the Inland Northwest.
Kicking it all off, the Friday VIP night includes the premiere of Matchstick Productions film "Days of My Youth," a beer garden, and first dibs on shopping the swap. Advance tickets for the VIP night that includes swap and ski film entry are $50 and come with a Mt. Spokane Thursday lift ticket.  Representation from most regional ski resorts, ski shops, and outdoor retailers offering ticket and pass deals and gear discounts make this the not-to-miss event for skiers and riders.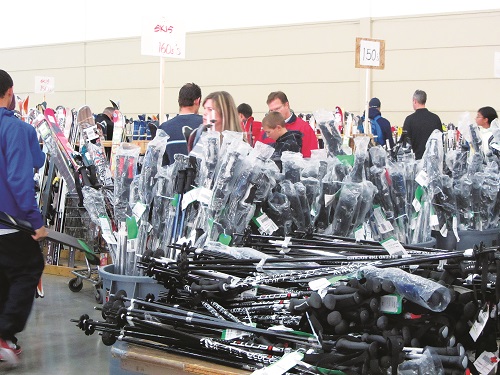 The swap features thousands of new and used ski and snowboard items sold by individuals and retailers, including Nordic ski gear. If you have questions about the right equipment for you or your kids, ski patrollers, shop employees, and volunteers will be on hand to help you find gear that matches skill and ability levels.
Of course getting in line early on Saturday (doors open at 9 a.m.) is a time-tested strategy for scoring the best gear and deals, although this year the Friday VIP night early shopping privilege looks to be your best option.  For deal hunters, 25% discounts are often marked on many items come Sunday. You can also pick up your Mt. Spokane season pass at the swap.
Looking to unload some old equipment? Anyone is welcome to sell new or used gear.  Approximately 30% of the gear sold is brought by individuals. Clean, functioning alpine ski and snowboard and Nordic gear can be sold at the swap. 20% of the proceeds from sold items plus a 50 cent fee per item entered into the swap will go along with other money generated to support the all-volunteer Mt. Spokane Ski Patrol – the skiers and snowboarders who help keep the mountain running safely – covering facilities overhead, first aid and medical supplies, training costs, and administrative functions. The Mt. Spokane Ski Patrol has been committed to skier safety and education on the mountain since 1938. Check out the swap website for more info on registering and dropping off items you want to sell.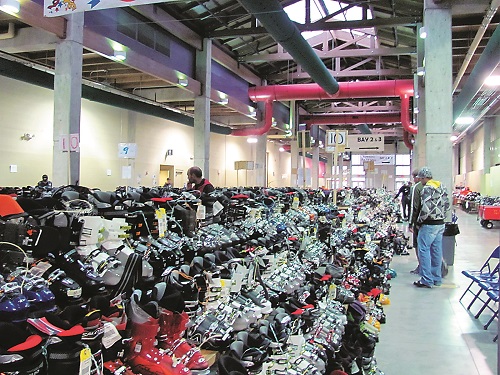 Ticket Prices and Schedule: $5 at the door gets you general entry (shopping runs from 9-5 on Saturday and 9-Noon on Sunday); $6 for the Matchstick Productions "Days of My Youth" Premiere Friday night (5:30-6:45 p.m.); $12 pre-purchase online includes free Mt. Spokane Thursday lift ticket; $50 for the Friday Night VIP package (limited to 300 people) includes early shopping (Friday night from 7-11 p.m.), entry into the "Days of My Youth" film, and a hosted party. Children 12 and under get into the swap for free, and tickets are good for the entire weekend. More info: Skipatrolskiswap.com.
Winter Swap: Saturday, November 1, Kootenai County Fairgrounds (9 a.m. – 3 p.m.)
Coeur d'Alene plays host to the combined ski swap efforts of the Lookout Pass and Silver Mountain volunteer ski patrols. The 16th annual Winter Swap is an excellent place to pick up new and used ski gear and clothing for the coming season at a serious discount. Items for sale at the swap include skiing equipment, snowboard gear, as well as all types of clothing from jackets and ski pants to gloves, goggles and hats. Winter Swap's vendor fair will include booths from area ski shops and outdoor retailers and area ski resorts that will be selling passes and taking photos for season passes.
Looking to pick up a little cash for gear from seasons gone by or all that stuff your kids have grown out of? Bring items you want to sell at the swap, from skis, boots, poles, snowboards, and other gear and clothing, to the fairgrounds on Friday, October 31 from 3-8 p.m. All items need to be clean and in good condition. Merchandise is accepted on consignment only, with 25% of the selling price withheld at the time of sale. Tags and registration forms will be available prior to the swap at the Ski Shack in Hayden and Sport's Creel in the Spokane Valley starting October 14. Only "shaped" alpine skis can be sold at the swap, so you'll need to find another use for those ancient, old-school skis.
Each paid admission comes with a raffle entry for the grand prize drawing of a season pass to both Lookout and Silver. Admission is $5 and children under 12 accompanied by an adult get in free. Proceeds help fund the all-volunteer ski patrols at both Lookout Pass and Silver Mountain, including patroller training to improve rescue and first aid capabilities on the mountains. More info: Winterswap.org.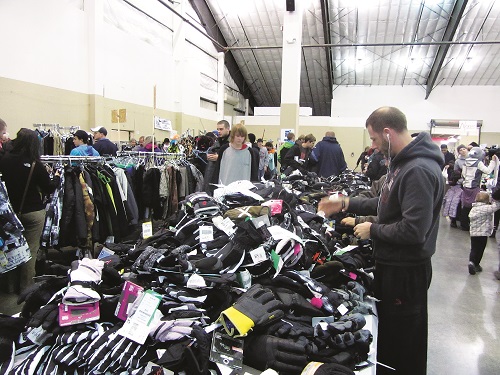 49° North Ski Patrol Ski Swap: October 18, Northeast Washington Fairgrounds in Colville (9 a.m. – 3 p.m.)
Northeast Washington's only ski swap offers skiers and riders from Republic to Ione and Chewelah to Colville, as well as others who may not be able to make a swap closer to home, the chance to buy and sell new and used gear and get together will fellow skiers from around the region. It's also the first swap around, giving you another early chance to find just what you're looking for. You can also pick up your 49 Degrees North Mountain Resort season passes at the event. Admission is only $2, and proceeds benefit the 49° North Ski Patrol and help cover safety equipment and patroller training. More info: Ski49n.com/calendar.php?id=2620.
Schweitzer Alpine Racing School (SARS) Ski Swap: November 8, Sandpoint
Sandpoint's annual ski swap features thousands of new and used winter sports items being sold by both individuals and regional vendors. The annual event benefits the SARSs ski racing and freeride programs for over 150 local and regional athletes ages 5 and up. For more information about the swap, visit www.sars.net. //