By Michael Ebinger
Newport. Sandpoint. Bonner's Ferry. Creston. Kootenay Bay. Nelson. Trail. Metaline Falls. Box Canyone Dam. Ione. Back to Newport. That was one version of the Selkirk Loop on a bike in late June-early July 2010. So how does a former bicycle racer ride with his intermediate-level wife and enjoy a cycling tour? Do it on a tandem! Britt and I discovered in 2006 that the only way we could start and finish a ride, and be in the same county at the end, was on a tandem. After 16 years on the same tandem with the same spouses, our Selkirk tour was a wonderful testament to riding together in a beautiful setting.
We started from Newport, Washington, after parking our truck at a friend's house for the week. Ominous clouds "welcomed" us on our first part of the journey. Light rain was falling within the first mile, and that turned to light snow before Sandpoint. The magic happened with a stop in Sandpoint, Idaho, maybe to recalibrate or reconsider. The clouds lingered, but the precipitation disappeared, and we had a wonderful trip further into Idaho to Bonner's Ferry. We decided to push north past our original campground location and park for the night in Creston. We made it without further issue, but we just missed the last tour of Columbia Brewing, home of Kokanee. No more rain or snow, but it was still cold.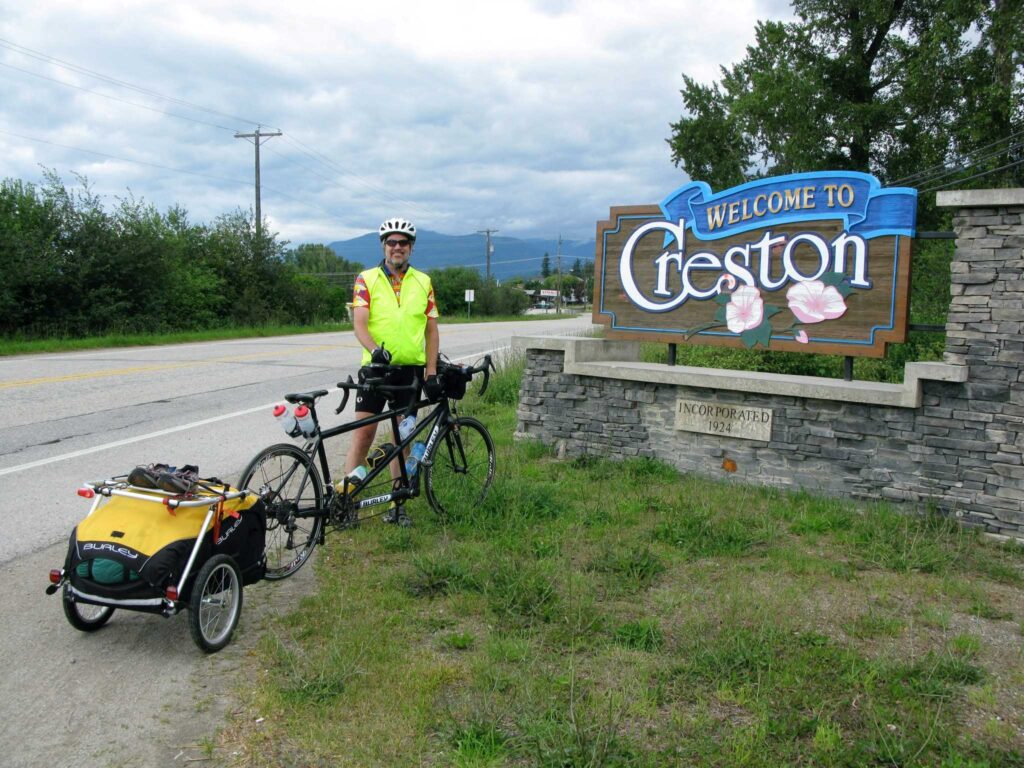 Farther up the road there was a free ferry to the Nelson side of Kootenay Lake, but to get on the ferry we had to descend a steep, but paved, launch ramp. Here we encountered our only mechanical issue of the trip: The pads on the disk brake were worn out. Luckily the road to Nelson after the ferry ride was slightly up hill, and no quick braking was necessary. A day off in Nelson allowed for a repair at Gerick Cycle.
The day off also meant the cooler weather turned off. We went from about 65-70 degrees to over 90 in a day. By the time we connected with the Columbia River west of Nelson and rode into Trail, we were baking. Britt opted to hang out in the shade of a skimpy tree at our campground while I rode a couple of miles back to a Walmart for ice.
Returning to the U.S. included a slog up a couple of good climbs, but Britt and I were at least still in the same province. A pleasant downhill into Metaline Falls welcomed us back to Washington, and a restful night at Box Canyon Dam with an MBA classmate topped a gorgeous day.
Completing the loop meant an amble along the Pend Oreille River after we crossed to the east in Ione. Back at the truck we changed into dry clothes, chatted with our friends, and returned to Spokane life. Tired, yes, but rejuvenated from the experience. And still talking to each other after navigating the loop on a tandem, which is especially impressive given the adage among tandem riders: Relationships happen as they will, but they always happen faster on a tandem.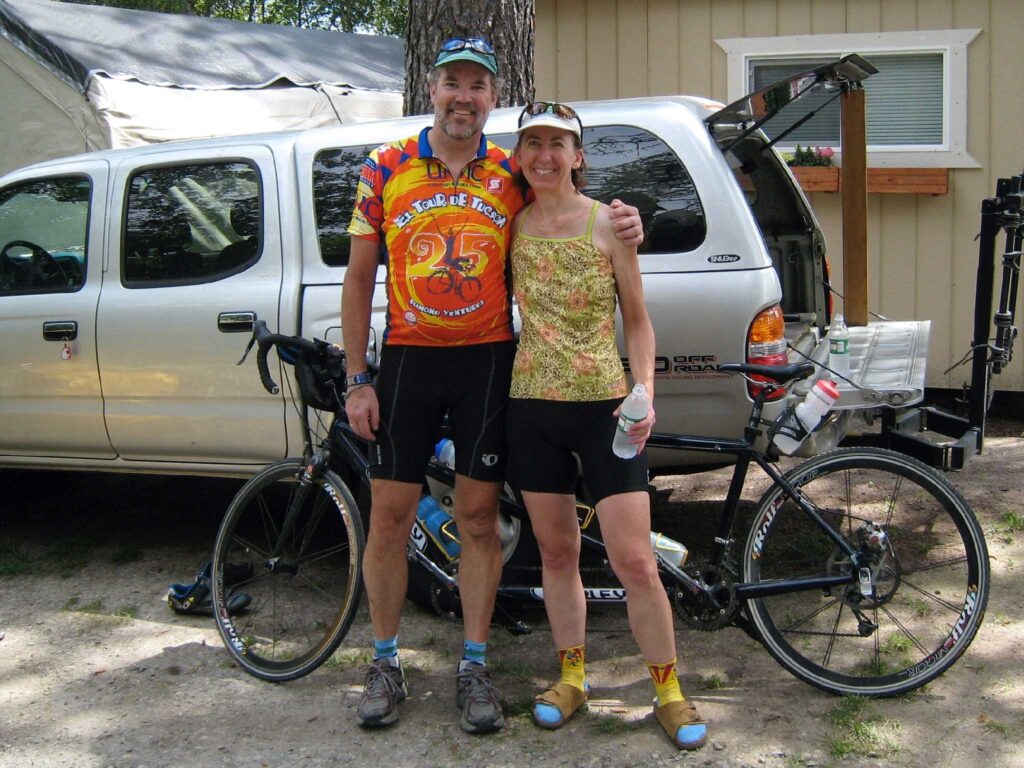 Selkirk Loop Bike Ride Tips
Self-supported touring is fun, but demanding. Here are a few tips to help you prepare for your own trip.
Plan for all sorts of weather if traveling in June or before. July was instantly warm, so be ready with cooler clothes and be ready to hydrate.
Even when it is cooler, hydrate well. Not with beer.
A correlate: pack good food and eat well.
Pack twice—the first time with all you want to carry, the second time (for real) with only the things you'll need.
Be ready for flats on the bike and on the trailer.
Stop to take pictures. For the ex-racer, that is not a priority, but for the stoker on this tandem, it was essential.
Catch your breath at a local café. When you walk in and confess to touring, you are an instant favorite with the owner(s) and anyone who is there. Cafés are also a great place to get local road info, such as where the bears were roaming, what construction was ahead, and how long you might have to wait to be waved through.
Take a day off in the middle of the tour. Ours was in Nelson, B.C. It lets your knees and butt heal a bit, and it gives you a chance to see something other than the front wheel in the captain's case or the captain if you are the stoker.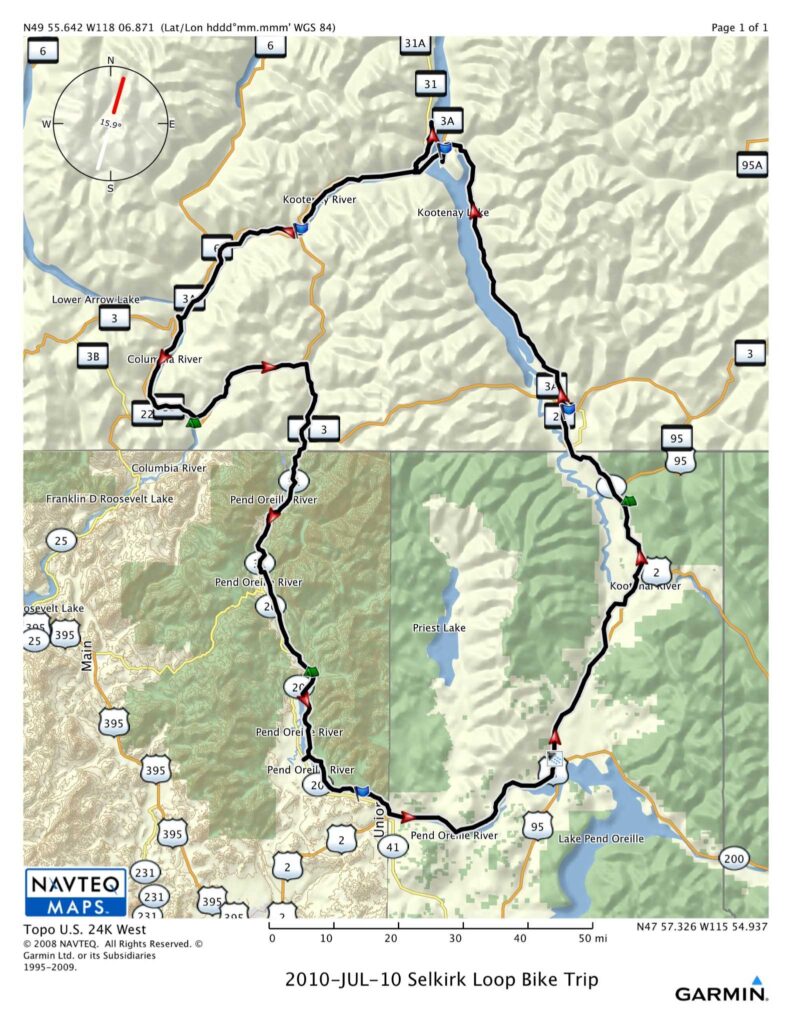 Michael Ebinger is the Director of WSU's Center for Innovation on the WSU Health Sciences campus in Spokane. He and his wife, Britt Ravnan, moved to Spokane in 2009 and won't be leaving any time soon.