The gear I cobbled together for my first couple of bikepacking trips included a cheap rack that mounted to my seat post, a few dry bags, several bungy cords, and one huge backpack. Many miles and back aches later, I made some major gear upgrades last fall in preparation for a 280-mile ride along the Cape Loop of the Baja Divide Trail in Mexico.
While there are plenty of options out there, I was fortunate to make an industry connection with the Seattle-based crew from Ortlieb, a company with a long history of making waterproof and technical bags for biking and other outdoor activities. Ortlieb's German-made bike bags would be a huge improvement on the patchwork of gear I had.
Since carrying 8-10 liters of water was required for several stretches of our Baja route given the intense heat of late October, I opted for several bike bags including burly rack-mounted paniers over a more trim, light, and compact seat pack for one purpose: to haul more water; gear; and other perks like fresh fruit and vegies, canned beans, rice, tequila, and a great book. With all that on-bike storage, I was ready for backpack and backache free riding through the deserts and mountains of southern Baja. Here are the bike bags the crew from Ortlieb ended up setting me up with.
Ortlieb Frame Pack: This large frame pack fills the triangular space below your top tube. With its low center of gravity it's ideal for stashing heavier items like tools, stove fuel, and water bladders. The pack is waterproof nylon; has a bomber, waterproof zipper; and secures to the top tube, seat tube, and down tube with super strong Velcro straps. It comes in a 4-liter or 6-liter option depending on the size of your bike frame. MSRP: $140-150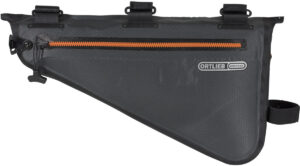 Ortlieb Cockpit: I developed an unexpected fondness for this little 48 cubic inch bag that sits on your top tube up against your head tube after digging into it almost hourly on our Baja ride. It's an easy-access place to stash things you'll frequently need along the trail. I used mine to stow high-calorie snacks, Lyte Balance electrolytes, sunscreen, my debit card, and a wad of Pesos. The large, zippered opening made finding what you need fast and easy. Stiffened material on the inside of the bag means the Cockpit keeps its shape, while still being lightweight and waterproof. MSRP: $65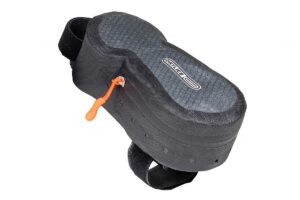 Ortlieb Bike-packer Plus Rear Panier Bags: Since we weren't trying to break any speed records on the 40-60+ miles we rode each day, these rack-mounted rear panier bags provided a ton of space for food, water, clothes, more water, and other comfort gear like a Crazy Creek camp chair. The classic flap closure is easy to use, and the front compartment fits small items like paper maps and notebook. The strong, waterproof Cordura fabric braved sand, rock, and cactus thorns like saddle leather. The QL2.1 bag mounting system with self-closing hooks made detaching the bags from the rack for packing and unpacking super fast. The only drawback of even the best-designed paniers on extremely rough and rutted terrain is that they can and do rattle loose and require re-tightening from time to time. For all of that storage space, that slight inconvenience was worth it. If you plan to bikepack on desert routes where water is scarce, through rainy or cold weather where more clothing and shelter are a good idea, or with kids or anyone who wants to bring some of the comforts of home, Ortlieb's Bike-packer panier bags give you all the packing space you could want. MSRP: $265