Doug Dial, aka Coach (Mt. Spokane)
Doug Dial was a recent transplant from California in 1977 when he first skied at Mt. Spokane. He'd relocated to the Inland Northwest, built a house in the nearby foothills, and was motivated to purchase a season pass. His first winter as a Spokanite was less than glamorous. "Yeah, I froze to death," he says. But he aimed practically: "My goal was, every year, to ski enough to pay off the pass," he says. "Now I ski 60 to 70 times a year."
Doug taught his two children to ski and is currently teaching his five-year-old granddaughter. "I always wanted to be a family that skied, to have an activity in the winter to do things together," he says.
Mt. Spokane, he says, is a community. "The friends you meet up there and ski with all winter, you get to know their families, you watch their kids grow up, they see your kids grow up and things," he says.
At Mt. Spokane, Doug's primarily known by his nickname, Coach, and for his signature greeting, "Yeeeeeee!" He says, "People will walk through the lodge, and I'll 'Yeeeeeee!' at them and they'll know it's Coach." He's had a front-row seat through the years for things like the addition of the chair on the backside. "With the new chair up there, it's like we went from a little mountain to a big mountain. It's just been amazing," he says.
He's been around long enough to both appreciate the present and reminisce on the past, like years ago when, on clear nights after Chair 1 was shut down prior to night skiing, he and friends skied over to poach the fresh groomers there. "They had a groomer at the time named Wayne, and Wayne hated that," he says with a laugh. Then there are happenings that became family legend, like the time he and his son came in first in a linguine eating/ski race decades ago.
It's been wonderful, Doug says, "year after year, watching everything evolve and grow."
"I've aged with the mountain."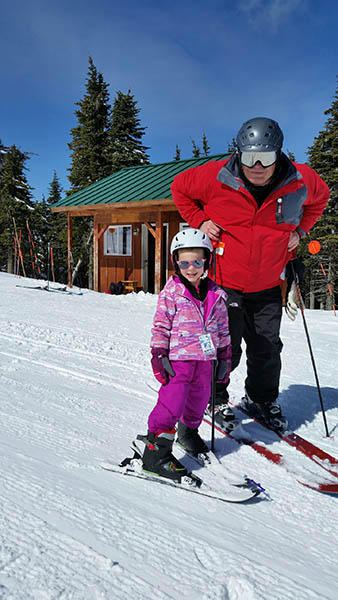 Kim Allen (49 Degrees North)
"We got hooked, actually, as adults," Kim Allen says of herself and her husband, A.J., who started skiing and snowboarding about nine years ago. Parents at the time of three children (they now have five), they decided to hit the mountain and learn together.
"We thought this was going to be a great way for us to be together as a family," she says. Just as they'd hoped, the whole family has grown a love for the mountain and downhill sports together. "The boys board and the girls ski," Kim says.
Living in Usk, Washington, made nearby 49 Degrees North an obvious destination for snow sports. It's not only convenient; they just like the atmosphere. "It's sort of a small town on a big mountain," Kim says. She's been impressed by the quality of instruction for both kids and adults. The lessons are "really, really fantastic," she says.
With kids ranging in age from five to 18, the diversity of the terrain is part of what keeps them coming back to 49. It's "an all-ages, all-skier type mountain," Kim says, with everything from "your average groomers," to cliffs where her older kids can work on flips and jumps, to the terrain park, to the kid-friendly animal trail that winds around the bunny hill. "There's always someplace on the mountain where you can find something that you love," Kim says.
Kim's also involved in a new effort to start a Monday women's ski group. Women meet at Boomtown Bar, then spend the next few hours together. "This is our first year doing it. It's collecting momentum," Kim says. All women are welcome to check it out. "My idea," she says, "is the more, the merrier."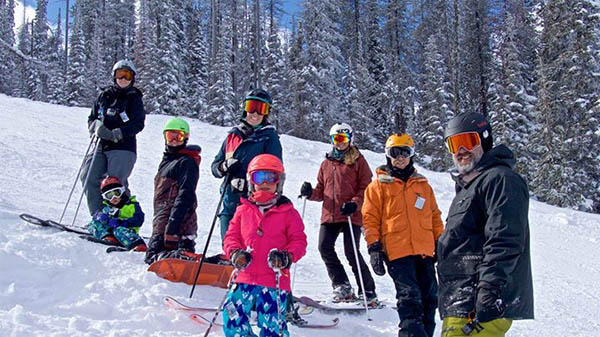 Roy Self (Lookout Pass)
"Last year was the first year I ever skied Lookout," says Roy Self. Roy and his wife, Nancy, had recently gotten back into skiing after a hiatus of many years, since the '80s. "[Lookout] had a promotion at the end of the season where they were offering free skiing. We thought, you know what? We're going to go up and give it a try," Roy says.
The Selfs liked what they experienced: a well-run mountain with good terrain and "a nice, family vibe." They especially liked that it gets a lot of snow, resulting in a longer ski season, while still being a pretty quick hop along I-90 from their home in Spokane.
This year, the Selfs had skied Lookout about a dozen times by mid-January. They've also skied at many other Northwest resorts. "We have so many ski areas in our backyard," Self says. "We've skied them all." They've got the Ski Northwest Rockies app on their phones and check it daily, spontaneously hitting the slopes when conditions look too good to pass up.
Though they like to sample everything, Lookout has been an ideal home base. The Selfs have enjoyed the community there and have felt the support of the staff. Roy recalls a time this winter when he and Nancy were on a black diamond run they'd never skied before. The snow had been in great shape until "we got to this spot where it really starts to fall off," he says. The drop-off was so icy they were concerned, not wanting to take the risk of falling on the hard, sketchy surface. "About that time a gal from the ski patrol showed up," Roy remembers. "She was being really, really cautious for the same reason." She skied cautiously on ahead, and he and Nancy "sort of skidded through the worst part" after that. The ski patroller waited at the bottom to make sure he and Nancy had gotten through safely before moving on. "I felt really good about that," he says.
After lying dormant for so many years, Roy and Nancy's love of skiing now provokes some good-hearted teasing from those who know them well. "Amongst our kids it's kind of a running joke," Roy says. "'Are you out skiing again? You're kidding me!'"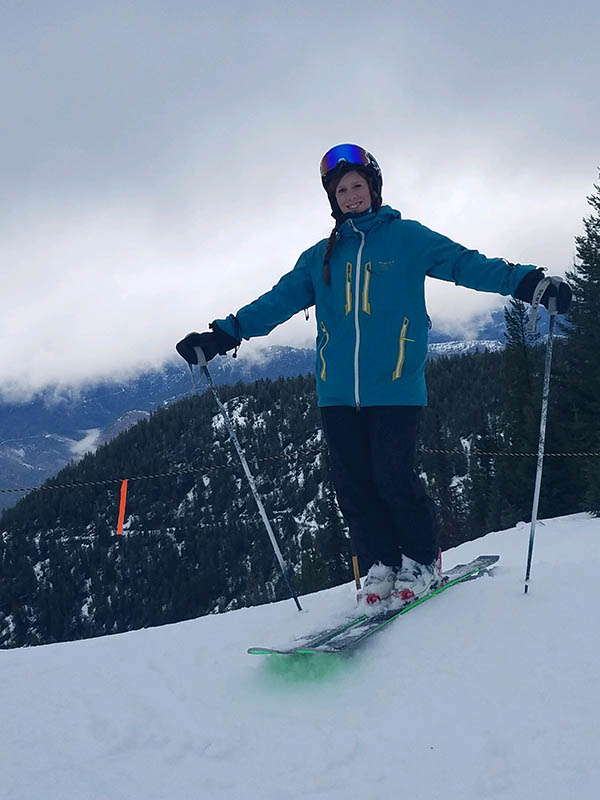 Kitti Withycombe (Silver Mountain)
How long has Kitti Withycombe been on skis? "Literally my whole life," she says. "My mom skied with me when she was pregnant. My dad put me in the backpack after that. I've been officially on skis since I was two and a half."
Skiing has always been a big part of the Withycombe family life—which includes Kitti, her two brothers, and her parents. They've spent time at all of the local mountains, but have been season passholders at Silver for 17 consecutive years. With the family based in Coeur d'Alene—Kitti is now in Missoula, working full-time—it's an easy place for the family to reconnect on the weekends. "When you get to the bottom of the gondola, it's just kind of stress-free from there," she says.
At Silver, Kitti says there's something for everyone, from more seasoned skiers to people like her boyfriend, a beginner whom Kitti gifted a Silver season pass this year.
In years past, Kitti worked as a ski instructor at Silver, then getting in 120 days a season. Now with a day job, she's back to hitting the slopes on the weekends like she did growing up. "I'm doing the snow dance, praying we'll get some more powder," she says of her hopes for the rest of the season. "I am looking forward to skiing the powder and ripping down Shady Lady, getting some face shots," she says with a laugh.
Kitti loves the break Silver gives from the more congested everyday life. "You get up top and you're just so far back in the mountains on that hill. You really feel like you're out in the wilderness," she says, noting that Silver has some of the most incredible tree skiing in the Northwest. Her favorite time to be there is around 3:45 or 4:00 p.m., "when the sun is starting to set and you're skiing Silver Belt and you get that alpenglow on the hill."
"That's pretty magic."//
Sponsored by Ski the Northwest Rockies