Riding along with a Ski Groomer
Snow date: Winter 2019. We have landed on the snowy lunar surface and are preparing our mission to create the perfect seamless corduroy. Excuse the "nerd out," but I am climbing into Mt. Spokane Ski and Snowboard Park's newest groomer, a PistenBully 400 EV. There are so many joysticks, switches, buttons, lights, and screens that I feel like I am sitting at the helm of the Starship Enterprise. I'm in awe as I settle into a very high-tech, space-aged piece of equipment that shapes the snow we get to enjoy.
The captain for this ride along is Mt. Spokane's grooming supervisor, Charlie Karavitis. He looks like he would be perfectly at home behind the controls of any machine, but especially a snow groomer, also known as a cat or a bully. Demonstrating he knows his machines, he rambles off so many different specs that I cannot write fast enough.
Karavitis showed up at Mt. Spokane taking any job he could and making it well known that he was determined to run the groomers. That was 19 seasons ago. He is jokingly reminded by his wife that he has "ruined 19 Christmases," a day he always has to work.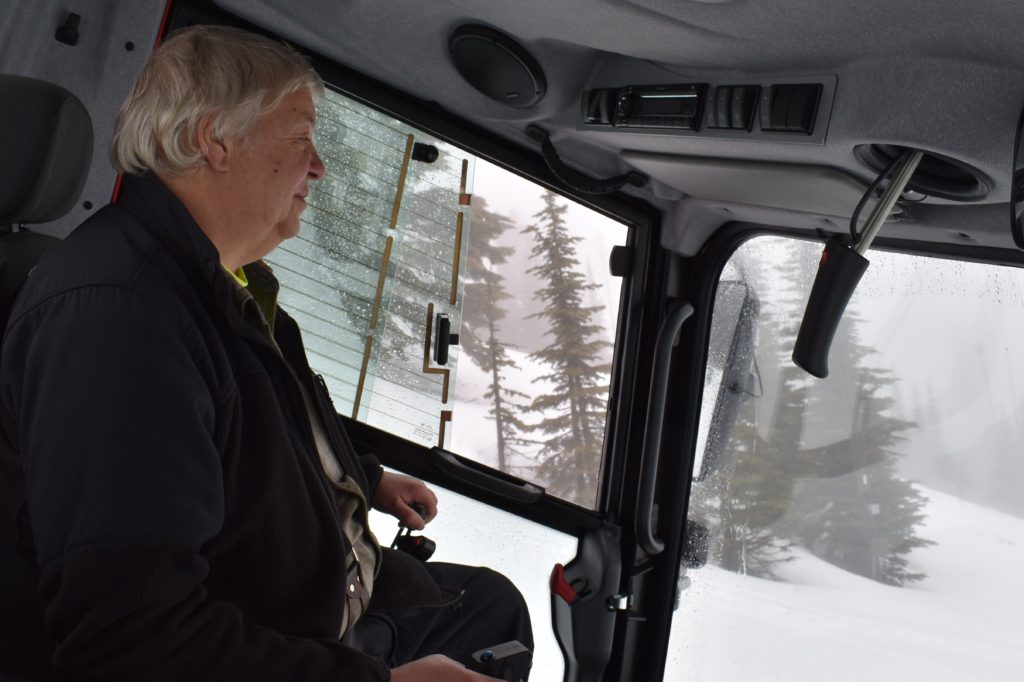 When I climb into the cab, the first thing Karavitis says is to put on my seat belt as he checks fluid levels, temperatures, and safety lights. After we groom a lane on Northwest Passage to the summit, we head down No Alibi. Without the restraint I would have been plastered to the $6,000 windshield—complete with heated wipers.
Groomers can ascend and descend amazingly steep slopes, up to 45 degrees. Once while grooming Hour Glass, Karavitis felt like the "whole world was moving together." Although not a common event, Karavitis has stories of groomers sliding sideways, running into chair lifts, and spotlighting a myriad of wildlife including moose and cougar.
Groomers are high tech machines, and Mt. Spokane's new PistenBully has a Cummins engine that is used only to power the hydraulics, which then are used to move the three main components needed to shape the snow: treads, blades, and tiller—as well as the winch system. This 18,000-pound machine is also engineered to evenly distribute its weight over snow, putting only 1 pound per square inch. New machines also have to pass strict emission standards, and this machine runs cleaner than operating 23 older models combined. This groomer even has Bluetooth and subwoofers under the seat.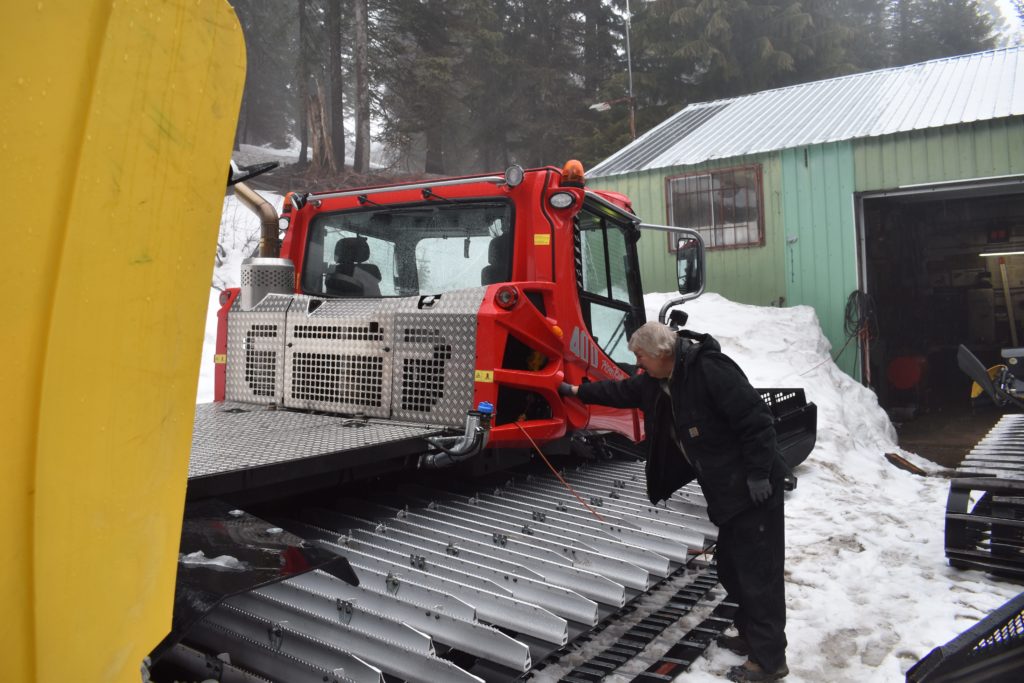 Karavitis explains that skiers and riders move a substantial amount of snow down hill. One of the many goals of a groomer is to move that snow back up the slope, sometimes using a winch cat that can move 5 tons of snow at a time. Winch cats use cable tethered high on the mountain to help pull snow up hill and assist groomers going down the steepest runs.
Karavitis is one of the few full-time, year-round groomers in the area. In the summer he works an excavator and a backhoe to move rock, remove roots, and smooth trails. He usually starts moving snow in November, packing it down to create a solid base for the rest of the season.As we ride along, Karavitis manipulates the various controls to make small changes to the level and angle of the blade and tiller. It is part science and part art, and you can tell Karavitis loves his job. He says the goal of excellent grooming is to make "seamless corduroy," or vertical passes so well executed you cannot tell where the individual passes start and end.
Related: Local Resort Grooming News