New to trail running? Consider yourself a pro? Either way this 5k run at Camp Sekani Park is for you. Sponsored by Black Diamond and Altra Running, this race kicks off Day 2 of the Spokatopia Outdoor Adventure Festival, earning you a festival ticket to go explore all that Spokatopia has to offer when you're not running, like runner-specific (free) yoga or paddle boarding.
This 5k will be preceded by a free trail running clinic at 7:30 a.m., which will offer up tips and trail running technique before you give it a go on the beautiful trails of Sekani. The 5k run begins at 8:00 a.m. Your race registration will include a Spokatopia Adventure Pass and Spokatopia Bandana, as well as enter you in for a chance to win prizes from our sponsors. Online registration deadline is July 11 at midnight.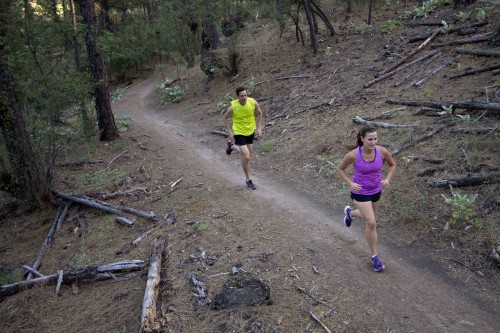 The Spokatopia 5k course is a true intro to the main elements of a trail run. From the festival starting line, you'll cruise a half-mile warmup on the fun, rolling ribbon of the Upchuck Trail. Then the course tilts up for a half-mile climb, where you can practice the first rule of trail running—"walk the uphills, run the rest." Near the top of the ridge you'll leave the vertical behind and take in views of the Spokane River and Spokane Valley for a mile and a half before plunging a pulse-raising half-mile down Carousel and Simple Tools trails. Before you know it, you'll be back at the finish line, dripping sweat and flushed with pride. This course is a single-track, so if you were banking on running side-by-side with a friend, plan to alternate who's in lead.
The Spokatopia 5k Trail Run is the perfect gateway race to spark a love of trail running. Here's a few reasons why we think running on the trail beats the road any day: rolling terrain and views make for an engaging run where you won't get bored; you get to hear birds instead of cars; you'll get to know another side of your city (Spokane area has amazing trails!); and the irregular terrain found in trail running causes constant side-to-side food movement, irregular stride, and varying torque on the foot, ankles, knees, and hips so you reduce risk for repetitive strain injuries.
If you're already in love with trail running, consider this 5k the perfect warm up for a day packed with outdoor activity at Spokatopia. You'll want to get in a bit of exercise before diving in to the Meltz Extreme Grilled Cheese food truck and Bikes & Brews Beverage Garden, with proceeds going to support the trail you just ran on! You can also go for a dip post-race at nearby Boulder Beach, where Spokatopia will offer kayak or paddleboard demos.
The Spokatopia 5k will be an event full of energy with the festival activities before and after amping up the scene. First-time trail runners should dress like they would for any other run, with grippy running shoes, or bring trail shoes if they have them. If you have a partner, friend, or kids who aren't running, they'll be able to hang out in the festival meadow until you all meet up for
a day of outdoor exploring.
Register online for the Spokatopia 5k Trail Run by midnight on July 11!