What better way to sweat through a marathon than to run near clear lake water and breathe the crisp scent of pine trees? You'll find these scenic elements and more at the Coeur d'Alene Marathon event Memorial Day weekend, where you can run or walk a 5k, half marathon, or full marathon distance.
"It's a great way to celebrate that winter is over," says Todd Dunfield, Executive Director of the North Idaho Centennial Trail Foundation. A big reason that the Coeur d'Alene Marathon can offer its rich Pacific Northwest vibe is because the race is run on the Centennial Trail, a paved trail that curves with the lake through pine trees and subtle hills.
"The course is absolutely gorgeous. I've been on a lot of marathon courses, from Boston to Missoula, and our course blows it away in my opinion," says race director Scott Ward. While this is Ward's first year organizing the race, he's run the Coeur d'Alene marathon ten times.
Ward is also a regular user of the Centennial Trail, which race proceeds go to support. Most years before running the Coeur d'Alene Marathon, Ward rode his bike from his home in north Spokane to the starting line—just an easy 45-mile warm up. The only challenge Ward cites is the year he encountered a moose on his way to the race. Despite an unexpected adrenaline kick on that particular morning, Ward has seen the many benefits the trail has brought to the region.
"The trail has added so much to the recreational lifestyle of this area," Ward says. "People can walk their dog, take their kids out, or go down to the river. I believe the trail opened up the recreation of the river and brought it to a focal point."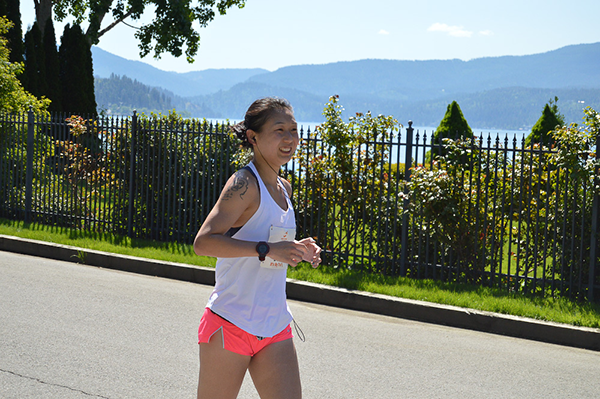 That such a scenic race would support a trail that gives scenic access seems a natural connection. It's one reason the Coeur d'Alene Marathon makes for a great family event—while you take the morning to run, any non-runners you have in tow can walk the Centennial or hike wooded lakeside trails on Tubbs Hill, which has an access point at the race's finish line. There's also nearby beach access to the lake, and activities such as kayaking, paddle boarding, or taking a seaplane ride.
"Where else can you stay at a world-class resort or bed and breakfast, get up early and run a race, and then take your family to Silverwood for the day?" says Dunfield.
The race course, which is USATF sanctioned and a Boston qualifier, is relatively flat with a hill to add some character. It's a great way to clear out any winter training cobwebs while supporting the maintenance and expansion of the non-motorized Centennial Trail.
"It's a Pacific Northwest race," says Dunfield. "We get the outliers from people who are doing 50 races in 50 states, but it's mostly local people who can drive over to do a spring marathon with a flat course and good swag."
The race's mantra is "Today is your day," but Ward says the race environment is catered more toward celebrating your long-distance accomplishment with family and friends.
"We encourage family to get involved in the finish line and enjoy the moment," says Ward. Runners can count on a fun finish at the edge of Lake Coeur d'Alene. Race volunteers announce runner's names as they cross the finish line, and racers receive professionally-designed finisher's medals. Music plays as runners hobble to the finish line beer garden.
After soaking up your finish line glory, head over to the Cosmic Cowboy for gourmet, farm-to-table dishes including the organic Power Salad, burgers with grass-fed PNW beef patties, and locally-sourced huckleberry cheesecake. Ward also recommends tucking into the gyros at The Olympia or heading to Sweet Lou's for a good craft beer.
The marathon is capped at 1,500 runners and has a price jump on May 2nd, so be sure to register for this gem of a race before then. Visit Cdamarathon.com for more information on packet pick up, course maps, the Youth 5k to Marathon event, and volunteer shifts. //
Lisa Laughlin is a long-distance runner who's recently discovered trail running. She wrote about the Missoula Marathon in the March issue.
Feature photo: Diane Higdem