Mike Meru's flight into Spokane was late as the snow fell hard. Concern about the flight quickly faded during the drive to Revelstoke, B.C., which is a seven-hour drive in the best conditions. Meru, a splitboarder from Salt Lake City, was joining me to attend the Canuck Splitfest. Splitboarders from all over the world attend this festival to tour Rogers Pass, 36 miles east of Revelstoke on Highway 1. Here, the peaks rise high above mountain passes and beyond the view of the road. These peaks are accessible to those who put in the climb to reach some of the best ski touring terrain in North America.
When we arrived, more than two feet of snow had recently fallen in the upper terrain. At the pass summit, we check in at the Parks Canada information center. As we suspected, avalanche conditions were rated high. As this was our first time to the area, we opted for the more conservative Grizzly Shoulder trees just behind the pass center, making for an easy-access climb. In the parking lot, we were greeted by a group of fellow splitboarders from Calgary. We put our gear on and made our way up from behind the old hotel on the heavily traveled entrance route toward Balu Pass. As we trekked up the access route, we came upon the first avalanche path; we turned into the trees for a safer climb. Nearing the summit, the skies cleared slightly, giving us a peak of the greatness and immensity of this landscape. I looked in awe upon mountains that span across every direction, ascending high above where we stood. With so much opportunity for touring, I knew this would be a yearly trip.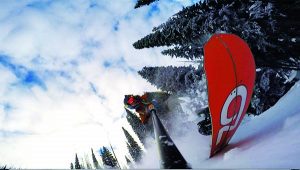 We noticed signs of recent instability, so we dropped into the trees, whooping and hollering for a glorious 2,000-foot descent in deep, soft, Selkirk powder, back to the access skin track. We finished with a session of howling laughter as we hiked some trailside kickers, resulting in some flight time, face plants, and high fives.
Although known for its immense avalanche activity in relation to the railroad and highway system, the pass is steeped with ski touring history. A guidebook called "Rogers Pass: Uptracks, Bootpacks & Bushwhacks" by Douglas Sproul documents enough tours to keep people busy for years. Parks Canada lists ski touring guidelines and requirements related to avalanche control areas, parking permits, and winter permits on its website. A great way to explore the pass at your own pace and ability is to hire a guide service such as Capow Guiding (www.capow.ca/guiding/pow-guiding).
Canuck Splitfest
Canuck Splitfest, held January 13-15 this year, is an annual event that brings together the splitboarding community from across the United States and Canada, allowing participants to create connections with like-minded people at Rogers Pass near Revelstoke, B.C. Canuck Splitfest promotes safe backcountry splitboarding, with several special speakers that include Revelstoke mountain sliding legends and forecasters from the Avalanche Canada group. The event is in its seventh year, and it's grown from 50 attendees in 2011 to 300 attendees in 2016.
Many top companies in the industry donate raffle items, including splitboards, splitboard bindings, and avalanche rescue gear. The raffle raises money for the Avalanche Canada Foundation, an organization that promotes public avalanche education (much like Idaho Panhandle Avalanche Center does in the Inland Northwest) and facilitates the avalanche safety bulletins across Canada. Proceeds are also donated to the Craig Kelly Memorial Scholarship fund that helps aspiring snowboarders who want to pursue a guiding or avalanche career. Craig Kelly, one of the best snowboarders in the world, died with six others in an avalanche in Canada on January 20, 2003. In the last six years, the Canuck Splitfest raffle has raised $28,600, benefitting many in the snow community. Visit www.facebook.com/CanuckSplitfest for more information. //
Larry Banks is the co-founder of PanhandleBackcountry.com. He wrote about the evolution of backcountry snowboarding in March 2015.