For a town that has one of the state's major north-south highways running through it, Riggins, Idaho, doesn't feel like a place you just stumble upon by accident.
On the south end of town, the Salmon River doglegs as it picks up the Little Salmon River and begins to parallel Highway 95 on its 425-mile journey from the continent's second-deepest canyon to its confluence with the Snake River in Hells Canyon, the continent's deepest.
Early explorers called the Salmon the "River of No Return" for the seeming impossibility of uphill travel through its rapids. Here, cradled between the two deepest gorges in North America, serviced by one winding two-lane highway and spotty cell coverage, Riggins seems, in some ways, as impassable as that famed whitewater.
We have the foresight of Idaho senator (and wilderness namesake) Frank Church to thank for the lack of a paved highway running along the Salmon River from Riggins to Salmon, some one hundred river miles to the east. His efforts led to the designation of the Frank Church River of No Return Wilderness and protection of the main portion of the Salmon River.
Rebirth as a River Town
We have a fire to thank for Riggins' rebirth as a river town. Riggins was known as a logging town until the early 1980s, when a fire gutted the timber mill. (Its remains still occupy a flat parcel at the confluence of the Little Salmon and Salmon Rivers.) In the five counties that comprise north-central Idaho, agriculture and timber are the top two industries, respectively.
Shielded from storms by the eight- and nine-thousand-foot peaks of the Seven Devils to the west (at 9,400 feet, the twin summits of He Devil and She Devil form the high point for both the Salmon and Snake River gorge canyons), Riggins, at just over 1,800 feet in elevation, boasts a "Banana Belt" sub-tropical climate; roughly 18 inches of precipitation fall annually, 75% of which comes from snow above 2,500-3,000 feet. It's fitting that the Mountain and Pacific time zones meet near the bridge just outside of town.
But a dearth of flat ground limits agriculture and most of the merchantable timber is inaccessible. Meanwhile, the river is a renewable recreational resource, making tourism the third-largest sector of the economy in north-central Idaho.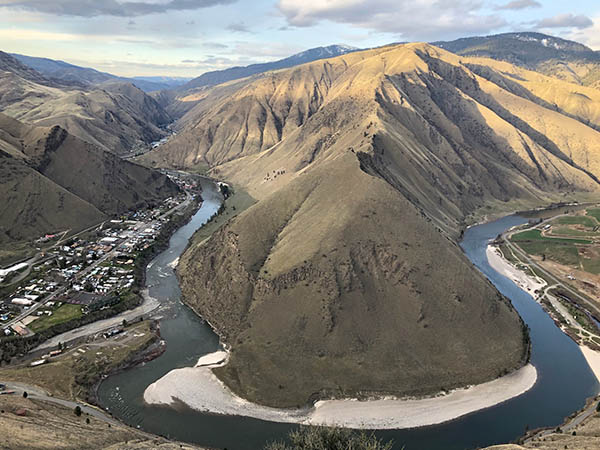 "There were already people who were starting to boat, but they weren't really thought highly of by the locals—'Oh, these crunchy granola types are wanting to camp on our beaches," says Mark Christensen, of Riggins-based outfitter Salmon River Experience. "When the mill burned there was quickly the feeling that Riggins had to do something different." Riggins chose a new path: "The whitewater capital of Idaho."
"The people who live here love this canyon, want to live here, and have to figure out a way to make a living here; that's why we did what we did," says Brenda Baugh, who, with her husband Jess, runs Mountain River Outfitters. When Jess and Brenda married 15 years ago, Jess was already a rafting and fishing guide in Riggins. But with three children to support, the Baughs realized guiding wasn't going to pay the bills. So Mountain River Outfitters was born.
Baugh soon realized the bottom-line cost of the company was the same whether it offered one trip or 10. So they slowly started buying rights to guide on other sections of river; today they offer half- and full-day trips on the Lower Salmon, Main Salmon, Hells Canyon, and Owyhee Rivers. They also own two lodges on the Salmon River and a coffee shop in Riggins.
Says Baugh, "When I moved here, Jess told me it's the only place he knows where you can drive 45 minutes to ski [at Brundage Mountain Resort, near McCall], hit a hot springs on the way home, and not shovel snow"—the latter point being a notable perk to several Riggins residents with whom I spoke.
Although the region lacks for snow-shoveling opportunities, there's plenty to offer beyond floating and fishing. "I like to point out the '-ing' activities here: hiking, hunting, fishing, boating, even antiquing," says Christensen. "I've found at outdoors shows that it's really easy to promote Riggins."
A native Idahoan, Christensen graduated from Rocky Mountain College in Billings, Montana, in its first Outdoor Recreation and Leadership program. After a stint in Hawaii, where whitewater and winter are in short supply, he and his wife returned to Idaho, where Christensen began training with long-time outfitter Chuck Boyd in 2011.
"When you visit Riggins, it's like you're turning back the clock, but you can still get a good local microbrew," says Christensen. Like many communities in the Northwest, Riggins has a rough-and-tumble history, with many of its stories written with the pointy end of a love triangle. For a time the town went by the name of "Gouge-Eye," after a particularly violent bar fight, but when postmaster Dick Riggins applied for an official post office for the community, the U.S. Government rejected the name. The community settled on the name Riggins to honor the postmaster's father, pioneer John Riggins.
Although Riggins is still no teetotaller town—it has three liquor licenses for a population of 400—it has avoided the fate of many a similar community buffeted by the tides of a seasonal economy. Baugh and Christensen credit the Salmon River Chamber of Commerce with the foresight to realize that a year-round slate of attractions would ensure a stable, family-friendly economy. Now, the city has a full calendar: Women with Bait in March, jet boat races in April, the rodeo in May, Big Water Blowout in June, and Hot Summer Nights in July. That's in addition to spring and fall hunting and fishing and a long, consistent summer of boating.
"Probably the best way I've heard it put is our biggest competition is something like Silverwood," says Christensen. "When people come to Riggins, they already know what they're coming for. We draw a different audience for the rodeo than we do for Big Water Blowout, a different audience for that than for Hot Summer Nights," says Christensen. But the river remains the draw.
It's All about the River
Once known as the "River of No Return," today the Salmon is the Northwest's premier multi-day float journey, its white-sand beaches having earned the Salmon the new designation "the Riviera of the West."
"Jess and I went to Hawaii and went to every beach we could, and every beach had a different kind of sand—different feel, different color," says Baugh. "And at every beach, Jess said 'the Salmon River has nicer sand.'" Originating in the Sawtooth Mountains near Stanley, Idaho, and scooping up countless tributaries draining millions of acres of wilderness as it flows toward the Snake River, the Salmon never lacks for snowpack. Undammed, it's dynamic; over the course of the year the Salmon will drop down as low as 2,000 cubic feet per second (CFS) and as high as 125,000 to 130,000 CFS. And, as the old saying goes, it's never the same river twice. "Any whitewater person can be assured that the Salmon River is going to have plenty of water to play in," says Baugh. "There's always something good no matter the flow."
Thirty minutes north of Riggins, in White Bird (population: 85), mayor Homer Brown hopes some of that river-town economy flows downstream. Brown grew up in White Bird, guiding for a couple summers before a two-year tour in the Army. After that, he ended up back home where he guided on the Lower Salmon River in addition to working on the road for a drilling company. Six years ago, he bought his own boat and started working as a contractor in the area; last summer, he got the permits to be on the Salmon River and began his own outfitter, Hammer Down Excursions.
Brown has been fishing the lower Salmon since he was a kid, catching bass and trout, sturgeon and steelhead. "To take other people out and show them the places I know is probably the best part of the whole thing," says Brown. "One of the things that people enjoy is seeing what the locals do when they go out on the river; we call it 'the locals' deal: run down the river, do a little fishing, make a nice dinner, bail out."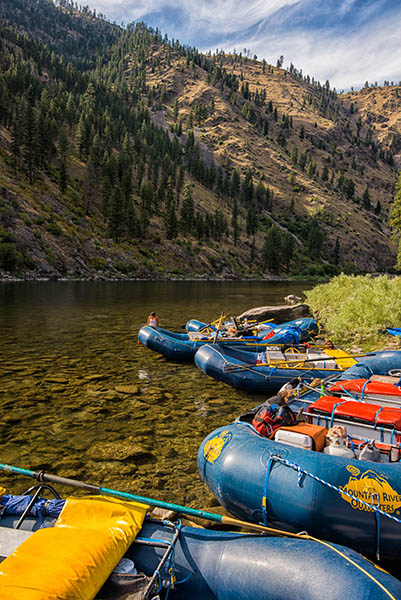 Brown has started offering the Power Hour tour on the Lower Salmon River, from Cooper Bar downstream to Pine Bar. Although less well known than the Main Salmon River, the Lower Salmon is no less wild, the 65 essentially-roadless miles passing through tight canyons and ancient petroglyphs. Some of the greatest beaches in the Northwest are on the Lower Salmon River," says Brown. "Multiple times a summer I get asked 'Hey, where do they haul the sand in from?'" Brown expects Lower Salmon trips to continue to be popular because of the easy access and affordability. "If people are driving through and want to do a raft trip and a jet boat trip, they can do both."
Like Riggins, White Bird is not a town one ends up in by accident. But it's even more pronounced in the latter community; when the state re-routed Highway 95 to build a safer road up White Bird Summit, it bypassed the town. Brown hopes that more people take the detour.
"As a business owner, you want to see people come into town and come to your business, and help out White Bird," says Brown. "But the other part of it is, there are people who come through and say 'Wow, this town is really nice, I'd like to move here.' I want to see those new faces come to town and buy real estate and be involved in the community."
Fortunately, the Salmon is a big river. Big enough to accommodate the Baughs, Brown, Christensen and the other outfitters who make their livings on it.
"People ask me what Riggins is by," says Christensen. "And I tell them, it's not really by anything, except the largest wilderness in the lower 48. You're not going to find a Wal-Mart here."
Like many a Mecca, Riggins is a place one visits with intention. And, befitting a place of pilgrimage, the town makes true believers out of tourists. Says Mark Christensen, "When you ask people if they've been to Riggins they have one of two answers: 'Where's that?' Or 'Hell yeah, and it's awesome!'" // (Aaron Theisen)
RIGGINS / WHITE BIRD EVENTS
May 5: Annual Riggins Rodeo, Cowboy Breakfast and Parade
Steer riding, mutton busting and more at the Riggins rodeo grounds. (https://www.facebook.com/Riggins-Rodeo-175898532459974/)
June 2: Riggins Big Water Blowout River Festival
Watch expert boaters take on big waves, or take advantage of discounts on guided rafting trips. (Bigwaterblowout.com)
June 2: Just for the Hill of It Bike Challenge (White Bird)
Challenging 13-mile climb on twisting switchbacks of the Old White Bird Grade (Syringahospital.org/hill-of-it-challenge.html)
June 15: White Bird Days and Rodeo
Rodeo events and Mardi Gras-themed parade for the 40th anniversary of White Bird Days (Whitebirdrodeo.com/home.html)
July 27: Hot Summer Nights (Riggins)
Classic car parade and raucous live music at Riggins City Park. (https://www.facebook.com/rigginshotsummernights/)
September 8: Riggins Salmon Run
Scenic out-and-back 5K, 10K and half-marathon footrace along the Salmon River (Rigginssalmonrun.com)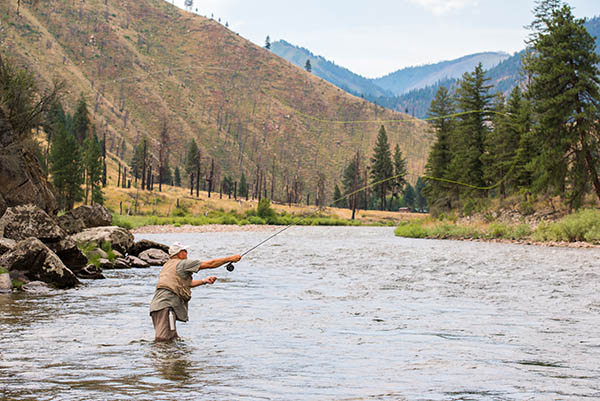 Where to Stay 
There are plenty of lodging and camping options in and around Riggins to fit every comfort and budget level. If you're up for camping out, try to find a place to pitch your tent on one of the beautiful beaches upstream from town or at the rustic Spring Bar Campground 10 miles upriver. If you're looking for a hotel or motel option, we recommend finding one that sits on the river side of the road with access to the water. We have stayed at the Riverview Motel at the edge of town, which has clean, comfortable rooms with excellent views of the river canyon, a nice common area patio, and stairs and a path down to the water. // (OTO)
Feature photo: Main Fork of the Salmon River. // Aaron Theisen