In the March 2014 issue of "Outside Magazine," writer and "Mountain Magazine" Editorial Director Marc Peruzzi describes the slow decline of the sport of snowboarding. While snowboarding isn't on its way out anytime soon, his diagnosis, and the stats he uses to back it up, paint a discouraging picture for the rebel sport that captivated many of us Gen Xers: at many resorts, snowboarding now accounts for less than 15 percent of total revenue and snowboarding gear sales are down 29 percent over the past six years. "Where did all the snowboarders go?" Peruzzi asks. "Many are skiing. Others simply quit," he concludes.
While the decline in participation in snowboarding may be a national trend, snowboarding is alive and well at Lookout Pass, where riders actually rival skiers in number. At least here in the Inland Northwest, and especially at Lookout, now's not the time to be writing off snowboarding. In fact, Lookout's Marketing Director and avid rider Chris Barrett makes a compelling case that the one board sport is not only alive and kicking, but potentially poised for a rebound.
Barrett, who has been snowboarding for 21 years and says he absolutely loves riding and has never looked back, ticks off a list of his own stats that paint a more rosy picture of the future of snowboarding: The average snowboarder heads up to the mountain more times a year than the average skier, snowboarder numbers have remained steady over the past several years at Lookout, and more recently, Lookout has had so many snowboarders coming through their well-oiled ski school that they had to hire another board coach.
"There's a lot of life and passion in the snowboarding community," emphasizes Barrett. He is clearly engaged in the sport and community in a personal, passionate way. "Many of the 10 best days of my life have been on a snowboard," he admits. "If I could snowboard every day for the rest of my life, I'd never get tired of it."
Barrett reasons that at least some of the national trend away from snowboarding is due to the economic recession and its lingering and exaggerated effects on the less affluent, traditionally Gen X dominated snowboard community that simply can't afford to make the trip up to the mountain to ride as much as they used to. But with the economy slowly improving, he envisions more snowboarders heading back up to the ski hill when they have a little more coin in their pockets.
The real key to the future of snowboarding (and skiing), which Barrett and Lookout Pass know well, is to inspire new generations of riders, which is the main aim of Lookout's ski school program. Its free ski school is the longest running in the nation, and Barrett boasts that their paid school is set to destroy their previous record for the number of kids who make it through the program. "We are trying to build people into a lifetime with the sport," he says. He points to Lookout's EZ-Ski & Ride-1-2-3 program that gives kids quality lessons and turns out a ton of new, shredding boarders and skiers. The popular $99 program, which is open to kids and adults who don't have previous snowsports experience, includes 3 days of lift tickets, rentals, and lessons.
"Snowboarding is so different than skiing," muses Barrett. "When you get on a board, suddenly you're strapped to the device and moving sideways, looking to the right and left. It creates different pathways for the brain to function. It improves hand-eye coordination," he says. "Snowboarding brings out totally different emotions and feelings."
It's the quality and consistency of the snow at Lookout that Barrett believes keeps so many skiers and boarders coming back for more: "The snow and powder skiing here with the micro climate we have is kind of hard to explain," he says. Barrett has been snowboarding and has taught lessons at many of the major resorts in the West, yet he swears by the dry, cold temps and reliable snowfall that seems to pound into the Bitterroots around Lookout Pass every winter. "We might get 2 inches one day, 4 the next, and then maybe a foot. It always seems to be fresh up here. We get some of the best conditions the make some of the most fantastic snow. I've never been to a place like this. Ever." //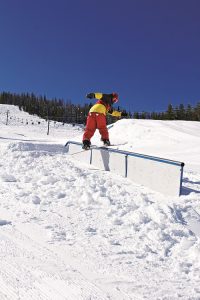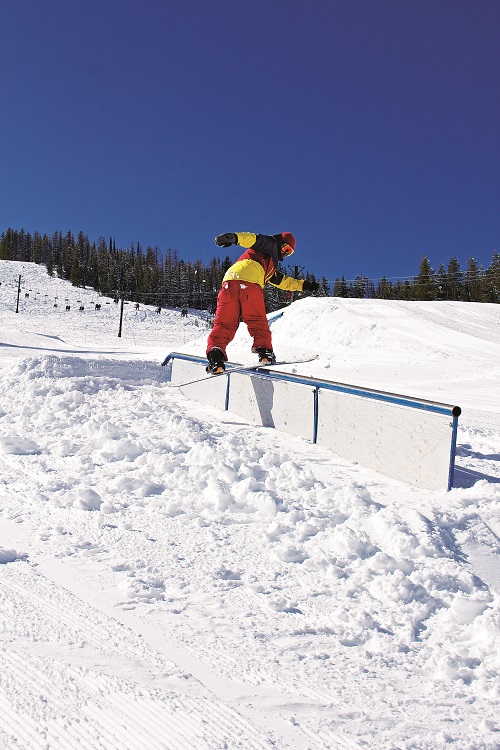 In the Park
Lookout has put a lot of time, passion, and energy into its three terrain parks (check out some of park manager Chuck Schmidt's awesome and entertaining park videos at skilookout.com/terrain-park). There are many features, including flat rails, boxes, flat down boxes, pole jams, natural features, and even a 200-gallon propane tank to list a few. Lookout prides itself in providing a friendly environment for anyone who wants to join the fun.
Huckleberry Jam on the lower end of Huckleberry Ridge is a beginner-to-intermediate park away from the peanut gallery on the lift, which makes for a chill atmosphere for learning the basics or taking your tricks to the next level.
Rolling Thunder is Lookout's "natural" terrain park on the backside. Every feature is created from trees that were cut down for forest health. The park is set up on rolling terrain with a mini valley running down the middle that merges natural features with man-made creations.
Borderline, on the front of the mountain, has some of the most advanced features: a flat railing with rounded edges that zig-zags like a lightning bolt; a 30-foot-long up-flat-down 6″ flat railing with rounded edges (which makes it easier to lock on and ride through); a 30-foot-long hand rail modeled after a popular rail in Salt Lake City; and other epic rails and features.