What better way to cut out travel time than to rent gear in the place you intend to use it? Fitness Fanatics had a similar idea a few years ago when they set up a satellite operation at the Selkirk Lodge on Mount Spokane, making it easy to rent gear on the mountain. If you've always wanted to try a Nordic sport, you can book a rental online from your couch, pop up to the Fitness Fanatics trailer the next day (with your required passes), and soon be gliding along groomed trails.
"Skate skiing is my passion, and I want to get more people involved," says Fitness Fanatics owner Robin DeRuwe. "It's like rollerblading on skis. You'll see some of the highest heart rates, and it's the most intensive. It's great if you're someone who likes to push yourself."
The Fitness Fanatics trailer provides much more than skate skis. Experienced and novice athletes alike can rent snowshoes and classic skis, purchase gear such as wax, socks, and shoes, or simply head into the trailer to warm up next to the fireplace and chat with knowledgeable outdoor enthusiasts.
"I wanted to help build up the Nordic community by creating something that was convenient," says DeRuwe, who recognized Mount Spokane could use a mobile gear rental service. This winter, the trailer will open on December 1 for its fourth season on the mountain.
"It's a lot of work for not much money," admits DeRuwe, which attests to Fitness Fanatic's passion for the outdoor sports and people they serve. When asked about the highlight of running the company for 29 years, DeRuwe immediately replied, "My customers! They're awesome. They become my friends."
DeRuwe skis the mountain most mornings before heading into work at her Fitness Fanatics permanent store location on Trent Avenue in Spokane Valley so that she can share up-to-date information on mountain conditions with her customers. "People just need to get up to the mountain, it's beautiful up there," says DeRuwe. "With classic skis, it's basically a peaceful hike on skis. It can be so sunny up there when it's foggy and miserable down in Spokane."
Reserving & Renting Gear
To guarantee a rental in your size at the Fitness Fanatics trailer, you'll need to reserve gear online by 6 p.m. the night before your outing. DeRuwe and her staff make nightly runs between their home base shop and the mountain to keep the trailer stocked with about 200 pairs of skis, but your reservation will ensure your size is among them before you go. If you're already an experienced Nordic skier, the Fitness Fanatics trailer can provide an opportunity to test the newest gear for a day.
Check out Fitness Fanatics' website for rental prices (ranging from $20-40 for one day), grooming reports, an online trails map, and information on required permit prices. The website also hosts a live feed from a weather station installed at Quartz Peak's SNOTEL site, located in the middle of the Nordic trail system, to give hourly snow depth and temperature updates.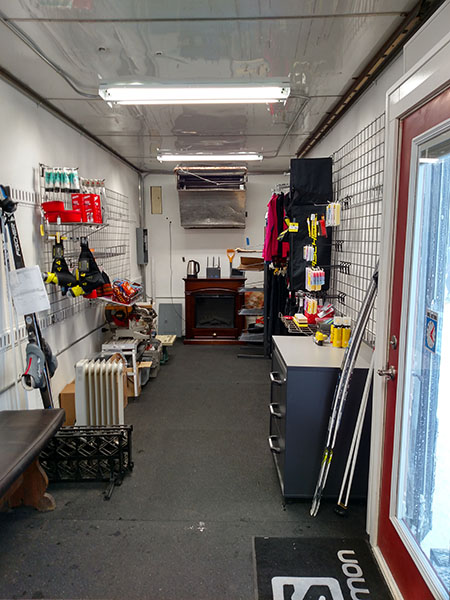 What to Wear
The Fitness Fanatics trailer stocks a few clothing essentials, but you should come dressed for the sport of your choice. With Nordic skiing and snowshoeing, you generate your own heat as you might while running, so dressing heavily like you might for downhill skiing will likely leave you overheated. DeRuwe recommends dressing in layers including a thermal top and wind jacket, avoiding cotton or jeans, and possibly packing a backpack with water and snacks. If you plan to snowshoe, you will need to bring your own snow boots. Wearing good socks is also key prep for a day on the snow. If you need any gear before heading up to the mountain, stop by the Fitness Fanatics shop in Spokane Valley.
Getting in Nordic Shape
You don't need to be a professional athlete to give Nordic skiing a shot, but you should be active on a regular basis and prepare for unexpected mountain conditions. "You need to make sure you're physically able," says DeRuwe. "Nordic skiing is a full-body workout, head to toe. If you're doing it correctly, it's 60-percent arms and 40-percent legs." DeRuwe says that with activities like running, walking, and biking, you spend a lot of time moving backward and forward. But, as she explains, "With skate skiing, you get side-to-side abduction movement, which is really great for cross training to build balance and core strength." Whether you're a serious athlete or not, it's best to approach a new sport without expectation and to focus on having fun and getting outside.
Safety on the Trails
Fitness Fanatics encourages people to try new sports, but DeRuwe emphasizes the need for safety. "A lot of people forget to hydrate when it's cold out," she says. Renters should remember that they're participating in an activity that requires coordination and balance, and that they're exercising in an area where cell phone coverage is not reliable. If you're new to the mountain, you may want to pick a clear and sunny day, as it's easy to get disoriented in foggy or snowy conditions. All Nordic trail intersections are marked, and if you stay on the trail you'll always have a line of pine trees as guides.
Lessons & Guided Tours
Fitness Fanatics offers lessons and guided tours on the mountain for individuals or groups. If you'd like to try a new sport with your whole family, sign up for a private lesson.
Pass/Permit Info & Fitness Fanatics Trailer Hours
The Fitness Fanatics trailer at Selkirk Lodge is open five days a week, Thursday through Monday, from 9 a.m. to 4 p.m. To access the Nordic trails on Mount Spokane, make sure you have a valid Sno-Park permit. A Sno-Park Day Pass for parking and Nordic trail use is $22. Find a full list of rental prices and required pass information at Fitfanatics.com. And, once you're off the mountain, check out Fitness Fanatic's permanent location at 12425 E. Trent in Spokane Valley for Nordic skiing, running, swimming, and biking equipment and apparel. //