The Bower Climbing Coalition (BCC), an all-volunteer nonprofit organization dedicated to maintaining, expanding, and preserving climbing in the Inland Northwest, is excited to bring live events back this year starting with Reel Rock 16 May 15, 2022.
BCC has traditionally hosted this climbing film event annually, and this will be the first return since 2019. As always, says BCC president Kristin Wenzel, it will be a party and an important fundraising effort for BCC's work to replace aging bolts and anchors and to clean up crags.
Reel Rock 16 will be held in downtown Spokane's stunning Washington Cracker Co. building (304 W Pacific Ave) from 4-9 PM on Sunday, May 15, with the films starting at 5:30. Beer for the event has been donated by Big Sky Brewing from Missoula and eats from local food truck Good Dilla will be on hand. There will also be a silent auction to raise critical funds for BCC, with many great climbing and outdoor items to bid on (including two sets of new Atomic skis!), as well as a raffle.
Before the main Reel Rock16 film event, BCC will have a special showing of Coldiron and the Cabinets, a short film showcasing Scott Coldiron, one of Spokane's very own climbers. Event donors include REI, Rambleraven Gear Trader, Wild Walls, Bloc Yard, GSI Outdoors, Black Diamond, Big Sky Brewing Co., Iron Goat Brewing, Rocket Market, and more. 
"We cannot wait to bring the community together for a night of fun, food, and socialization around the activity we love," says Wenzel. All funds for the event will go directly towards the Bower Climbing Coalition's 2022 projects. Tickets are $20 and can be purchased online right here.
Since its inception over five years ago, Bower Climbing Coalition's volunteer Board and community volunteers have fulfilled its mission through a variety of community projects. One of BCC's main efforts is replacing aging bolts and anchors at regional crags. Grant funds from REI and community support have allowed ongoing efforts to replace over a hundred anchors and chains at climbing areas around Spokane, including Deep Creek, Minnehaha, Dishman Hills and Rocks of Sharon. BCC has spearheaded annual crag cleanup events at all of our climbing areas too, removing hundreds of pounds of trash over the years. Graffiti removal at Minnehaha, Dishman Hills and Rocks of Sharon has recently been added to the list of ongoing projects. In addition to these volunteer projects, BCC raised funds through REI grants and community events to install a restroom at Deep Creek in Riverside State Park. BCC also provides annual funding to help with sanitation efforts at Vantage/Frenchman Coulee.
BCC has accomplished all of these efforts by working closely with city, county and state land managers as well as dozens of regional nonprofits, businesses and universities. This year, BCC looks forward to partnering with the Access Fund to do further work, expanding into erosion control and resource protection at our beautiful crags. BCC is also working with Spokane County Parks, Recreation and Golf Dept and Inland NW Adaptive Initiative to help support the John H Shields Park Renovation Project and enhance adaptive recreation opportunities for our region.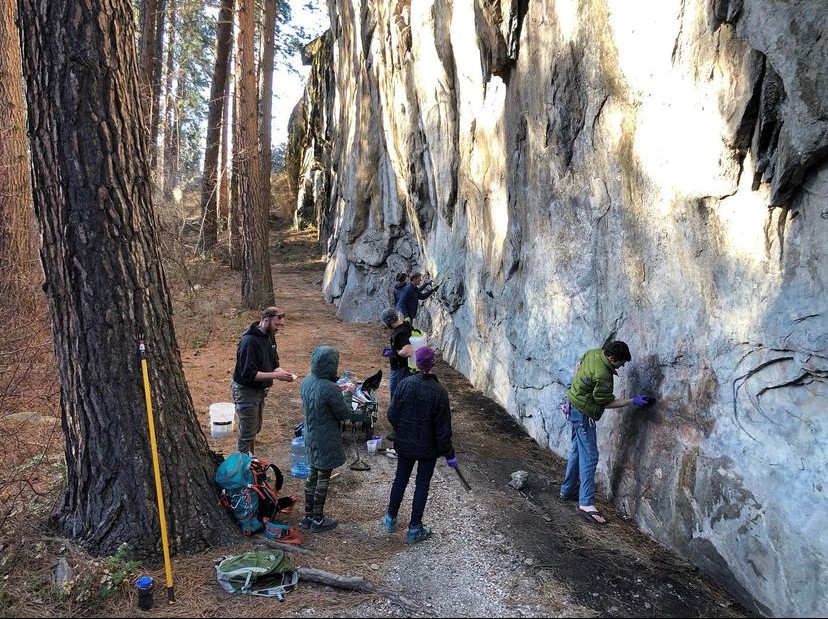 Find more stories in the OTO archives about Bower Climbing Coalition.