I have a young child with an insatiable appetite for snacks and drinks, especially when we are out on adventures. So the Flpsde was an easy sell for me; I was convinced this bottle and snack-holder hybrid was brilliant at first sight.
We buy a lot of healthy bulk snacks and natural drinks, and the Flpsde makes it easy to pack a drink and snack combo for an outing without all of the individual packaging or plastic bags that often go with snacking on the go for kids and adults. The Flpsde dual-chamber bottle is a vacuum-insulated, stainless steel bottle that will keep the beverage of your choice hot or cold on one side and snacks or other items dry on the other side of the bottle.
This "snack water bottle" has wide-mouth access for food/drinks and easy cleaning of both chambers. The liquid chamber has a 20-oz. capacity and the dry chamber for snacks, keys, or whatever else you want to squirrel away in there fits 7-oz.
A few other thoughtful design features include an integrated handle on the lid of the water bottle and a silicone band around the middle that gives you something to grip while screwing and unscrewing the lids. We are looking forward to sending it off with our kid to school, and we're thinking about buying another one for food, treats, and water for our dog on long walks.
You can pick one up for $34.99 at Flpsde.com.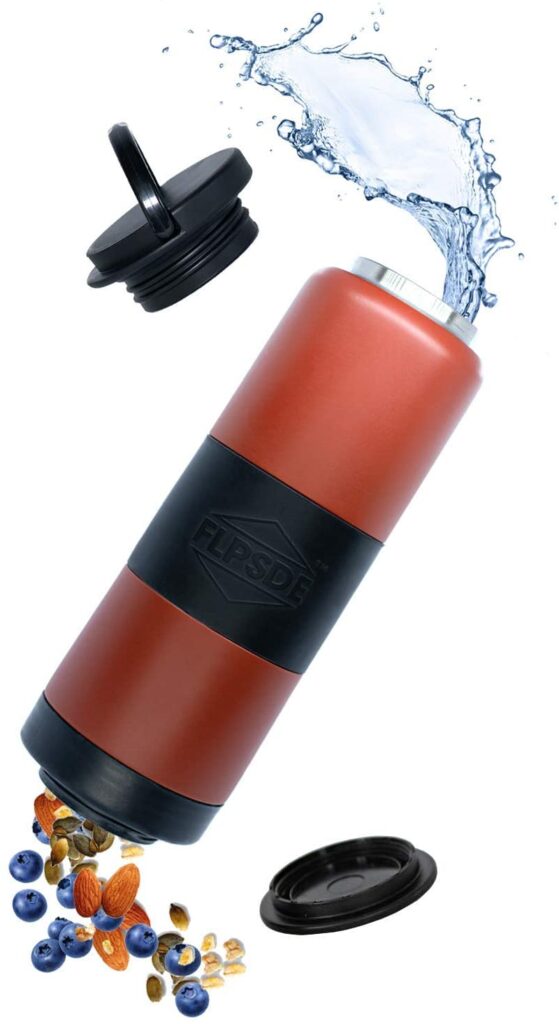 Find more Provisions stories in the Food & Drink lifestyle department, and gear ideas and product reviews in the Gear Room department.